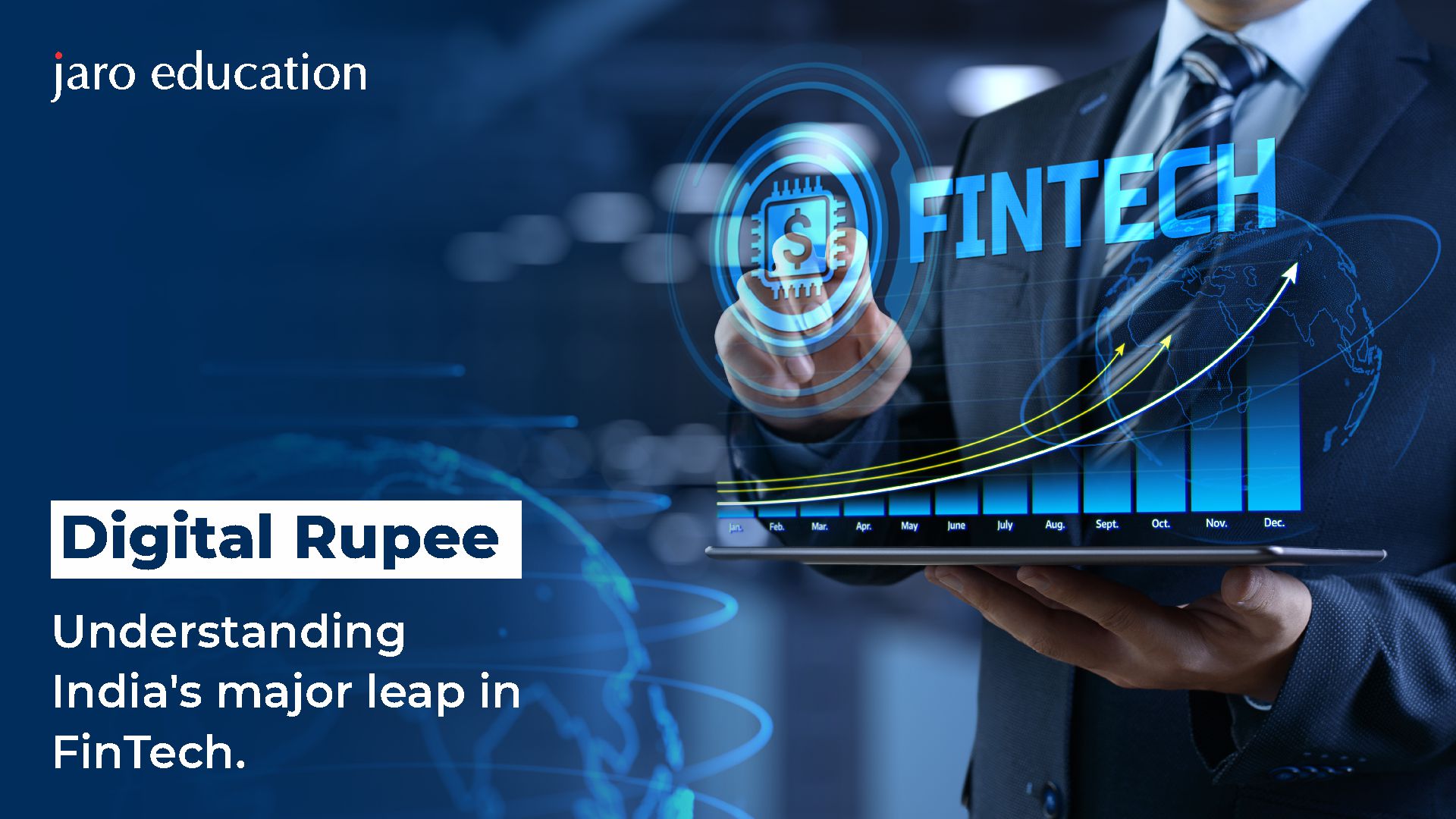 India's interest in financial technologies is clearly expressed in the Union Budget 2022. It not only demonstrates India's progress toward becoming a Fintech nation, but it also demonstrates that FinTech is a rapidly developing industry with several career prospects in the future. To break into this fast-paced industry, you'll need to brush up on your financial technology expertise by taking various FinTech courses.
Learn about the Digital Rupee, which is one of the most important announcements in the Union Budget 2022 and one of the finest FinTech courses in India offered by IIM Nagpur.
Understanding Digital Rupee
The Digital Rupee is a Central Bank Digital Currency (CBDC) based on blockchain technology that will be launched by the Reserve Bank of India. To put it another way, the CBDC, or Digital Rupee, will be a digital representation of the Indian rupee. When the RBI begins to circulate the digital rupee, ordinary people will be able to use it in the same way they would use a traditional rupee. It might be used to make payments in stores, complete transactions, and so on. You might send it to people in other countries. It might be used for a variety of purposes, just like paper money.
Many people believe CDBC is a cryptocurrency, but this is not the case. CBDC is a public cryptocurrency, not a private cryptocurrency. As it is supported by the Indian government, it is a digital form of legal currency, whereas cryptocurrencies are not. Cryptocurrencies are not backed by any organisation and are at conflict with the traditional understanding of money. While cryptocurrencies are not yet legal tender in India, the Digital Rupee is a legal tender and can be used anywhere. The PG Certificate in FinTech offered by IIM Nagpur gives an in-depth knowledge of blockchain technology and cryptocurrencies, allowing you to better distinguish between a Digital Rupee and a cryptocurrency.
A popular misconception regarding the Digital Rupee is that it will replace traditional Indian paper currency; instead, it will be counted as cash in circulation alongside paper currency. It will assist the government in printing fewer physical cash notes and reducing counterfeiting. It will aid in the development of a more efficient and cost-effective money management system. For internet transactions, unlike the old rupee, the Digital Rupee will not require the use of a bank as a middleman. The sender and recipient can conduct the transaction utilising Blockchain technology, with the RBI as the transaction's guarantor.
Though the Digital Rupee and blockchain technologies appear to be complex, taking financial technology courses can help you better grasp them. FinTech certifications are beneficial not just for improving one's knowledge of financial technology, but also for advancing one's career in this rapidly expanding field. IIM Nagpur's PG Certificate Programme in FinTech is widely considered as one of India's best FinTech courses, stressing practical knowledge to solve real-world financial problems.
PG Certificate Programme in FinTech by IIM Nagpur
It's a 12-month financial technology course that allows you to delve deeper into the new financial technologies that have transformed the banking and financial industries. This interdisplinary programme emphasises giving executivess hands-on experience by allowing them to work on real-world financial business problems through projects and case studies. The PG Certificate Programme  in FinTech covers essential topics such as financial supervisory technologies, wealth management, blockchain systems, banking payment systems, and so on, as well as the basic building blocks of financial technology and practical applications. Here are some key takeaways from IIM Nagpur's PG Certificate Programme  in FinTech:
Participants who finish the

FinTech certification

will be awarded a PG degree as well as alumni status at IIM Nagpur.

The

financial technology course

provides direct mentorship from IIM faculty and business experts via numerous online channels.

The

FinTech course

at IIM Nagpur covers all areas of the FinTech economy, including banking, blockchain technology, and artificial intelligence, among other topics.
Conclusion
FinTech is a rapidly expanding business, and the Union Budget 2022 has stated that it will be India's future, offering a wide range of career prospects. So, if you have a bachelor's degree with a minimum of 50% and at least three years of work experience, enrol in the IIM Nagpur's PG Certificate Programme  in FinTech.
Frequently Asked Questions
What is the scope of the fintech course?
FinTech's scope is quickly expanding at both the micro and macro levels, from faster financial services to digital currencies that connect buyers and sellers in industries.
Who should do the fintech course?
Anyone with a desire to learn about financial and blockchain technology with at least three years of work experience in the industry should enrol for the IIM Nagpur's PG Certificate Programme in FinTech.
What are the fintech course deliverables?
The PG Certificate Programme in FinTech from IIM Nagpur includes online course delivery by IIM faculty, a discussion forum, integrative projects, a PG certificate, and IIM Nagpur's alumni status, among other things.
What is the fees structure for the fintech course?
The overall program fees for the PG Certificate Programme in FinTech from IIM Nagpur  is  INR 225000 plus 18% GST, and applicants must additionally pay an extra INR 2006 as an application fee.