​​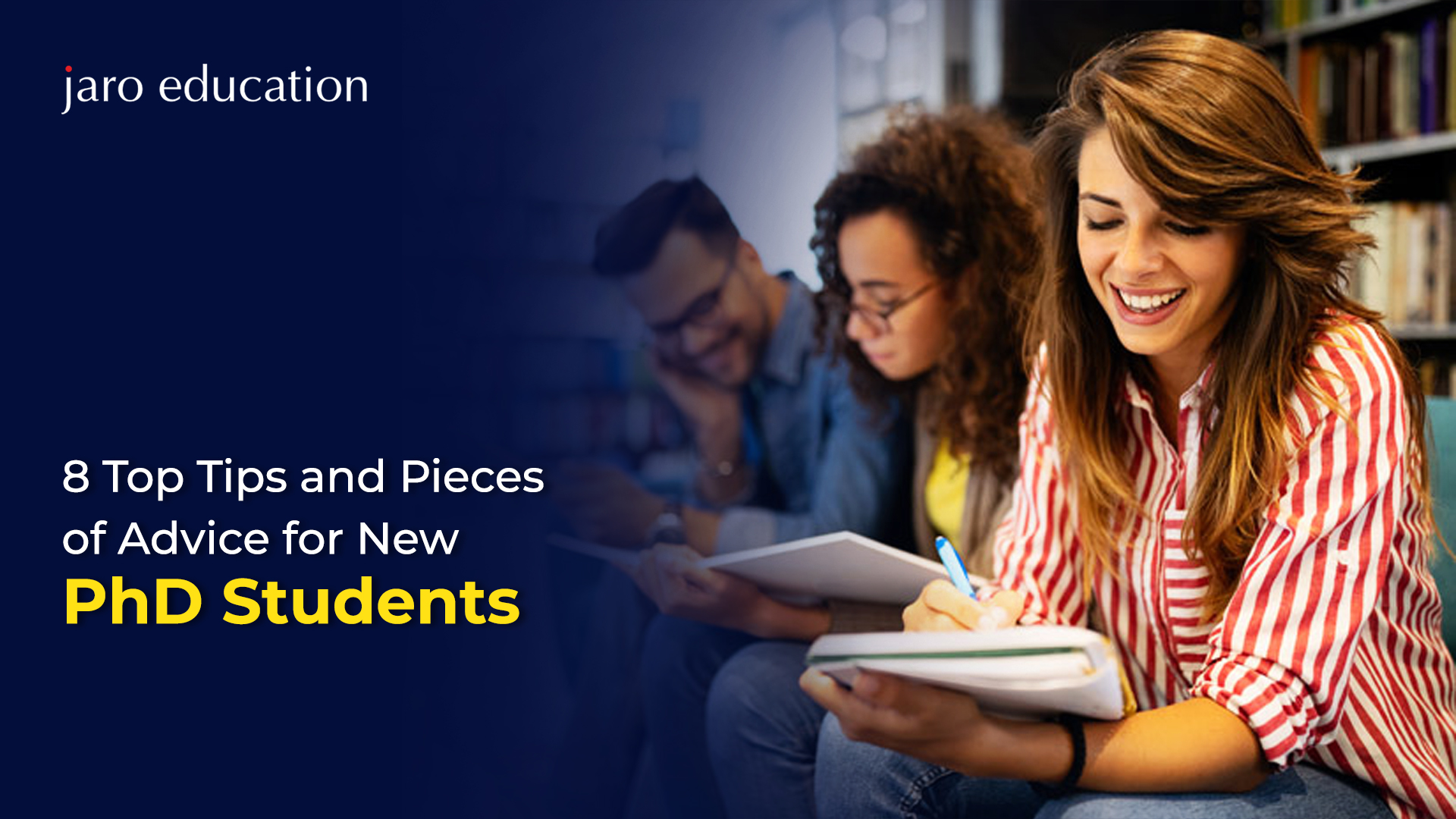 The world has witnessed a paradigm shift in how it approaches talent based on skills or degrees. Yet, industry and academia still look to hire talents with Doctor of Philosophy Degree from institutions of repute. A program in Doctor of Philosophy, or PhD, gives individuals an opportunity to develop a much deeper understanding and expertise in their field of study. It also fine-tunes them to look for newer and innovative ways to deal with existing problems.
The Doctor of Philosophy degree opens up new possibilities for a rewarding career, yet, it is a challenging experience. So here, we have compiled a few top tips and expert advice to help make PhD an enriching experience for you.
You are important! Look after yourself.
The pressure can get real at times while doing a Doctor of Philosophy. Remember that no degree can define who you are at the end of the day. Exercise, eat healthily, give yourself regular breaks, spend time with friends and family, and live your life.
 It gets easier if you are super organised.
Create a routine to help you finish the most important tasks first. It gets easier if you can reach out to all your essentials without any struggle, so have a dedicated workspace free from clutter and distractions. As time passes, the research content also multiplies, so it is good to have a system to arrange this content so that it is easily accessible. 
 

Establish a good association with your supervisors.
Your supervisor is a vital research resource person. Make sure you communicate clearly to build a good working association with them. This will help you utilise their expertise and experience alongside your knowledge.
 

Have a good research network.
When the going gets tough, your peers can offer you the best advice as they face similar situations. Therefore, establish good associations with your peers. Networking must be a crucial part of your PhD irrespective of your field of study. Attend and participate in national and international events, including conferences, seminars, and meetings. These events are a great way to build and maintain an illustrious research network.
New ideas or probable solutions to an existing problem can creep up anywhere. It is always a good idea to write what comes to you.
 

Ask as many questions as you have.
An out of the box idea or solution to a complex problem, new avenues of research open up when you start asking questions. Also, do not hesitate to ask your supervisors about things you aren't sure of; it will only fortify your relationship with them. 
 

Do not compare yourself with your peers.
Different people would approach the same problem in different ways. If your data, published papers, or scale of the project is not like your peers, it should not bother you. Don't compare yourself with other people since you were accepted onto the program because you are deserving.
 Changes are okay as you progress. Be self-appreciative. 
PhD is a life-changing experience. A Doctor of Philosophy scholar is constantly working towards developing new ways of thinking. It is normal if, in this journey, you find yourself challenging your existing beliefs. It is absolutely fine to have a change in your initial plan of action. Appreciate yourself for coming this far. 
 Frequently Asked Questions
How much does GPA matter in PhD?
Admission to a Doctor of Philosophy Degree program is based on the strong evidence of research potential in a candidate and not GPA alone. Most PhD programs require minimum GPAs of 3.3 or 3.5
 

How many hours should a PhD student study?
A full-time PhD is equivalent to a full-time, 9-5 job, accounting for 35 hours of work a week, including meeting your supervisor, reading literature, writing papers, and working on projects. 
 

Do PhD students get paid while studying?
Yes, the average salary for a PhD student varies depending on the country and university. 
 

How can I make more money with a PhD?
The demand for PhD students from good institutions like the Swiss School of Management has never fallen short in significant roles in industry and especially in academia. These are, more often than not, the most highly paying jobs.
Conclusion
In most countries, a Doctor of Philosophy degree is an essential requirement for a career in academia. Doctor of Philosophy introduces and familiarises scholars with the world of independent research and intellectual potential. As you embark on this journey, the right tips and advice will make it worthwhile. 
If you want to have a fulfilling and richly rewarding career in research, academia, or industry, the Swiss School of Management – Doctor Of Philosophy (PhD) program offered by the Swiss School of Management is just the right course for you. The Swiss School of Management is approved by UNESCO through the International Association of Universities. This 3-year program is designed to enable professionals to specialise in Economics and Management. The Swiss School of Management is one of the top-ranked global management institutions that offer an international level of expertise to accelerate your career. Check out their offerings today!