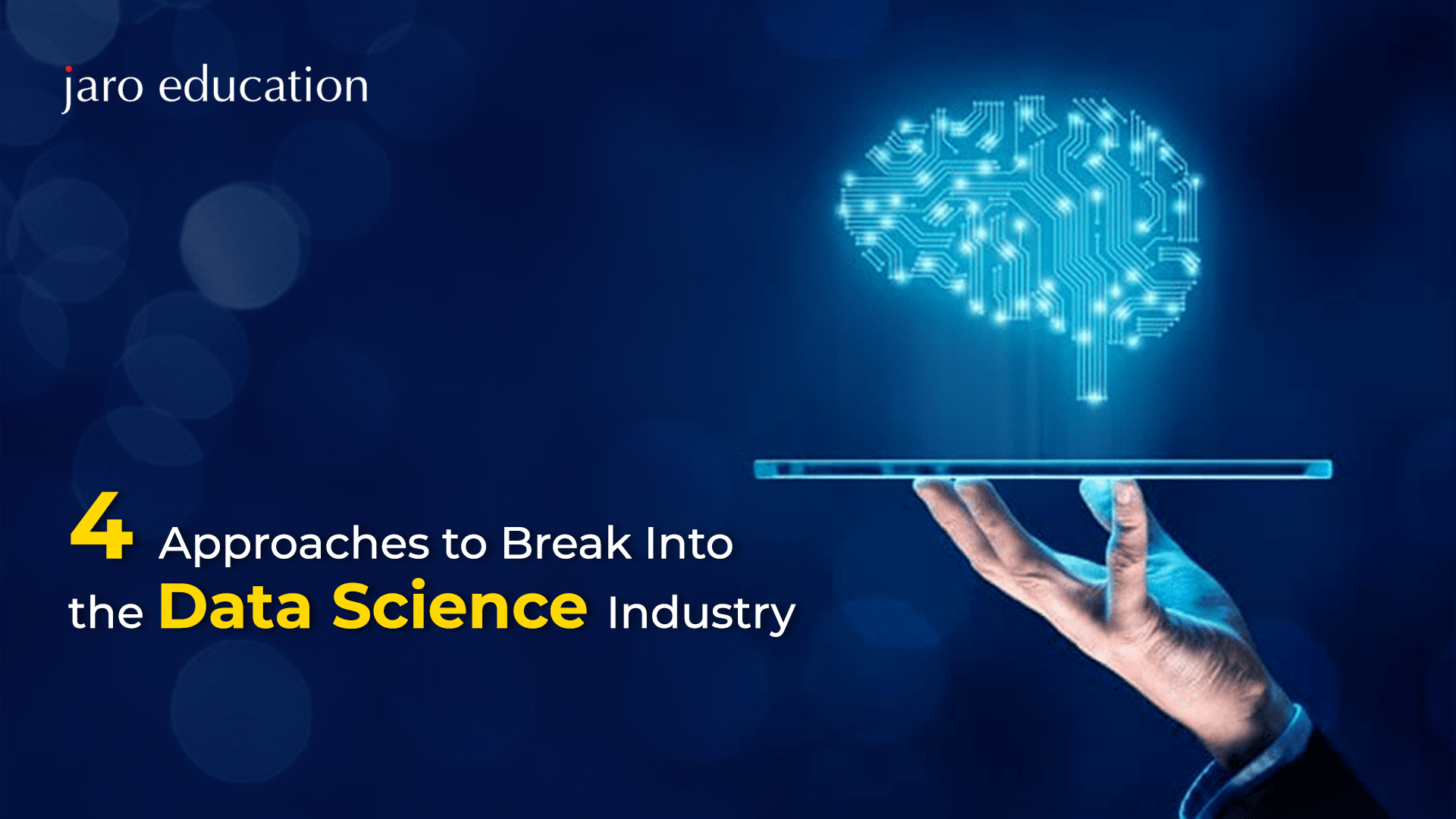 ​​
4 Approaches to Break Into the Data Science Industry
Data science is an umbrella term that encompasses various works in the data science sector. Currently, it is one of the fastest-growing domains in the job market, with a large number of aspirants eager to break into this in-demand sector.
The pandemic has increased the pace of digital transformation in various industries, which has created a high demand for talented professionals in the data science domain. 
Anyone who seeks to enter data science would be better served by opting for a data science certification. Incidentally, IIM Nagpur offers PG Certificate Programme in Data Science for Business Excellence and Innovation for data science aspirants. Before discussing the details of the course, let's discuss tips for aspirants to break into the data science industry.
Four approaches to break into the data science industry
One may want to play the role of a data scientist, data analyst, machine learning scientist, and so forth in their career. Here we seek to direct the reader on how to break into the data science interview with the right mindset and credentials.
1. Education
Most companies that hire data scientists ask for a bachelor's degree in an associated field like maths or statistics. Apart from a bachelor's degree, most recruiters are keen to know whether the applicant has programming language, machine learning and statistics skills.
Since most companies expect the candidates to hit the ground running, aspirants are expected to have adequate knowledge and skills on the software and tools used in data science. 
Companies expect candidates to have bare minimum domain knowledge, and they are eager to recruit a candidate they consider trainable. Candidates with data science certification from reputed institutions and online learning programmes fit the bill. IIM Nagpur's PG Certificate Programme in Data Science for Business Excellence and Innovation is such a programme that expects the candidate to have some work experience before the certification.
2. Portfolio of projects
Companies are delighted if the candidate can showcase a portfolio of data science-related projects while applying. Such projects help employers gauge the candidates' skills. Those candidates who can confidently demonstrate their projects impress the interviewers.
Candidates can score better if their portfolios contain projects on lesser-known data sets such as Titanic or MNIST. There are many online platforms where aspirants can register and build their projects without adequate guidance. A certification like PG Certificate Programme in Data Science for Business Excellence and Innovation from IIM Nagpur would undoubtedly serve as an advantage and give the necessary head start to the candidate.  
3. Get experience
Once you have the necessary knowledge, skills and projects are in place. A good way to get some impressive credentials to your resume is through real-world job experience. This can be undertaken through internships, freelance work, or temporary job placements. Such experience helps reinforce the fact that the candidate can handle the project needs responsibly. Interviewers would be more than forthcoming to consider a candidate with prior job experience compared to a novice candidate.
4. Need for non-technical skills
A data science job is not about technical skills; it demands the candidate to have critical thinking, problem-solving, and decision-making skills. Unless the candidates come with a well-rounded personality, they will find it difficult to crack the needs of the job.
Employers also expect candidates to have traits like empathy, creativity and active thinking in a multidisciplinary domain. In a fast-transforming world, where hierarchies are losing relevance, the aspirants must have good soft skills apart from hard skills.  
Final thoughts
The blog provided you with approaches to crack the data science job interviews. Another way of cracking a data science job is by possessing a data science certificate online after completing a data science certification programme. The PG Certificate Programme in Data Science for Business Excellence and Innovation from IIM Nagpur offers working professionals a chance to get into the data science domain.
The programme seeks to delve into data science techniques and tools to upskill the new age professional into data science from India's top-ranked IIM institute. The programme will empower professionals with analytical solutions, offer prescribed solutions and help them to imbibe the output for strategic and operational activities to transform organisations. Get going and connect with our admission team for details!  
Frequently Asked Questions (FAQs)
How Data Science differs from Big Data and Data Analytics?
Big Data pertains to analysing extremely large data sets, while data science provides methods and techniques to analyse data. Also, while data analytics is for uncovering specifics of extracted insights, data science focuses on discovering correlations between large data sets.
How do data scientists use statistics?
Data scientists draw conclusions by generally using statistics to gather, review and analyse data. They also use it for creating mathematical models with appropriate variables.
 Why is data cleansing important?
Data cleansing allows for better data quality, thereby increasing the project's overall productivity by a large margin. This happens because obsolete information within the data is done away with.
What is the job of a data scientist?
A data scientist utilises computer science, statistics, and mathematics to analyse, model, and process data to interpret the generated results to create actionable insights for companies.