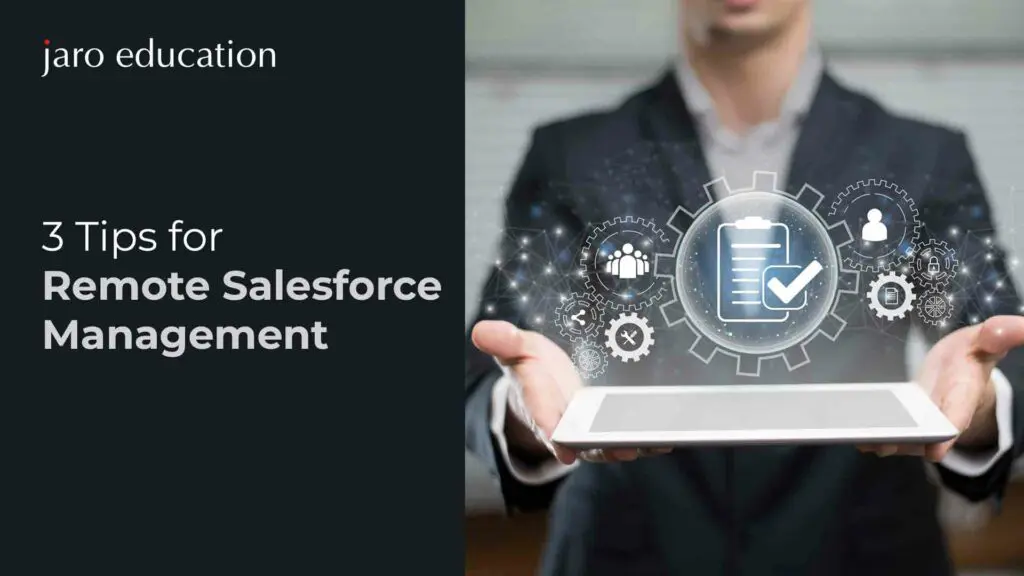 In today's digital age, remote work has become the new norm, and salesforce management is no exception. With many businesses transitioning to a remote workforce, ensuring effective salesforce management can be challenging. Whether you're a seasoned Salesforce manager or someone who is just starting out in their career, these 3 tips will help you manage your team remotely with ease and efficiency. So sit back, relax and read on as we unveil the secrets to successful remote salesforce management!
Importance of Remote Management in the Post-Pandemic Era
In the post-pandemic era, remote management has become increasingly important for businesses. With the rise of remote working, there is an urgent need for business owners to develop and implement effective strategies for managing their teams remotely.
Remote management involves a range of tools, processes and systems that enable business owners to effectively manage their staff from anywhere in the world. This helps them ensure smooth operations while reducing overhead costs associated with traditional office spaces. 

We list below three tips for remote salesforce management that can streamline the entire operations for businesses of all sizes.
Maintaining Schedule

If you want to be successful in remote salesforce management, one of the most important things you can do is keep a regular schedule. This means setting aside specific times for tasks like checking your email, responding to customer inquiries, and inputting data into Salesforce.

It can be easy to let work interfere with other parts of your life when you're not physically going into an office, but it's important to maintain a healthy work/life balance.

One way to do this is to set regular working hours and stick to them as much as possible. Let your family and friends know when you're available and when you're not, so they can respect your time.

If you find yourself struggling to stay on track, there are a few tools that can help, like Salesforce's own Desk.com or Asana. Also, don't forget to take breaks! Get up and walk around, or step away from your computer for a few minutes every couple of hours.

Stay Organised

To manage your salesforce account remotely, it is important to stay organized. By keeping your account organized, you will be able to keep track of your salesforce data and make changes as needed. Here are some tips for staying organized:
– Use folders to organize your data. You can create folders for each customer, project, or product. This will help you keep track of your salesforce data and make it easy to find what you're looking for.
– Use tags to label your data. Tags can be used to identify important information, such as customer names or project deadlines. This will help you quickly find the information you need.
– Create a schedule for managing your account. By setting aside time each day or week to review your salesforce data, you will be able to stay on top of changes and make sure that everything is up-to-date.

Communicate Effectively

Here are some tips for communicating effectively:
1. Make sure you have a clear understanding of what your team's goals are. What are they trying to achieve with Salesforce? What are their specific pain points?
2. Keep the lines of communication open. Encourage your team to ask questions and give feedback frequently.
3. Be clear and concise when communicating tasks or requests to your team. Give them enough information so that they can complete the task, but don't overwhelm them with details.
4. Be responsive to questions and concerns from your team. If you're not available right away, let them know when you will be able to address their issue.
5. Take the time to train your team on how to use Salesforce effectively. This will save you time in the long run and help ensure that everyone is on the same page when it comes to using the system.
How Can Professional Certificate Programme in Strategic Sales Management and New Age Marketing from IIM Kozhikode Help You?
The Professional Certificate Programme in Strategic Sales Management and New Age Marketing from IIM Kozhikode can help you in several ways.

– It offers comprehensive coverage of sales and marketing topics, including Marketing Strategy, Basic Data Analytics for Managers, Selling Models and Styles, Key Account Management, SPIN Selling, and more.

– Additionally, the program provides students with ample opportunity to interact with industry experts who can advise on best practices for leveraging salesforce and other platforms for maximum effectiveness. Consult with our experts at Jaro Education to learn more about this course.
Conclusion
Effective remote salesforce management can save organisations a lot of time and effort. A streamlined and well-managed remote sales management can not only help increase the profits of an organisation but also take off workload from employees. By following the three simple tips mentioned in this blog, managers can successfully handle salesforce management without having to make work-from-office mandatory.