Online PhD Program - Advancing your Research & expertise
Embarking on a career with a doctorate program is a profound decision that offers individuals the opportunity to delve into their passions, expand the frontiers of knowledge, and make significant contributions to their fields. This journey not only entails acquiring advanced expertise in a specific area but also cultivates critical thinking, research skills, and a deep understanding of the academic landscape. Let's explore the merits of pursuing a doctorate program or online PhD courses and shed light on the key aspects that make it an appealing and rewarding path for those with a thirst for intellectual exploration and professional excellence.
One of the primary merits of pursuing a doctorate program is the chance to immerse oneself in a subject of deep interest and curiosity. Doctoral candidates have the freedom to choose a research topic that aligns with their passion, allowing them to pursue their intellectual curiosity to the fullest extent. Whether it's exploring the complexities of quantum physics, studying the intricacies of ancient civilizations, or uncovering the mysteries of human behavior, a doctorate course provides the platform to engage with the subject matter on a profound level.
Furthermore, a doctorate program is designed to foster critical thinking and research skills. Doctoral candidates are encouraged to think independently, challenge existing theories, and develop innovative approaches to problem-solving. Through rigorous research methodologies, data analysis, and scholarly discussions, they develop a unique set of skills that enable them to contribute original insights to their field. This ability to think critically and conduct research is highly valued not only in academia but also in various industries and professions.
Another aspect that makes pursuing a doctorate program appealing is the opportunity to engage with leading experts in the field. Doctoral candidates often work closely with renowned professors and researchers who provide guidance, mentorship, and access to extensive networks. Collaborating with these experts and being part of the academic community allows candidates to stay abreast of the latest developments in their field, engage in stimulating intellectual debates, and build valuable professional relationships. These interactions contribute to the overall growth and development of doctoral candidates, enhancing their chances of making significant contributions to their chosen discipline.
Moreover, a doctorate program offers the chance to contribute new knowledge and advance the frontiers of a particular field. Doctoral research often involves pushing boundaries, challenging assumptions, and addressing gaps in existing knowledge. Through their research findings, doctoral candidates have the potential to make groundbreaking discoveries, propose innovative solutions, and influence the direction of their field. This ability to contribute to the growth and advancement of knowledge is not only intellectually fulfilling but also highly rewarding.
In addition to intellectual growth, pursuing a doctorate program can lead to enhanced career prospects and professional opportunities. Learners pursuing a highly sought-after doctoral program in academia, research institutions, and industry sectors that require specialized expertise. They are often recognized as subject matter experts and thought leaders in their respective fields. The combination of advanced knowledge, research skills, and critical thinking acquired during the doctorate course equips participants with a competitive edge in the job market. Furthermore, the extensive network developed during the program opens doors to collaborations, consulting opportunities, and leadership roles.
Why Should One Opt for a Doctorate in Business Administration (DBA)?
The DBA degree is the highest level of education in the field of business administration, and it provides numerous advantages for professionals seeking career advancement. Here are some reasons why one should opt for a DBA:
This highly interdisciplinary online doctorate degree serves as the pinnacle of business administration education.
Advantages of Pursuing Doctorate in Business Administration (DBA) Course
Delve Into the Challenges and Commitments for DBA Courses
While pursuing a doctorate program offers numerous benefits, it also comes with its share of challenges and commitments:
Paving a career in a doctorate offers immense personal and professional growth opportunities. Through specialization, intellectual exploration, and the acquisition of research skills, individuals gain a deep understanding of their field and contribute to its advancement. While challenges exist, the rewards of pursuing a doctorate program far outweigh the obstacles. The satisfaction of making original contributions, collaborating with experts, and shaping the future of the field are unparalleled.
SSM DBA - A Global Level Doctorate Degree
In the ever-evolving world of business, professionals are constantly seeking to enhance their knowledge and skills to stay ahead of the competition. For those aspiring to reach the pinnacle of business leadership, Swiss School of Management offers a global-level Doctorate in Business Administration (DBA) degree that embodies experienced professionals aiming to dive deeper into understanding the nuances of global business.
The SSM – Doctorate in Business Administration is designed for experienced professionals who have already achieved significant success in their careers and are looking to make a lasting impact in the field of business. As a globally accredited degree, the SSM DBA holds immense value and recognition in both academia and the corporate world, opening doors to prestigious opportunities worldwide. It is internationally accredited by:
Curriculum of the SSM DBA
The curriculum for the DBA course is meticulously designed to provide professionals with a comprehensive understanding of business administration, research methodologies, and strategic leadership. The DBA program has a blend of practice-oriented study model(s) with a combination of lectures, web-based learning, blended learning, distance learning and work-based study, and a research dissertation.
To tailor their degree participants can imbibe the content structure and gain exposure to five taught Research Methods modules that are delivered in two blocks. Further, they are bifurcated into three semesters of data collection and analysis. And final thesis or dissertation or viva is required to be submitted in the form of independent research that follows the empirical research standards. There are in total 120 ECTS Credits for a DBA degree – SSM.
Desirable In-Demand Skills for Doctorate Degree
In addition to the specialized knowledge gained through the DBA program, there are certain skills that are highly desirable for DBA holders. These skills include:

Critical Thinking and Problem Solving
The ability to analyze complex business situations and devise effective solutions is crucial for DBA participants.

Research and Analytical Skills
DBA holders must have strong research and analytical capabilities to conduct in-depth studies and produce valuable insights.

Leadership and Communication
Effective leadership, excellent communication skills, and the ability to inspire and influence others are essential for DBA participants.
Eligibility Criteria for DBA
The Doctorate in Business Administration (DBA) program typically requires applicants to meet specific eligibility criteria to ensure they have the necessary qualifications and experience to succeed in the program. While the exact criteria may vary between institutions, here are some common eligibility requirements for pursuing a DBA:
Admission Process for DBA course
The admission process for a DBA program generally involves several stages designed to evaluate the suitability of applicants and identify those who will thrive in the program. The process typically includes the following steps:
Salary Growth and Career Opportunities Projections
Completing a DBA program can lead to significant salary growth and open up a wide range of career opportunities. The precise salary and career prospects can vary depending on factors such as industry, location, professional experience, and individual achievements. However, DBA holders generally enjoy the following advantages:
It's important to note that while a DBA provides a strong foundation for career advancement, individual performance, networking, and market conditions also play significant roles in salary growth and career progression. Professionals must continue to develop their skills, stay updated with industry trends, and seize opportunities for professional growth to maximize their potential in the job market.
Top Career Paths: After DBA Course
Bridge the knowledge gap between research, theory, and practice with SSM's Doctorate in Business Administration Degree that empowers academic researchers to drive real-world impact.
After completing the SSM DBA, participants have a wide range of career paths to choose from. Some of the top career paths for DBA holders include:
In conclusion, the SSM DBA offers a globally recognized doctorate degree with its rigorous curriculum, diverse electives, and emphasis on research and leadership, the program equips professionals with the knowledge, skills, and credentials to excel in the dynamic world of business.
Whether one aspires to lead multinational corporations, consult with top organizations, or contribute to academia, the SSM DBA program opens doors to unparalleled opportunities and a rewarding career journey.
Trending Doctorate Programs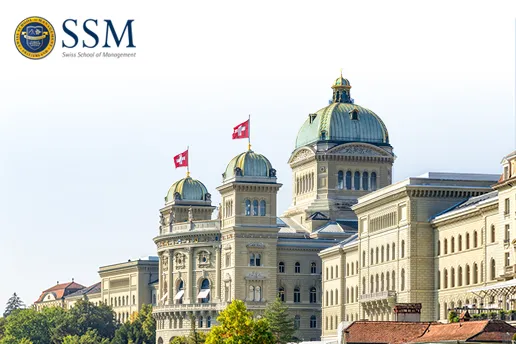 Doctor Of Business Administration (DBA) – Swiss School of Management
Rankings and Accreditations play a huge role in helping individuals decide which program to choose. These are the two differentiating factors on the basis of which degree is valued in the competitive market. Keeping these things in mind, our
first-rated Online PhD and Doctorate Programs, in collaboration with top universities, are designed by experienced faculty and top industry experts, have rigorous and cutting-edge curriculum; and have top rankings and accreditations such as UGC Entitled, AICTE Approved. These features make them the most suitable ones for any individual to opt for.
Identify your strengths, weaknesses, and interests to find a career path that suits you.
Research different career options and job prospects before making a decision.
Develop a professional resume and cover letter that highlight your skills and experiences.
Build a strong professional network through networking events and social media platforms.
Prepare for interviews by researching the company and practising common interview questions.
Stay up-to-date with industry trends and developments to remain competitive in your field.
Seek feedback from mentors and colleagues to improve your skills and performance continuously.
Consider upskilling through additional courses or certifications to stay relevant in the job market.
Maintain a positive attitude and be open to new opportunities and challenges.
Navigate Through Our Yardstick of Success
"This program is exceptionally well crafted, pedagogy is inclusive and coherent. The emphasis is on research by practice and just not on theoretical frameworks. The faculty is friendly, approachable and very competent. The program is highly recommended for a busy executive or academician interested in research and knowledge creation. Synchronous class sessions are conveniently scheduled and allow participation from students. The fact that the program is IACBE accredited adds immense value to anyone pursuing this high-quality program."


Seeking Career Guidance or Advice?
We're here to help! Our admission experts are offering 'FREE career guidelines' to help you make informed decisions and achieve your career goals. Whether you're a fresh graduate, a seasoned professional, or considering a career change, we have the knowledge and expertise to guide you towards success. Don't hesitate and connect with us today to seize this valuable opportunity and take a step towards a fulfilling career.
The Jaro Advantage: Your Gateway to Career Success
Programs from Diverse Domains
World's Leading
Academicians Partners
Learning Centres across India,
USA & Singapore
Top NIRF Ranked Indian
Institutes & Universities
Top QS Ranked Global
Institutes & Universities
Jaro Connect— Alumni Portal Enriching #LifeLongLearningExperience
Jaro Connect Portal is an exclusive alumni platform designed to enhance networking and information sharing among Jaro Education learners. This platform offers a unique opportunity for learners to break down borders and access limitless professional growth prospects. Jaro Connect aims to leverage existing quality networking opportunities and lifelong learning experiences to help learners advance professionally. The platform provides access to events and webinars that enhance learners' knowledge and skills while connecting them with industry experts. With its robust features and student-focused approach, Jaro Connect Portal is an excellent resource for learners seeking to enhance their education and expand their horizons.
What are you waiting for?
Talk to Our Program Advisor today