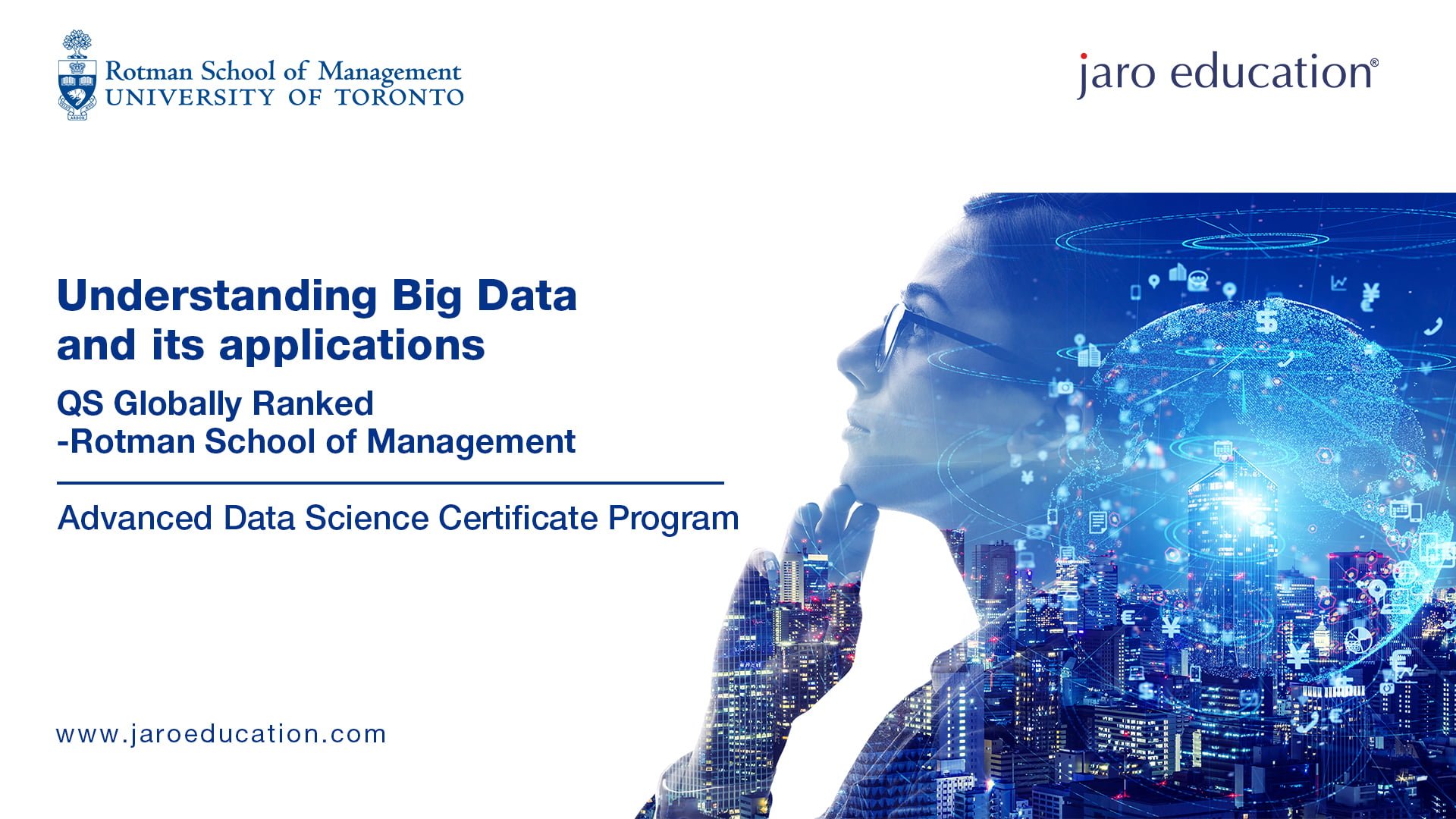 What is Big Data? How does Big Data analytics help organizations
Big Data -Transforming scalable Future Architects ﹘ Advanced Data Science Certificate Program
Recovering from the pandemic gauges tremendous inflow of data is bringing a massive wave in digitalization. In today's competitive world, big data is reaching new levels of leads to smarter business moves more effectively in operations. Enterprises can expect higher profits, better projects, resulting in happier customers. Even small organizations are relying on big data analytics to leverage scalable business solutions.
Numerous companies have emerged over the past decade to enable data-related solutions. For wrangling huge datasets, using analysis tools and aggregate and organize datasets into usable formats. Organizations are taking an initiative towards problem-solving as they tackle data-related problems with big data to accomplish future-ready goals. Here, using advanced analytics will make the organization more customer-centric.
In a recent report from Statista, the global big data and business analytics market is expected to reach 274.3 billion dollars by 2022, with a five-year compound annual growth rate (CAGR) of 13.2%.
The analytics-savvy professionals must leverage big data and unleash proper insightful information by converting it. In a nutshell, the huge breadth of data analytics forms due to big data generation. Emerging leaders must analyze the Big Data implications and tap new sources to build value for their brands.
Yes, you can effortlessly tap the power of big data analytics and uncover competitive advantages for all sectors.
Harness big data – Smart Opportunity
Big Data Analytics is the process of taking large sets of complex data from multiple channels and analyzing its patterns— enabling new opportunities to gain actionable insights. 
In a nutshell, big data is valuable over traditional techniques of gathering data. It helps organizations harness new-age data to identify growth opportunities. Big Data analysts can hassle-free identify quality leads for organizations. 
Big Data helps to elevate projects with fruition outcomes. It has major data resources like equipment, facilities and workforce to seamlessly manage the allocated budget and delivery timelines based on availability, capacity and project scope. 
Tech-savvy professionals can easily use the available resources to solve problems in the organization. Using real-time data analysis, you can acquire intelligent task distribution and planning.
In the digital era,  Big Data plays a vital role in the Banking and Insurance sector. The BFSI sector tackles challenges like profitability, performance, and risk accessibility using advanced Big Data Analytics.
A report on the Research and Markets suggests that "Big Data Analytics in the banking industry was valued at US$ 7.19 billion in 2017. It is expected to grow at a CAGR of 12.97% during the period 2018-2023 to reach US$ 14.83 million by 2023."
Thus, Big Data enables new perspectives for growth and development in the BFSI sector. 
Time to be a data visionary and effortlessly manage a whirlpool of data. Derive data-driven solutions for the organizations. To smartly beat your competitors, use the Big Data technology that will help you gather information, track the insights and compare the brand presence.
Making the Career Transition
Knowing significant opportunities arise in Big Data growth to improve your organization's overall challenges in all the areas. Working professionals must be equipped to meet these obstacles and elevate smooth transitions with head-on data-driven solutions. 
Be in demand with the rigorous data science program
Upskilling with Canada's leading Advanced Data Science Certificate Program from Rotman School of Management (University of Toronto) will enrich you with international standards of data literacy.
The Advanced Data Science Certificate Program is a 10 months virtual data science program enabling analytical thinking, innovative capabilities for tomorrow's business. Ranked #1 in Canada, Rotman School of Management (University of Toronto) will give exposure to an interdisciplinary curriculum filled with synchronous and asynchronous online lectures. 
This interdisciplinary program offers an opportunity for students to learn through practicum projects in data science which enables real-world insights into the problems faced by corporations. Professionals can acquire unparalleled academic assistance ensuring a seamless research experience in the field of data science.
Digital transformation upsurges even in the new normal. Data modernization will become a primary aspect in the next normal for tomorrow's business. The world of work demands several challenges and big data will become a growth accelerator in the cutthroat competitive market segment. 
The future of the building workforce demands organizations to primarily focus on digital transformation stepping stones to become a future-ready business. Developing a diverse ecosystem with agility in facing customers with a faster time-to-delivery. Big Data is making a massive impact on business growth by ensuring data-driven experiences. It fuels foreseeable and exponential growth in the next frontier for the digital renaissance.
Want more insight on Rotman School of Management?
Swiftly like our blog and subscribe to stay ahead of the learning curve. Jaro Education is making your data science career dream come true.