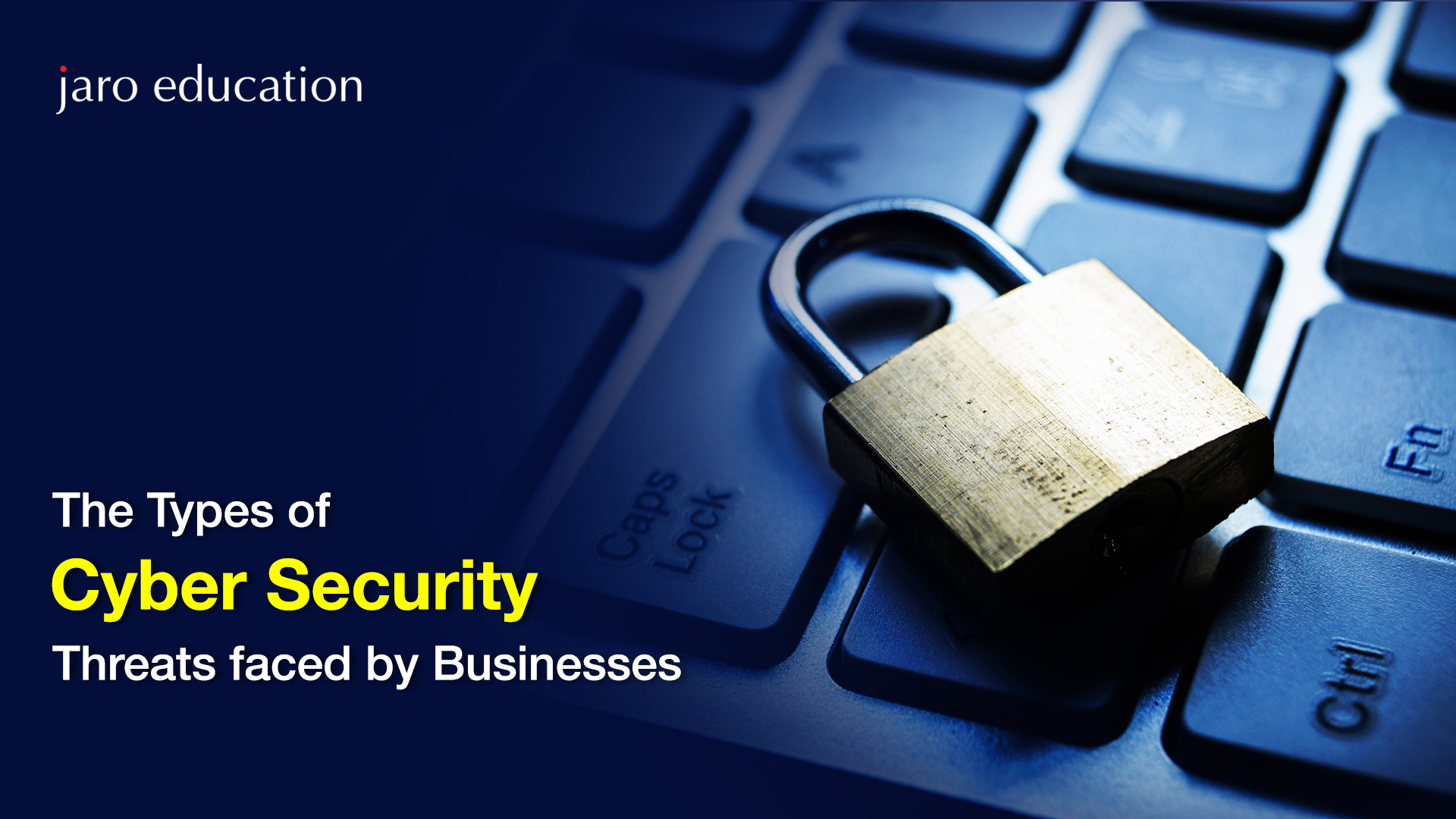 As the global business climate shifts to cloud data storage and online administration, the demand for cybersecurity is predicted to rise to an all-time high of INR 10 lakh employees in 2025, according to the Data Security Council of India.
The ever-changing technical landscape, which is one of the key reasons for the industry's rapid expansion, needs the hiring of brilliant people with varied degrees of knowledge. While there are many job openings in cybersecurity, suitable applicants are in short supply, as this area demands specific knowledge typically taught in Master's Degrees in Cyber Security. Before looking at the best online institutes for earning an Online Masters in Cyber Security, let's check out the most significant employment opportunities for dealing with cybersecurity business risks after completing a Master in Cyber Security.
The Types of Cyber Security Threats Faced by Businesses
Major corporations worldwide have recently been victims of cybercrime, ranging from misuse of data to unauthorised access of the company's financial accounts and records. Companies of all sizes and types are at risk, from small new internet retailers to well established large organizations.
Although hackers are becoming smarter and more clever, it's also very evident that many organisations are not putting up much effort into dealing with cybersecurity. M.Sc. in Cyber Security helps individuals and companies be proactive, and stay one step ahead of cybersecurity criminals. The first step is determining which cybersecurity threats are most likely to affect businesses. Explore Top 3 Cyber Security threats faced by businesses are:
Phishing Cyber Attacks:

A hacker poses as someone you know and trust, such as your bank employee or boss, in a phishing attack. Usually, the hacker sends you a phishing email from a recognizable but slightly altered mail address. They will ask you to visit a website or log into your account, which leaks personal information like your credit card details to them.

Cloud Jacking:

It is the process of a third party infiltrating cloud computing. Once a hacker has gained access to your organisation's cloud storage, they may attempt to change the cloud code to manipulate critical data and expand their reach to take control of the entire cloud.

Mobile Malware:

It is harmful software that is specifically designed for mobile devices. Mobile malware assaults are anticipated to be one of the most serious cybersecurity concerns this year, as employees on respective mobile devices access nowadays sensitive enterprise data.
Professionals seeking new skills would have a clear competitive edge in dealing with cybersecurity risks. Hence, here is one of the world's most promising online masters in Cyber Security, IU International University of Applied Sciences M.Sc. degree in Cyber Security.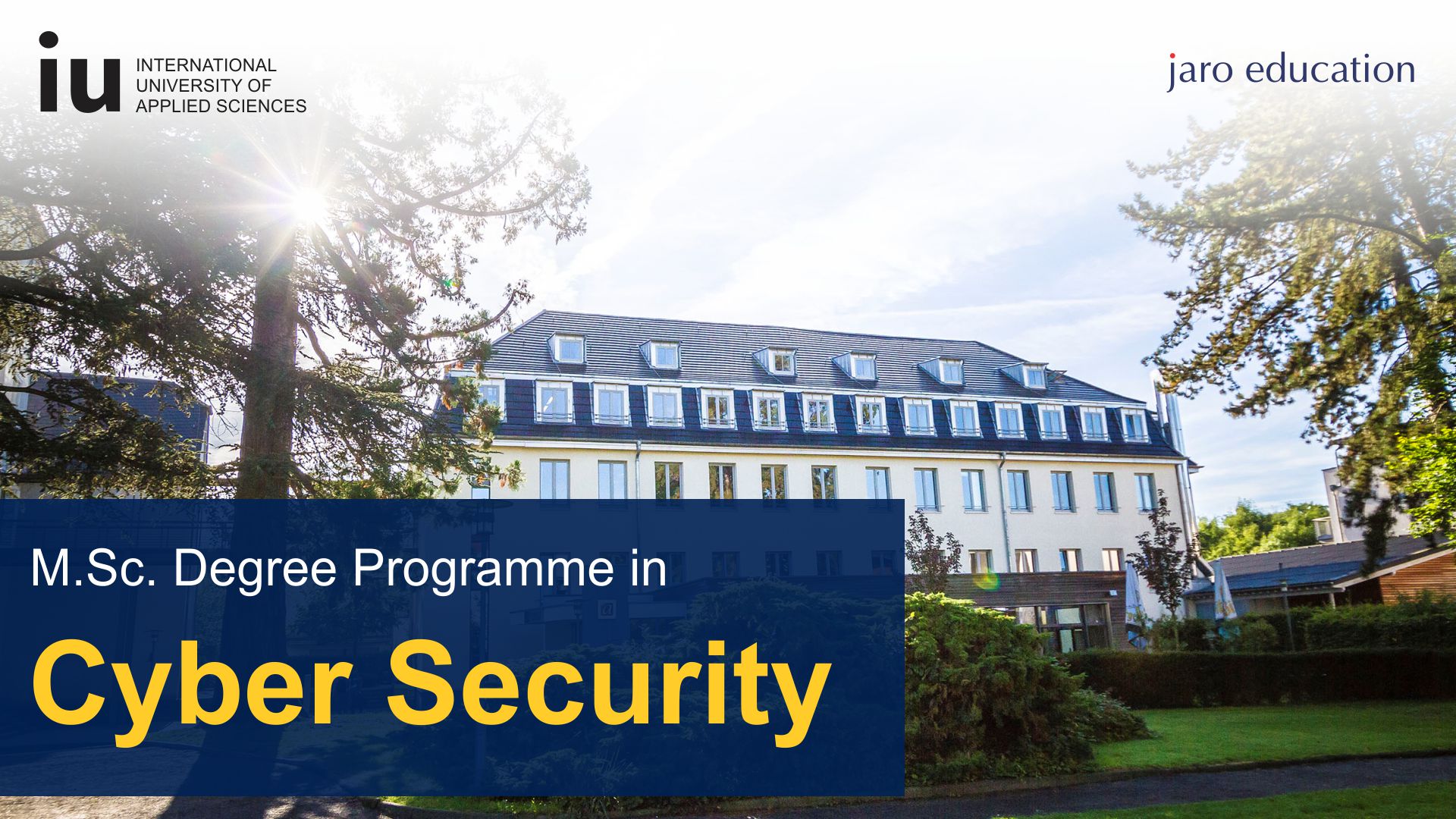 M.Sc. in Cyber Security by IU International University of Applied Sciences
The International University of Applied Sciences is Germany's leading private online university. It encourages students to be as flexible as possible in their study habits to assist them in incorporating learning into their daily life.
The IU International University of Applied Sciences M.Sc. Cyber Security program is a one-year online degree that focuses on cybersecurity, artificial intelligence, and data science. It enables you to explore data science and cybersecurity to benefit society. This provides you with an edge over the competition in the global job market and allows you to progress in your cybersecurity career. 
Highlights of MS Cyber Security Program 
The IU International University of Applied Sciences' M.Sc. in Cyber Security program has the following highlights:
For the convenience of students, the whole

Master of Science in Cyber Security

degree is available online.

The course provides a great mix of theory and practice, so you can get the most out of your

M.Sc. in Cyber Security

degree.

It exposes you to a global network of over 40000 alumni who work for prominent corporations in the field of cybersecurity.

Students who complete this online course earn alumni status and a

Master's degree in Cyber Security

from IU International University of Applied Science.
Conclusion 
Cybersecurity is altering the future workplace, and industry-ready individuals are brilliantly prepared to handle the changing times. Professionals with a Master of Science in Cyber Security degree gain greater human experience while cutting edge of technological breakthroughs. If you have a bachelor's degree and the required work experience, nothing stops you from completing the M.Sc. Cyber Security program at IU International University of Applied Sciences. Still, confused? Get your doubts clarified by Jaro Education's program experts.
Frequently Asked Questions 
What are the different courses for Cyber Security?
There are multiple undergraduate and postgraduate courses available in the field of cybersecurity:

B.Sc. in Cyber Security 

M.Sc. in Cyber Security 

BCA with Cloud Computing and Cyber Security

B.Sc. in Information Technology Management and Cyber Security and many more.
What qualifications do I need for a career in Cyber Security?
Following are the qualifications required for entry-level cybersecurity jobs:

Graduation degree in computer science or cybersecurity 

Basic knowledge of SaaS and other cloud computing models

Knowledge of basic cybersecurity systems 
Is the course in Cyber Security difficult?
No, in the field of Cyber Security and Computer Science, anyone with an aptitude and a willingness to work may learn easily and achieve the results. 
What is meant by Cyber Security threats? 
Cyber Security threats refer to harmful attacks that attempt to gain unauthorized access to data, damage data, and disrupt digital activities.