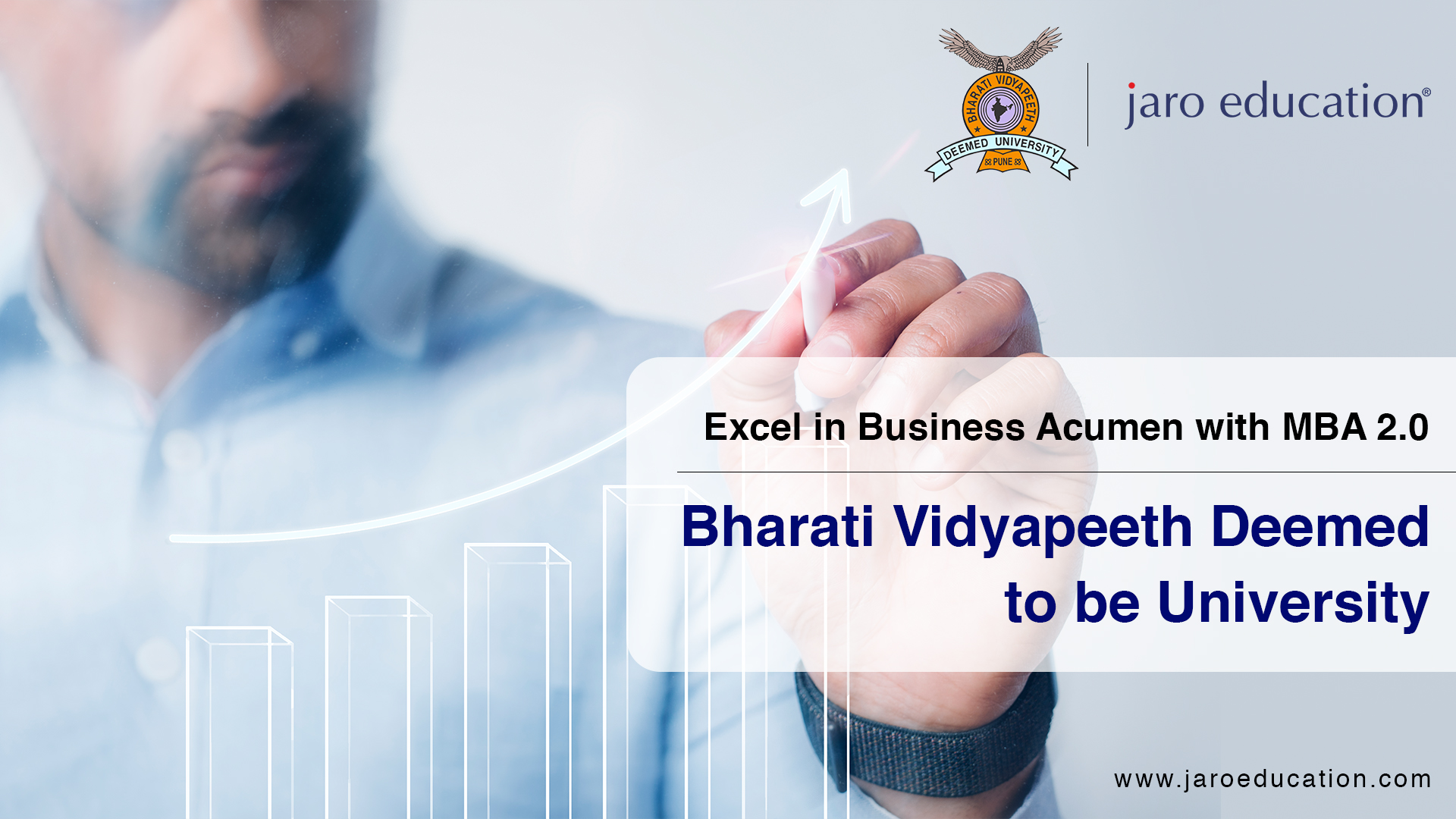 An MBA tag acts as a passport for young entrepreneurs and aspiring managers to get into the corporate world in the management cadre. The Online MBA (Master of Business Administration) program by Bharati Vidyapeeth Deemed to be University (BVDU) in association with Jaro Education takes you along.
Online higher education acts as a direct substitute to the existing offline channel in India. This category forms a part of the formal education system. The market size in India has increased more than 5 folds in the last five years. Also, in the recent pandemic phase, the learning opportunities through distance learning have opened avenues for aspirants to upgrade skills and professional developments. Post Graduation programs have higher adoption as compared to graduation and diploma courses; Online MBA is the most popular program, states KPMG report.    
Business Administration has always had a great demand in India. The training institutes initially started with Bachelor Of Business Administration (BBA). There exist several online BBA courses in India. Although Distance Learning BBA Course Online was popular, students benefited the most from Online Bachelor Of Business Administration. Alongside, Online Executive MBA is a turning point for working professionals. 
Comparatively, MBA is an enriching online program in demand nowadays. Business schools consider the fully-fledged Online MBA degrees the most preferred option. Online MBA courses in India have opened a channel for young entrepreneurs to improve their career paths.
These courses are conducted online through virtual classes. Many aspirants in India study online MBA courses. They dream of better career opportunities and go from medium-sized to high-role in the management cadre or background promotion in a large business house.
MBA 2.0 from BVDU
The online courses provided by BVDU are accredited and recognized in the industry. The two-year Online MBA program at BVDU, Pune, carries 102 credits and is the most admired Online MBA Course in India. 
This online MBA program (MBA 2.0) is the most acclaimed online MBA for Business Excellence and Innovation in India. It is aimed at enhancing the management competencies of future corporate leaders.
The Benefits of MBA 2.0
This online MBA program follows the core curriculum. Students are given specialization of their interest. The course offers dual specializations; one of the most preferred specializations at the start of the course, and the second at the beginning of the third semester.
Besides experienced faculty members and the excellent online learning portal, students get to gain new trends in the digital world, which include Digital Marketing in the age of digital transformation, Business Analytics, Design Thinking, and technology-driven business analytics and business mantras. 
Swayam LMS
The online learning portal in BVDU's program makes excellent use of LMS. With the help of sophisticated e-learning tools, the teaching platform facilitates direct lectures through a variety of teaching methods.
The teaching medium in the live class enables communication with experts and facilitates innovative and conceptual learning among students. There are open discussion forums with recorded video lectures and associated learning channels without interactive training.
Conclusion
According to Payscale, MBA professionals earn an average salary of about ₹798,209.
The rewards — you are upgraded with the right skills, quality, and business acumen, ready for a better opportunity, salary hike, job promotion, or whatever you dreamt of before joining this course.
The Course Provider
Jaro Education is a pioneer in the EdTech domain in India; we provide various management and technology programs from top universities and premier institutes that adhere to a large number of working professionals. The BVDU is one of the high-ranking universities associated as an Education Partner. Its association with Jaro Education brings a reputed institutional outcome.
Aspiring business management leaders, working professionals, and mid-level managers should gain credits by learning online through a proper course by enrolling in what BVDU's Online MBA for Business Excellence and Management offers. Jaro Education has sustained itself as a pioneer in executive education. 
Subscribe to our Jaro Education's blog and stay updated with the latest information.