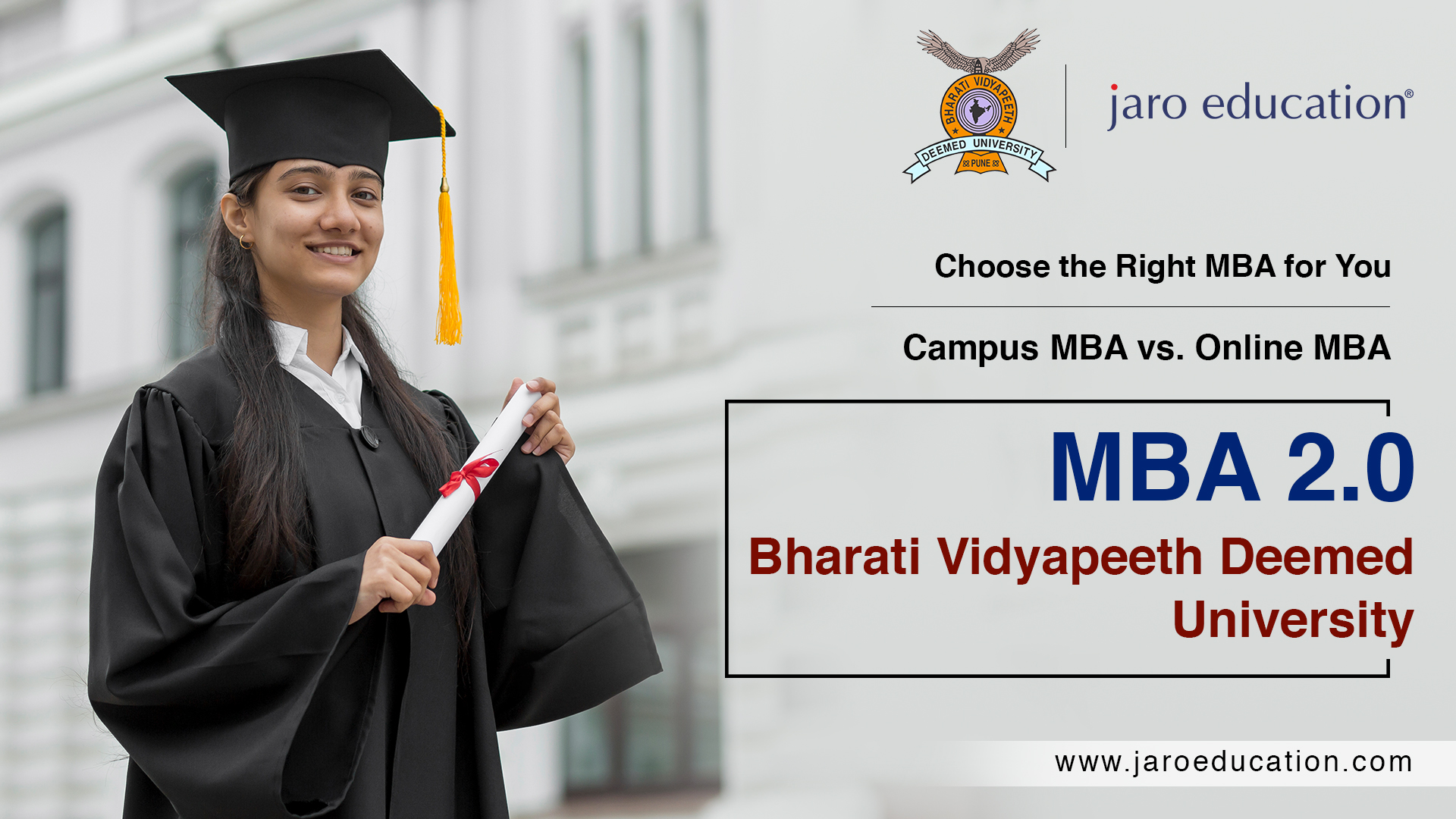 Introduction
It's difficult to choose between Online MBA programs and Campus MBA programs. Read on to know the difference between the two.
Either you are a finance or human resource professional, an all-inclusive management program can give a boost to your career. In addition, a thorough management program opens the door to many opportunities in your life.
But when it comes to deciding whether the person should pursue a management program, many people get confused as it requires a lot of effort, money, and time. Sometimes, students get confused about whether to pursue a campus MBA or an online MBA. 
Read on to find out which MBA program – a campus MBA program or an online MBA program – is best for you and the difference between them.
On-Campus MBA
The on-campus MBA or regular MBA is a 2-year or 1-year course based on which field you are pursuing your MBA.

Most colleges in India offer a 2-year degree course that involves internship opportunities.

Enrolling in for an on-campus MBA program means having to follow a structured schedule.

The on-campus program provides resources like internships, libraries, tutoring, career services, and group interactions to help students learn better in structured situations.

On-campus MBA programs have immense networking opportunities with instructors, alumni, and students face to face.
Online MBA
In the

Online MBA programs

,

students take classes via the internet. The students interact virtually rather than physically.

With the help of video seminars and online classes, students get updated and are on track with other candidates.

By pursuing an

Online MBA course

,

you can manage your family and work side by side.

Online MBA programs in India

offer courses that are adaptable according to the needs of the learner. Online MBA saves your time, money, and effort.

The best part of pursuing

Online MBA courses

is the easy access to assignments, syllabus, and study materials.
Why Should You Choose BVDU for Pursuing an Online MBA Program?
Leap the next stage of your career with BVDU! 
Online Executive MBA is the best and well-suited to pursue an Online MBA. BVDU is an established university associated with Jaro education which provides education in commerce, science, etc. There is no entrance exam for the admission process.
Globally accepted

–

BVDU-Online MBA program

is received by corporate organizations, governments, higher education institutions for jobs, prospects, and higher education.

Well-designed study materials

–

BVDU online MBA program

provides properly structured self-study materials. You can easily find your course study materials online.

Placement support – BVDU brings top companies for job interviews. The highest package received to participants through BVDU is Rs. 54.08 lakhs (International).
24×7 Student support system – BVDU is available 24×7 to answer any queries and help with any problems you are facing.
Regular course webinars – BVDU organizes time-to-time webinars for students to help them and motivate them in their course field.
All-time available help in academics

– You will get to engage with your mentor face to face virtually. They will solve all your queries and help you to get an

online MBA certificate.
Conclusion – Which Degree is Best for You?
Whether you choose an online or on-campus MBA, both types have their pros and cons. But Online MBA programs in India come with a lot of flexibility and opportunities like learners can learn whenever they want.
BVDU – MBA 2.0 allows you to gain managerial skills and implement online learning through projects. The mentors will also prepare you for job interviews and give you entry to job boards with a list of jobs based on your domain and experience. For sure, you must realize that pursuing Online MBA courses in India can be the best option for you.
Apply today for BVDU – Online MBA program and get your MBA certificate online.
Subscribe to our Jaro Education's blog and stay updated with the latest information.