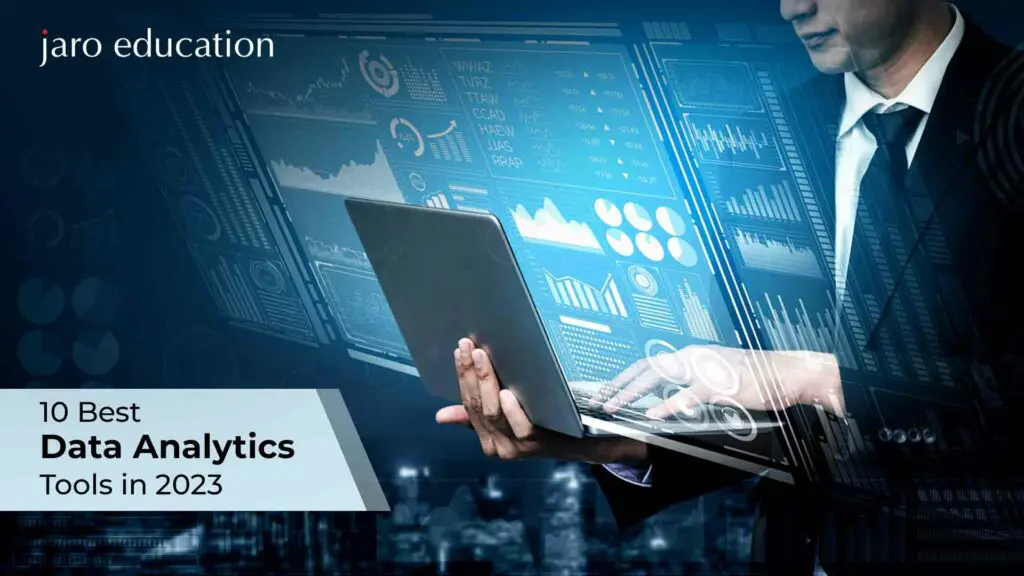 As we approach 2023, the world of data analytics is advancing at lightning speed with new tools and technologies emerging every day. Businesses are constantly looking for innovative solutions to leverage their data to improve their decision-making. To help your business or organisation stay ahead of the game, data analytics tools are mandatory.
The top 10
data analytics tools
Microsoft Power BI

Microsoft Power BI is a cloud-based business intelligence and data analytics platform that enables users to visualise and analyse data with interactive dashboards and reports. It offers a free desktop application and a paid subscription service, both of which offer access to the platform's myriad features and capabilities. It is one of the most popular data analytics tools in the market and is a staple in many online business analytics courses.

Tableau

Tableau is another business intelligence tool that is known for its efficiency and scalability. Apart from its user-friendly drag-and-drop interface, the tool has Einstein Discovery AI, which allows users to manage their respective CRM platforms with voice commands. Lastly, the data analytics tool also offers flexibility in terms of hosting. Tableau gives you the option to host the tool on your server or simply use its online services.

Qlik Sense

Qlik Sense is one of the best data analytics tools available today. Unlike the tools above, Qlik's major selling point is predictive analysis. It offers unique insights and can make accurate predictions with the aid of machine learning. Lastly, it is also available on a cloud server, or an on-site server, offering users the freedom to choose the best hosting service.

Looker

Looker provides a complete set of tools for data discovery, analysis, and visualisation, so businesses can easily find and understand the patterns in their data. It also offers a flexible programming language called LookML that allows businesses to customise their data analytics experience. It is a part of the Google Cloud Platform and supports more than 50 SQL dialects.

Klipfolio

Klipfolio is a cloud-based data analytics tool that helps you track, monitor, and report on your most important business metrics instantly. The tool gives you the ability to create customised dashboards and reports. Lastly, it can also be integrated with a variety of other business tools, making it a valuable addition to any organisation's data analytics toolkit.

Zoho Analytics

Zoho Analytics is a cloud-based BI and analytics platform that enables users to easily connect to their data, regardless of where it resides. It is compatible with files and feeds, custom and business apps, as well as on-site and cloud databases. In addition, Zoho Analytics offers a wide range of features and capabilities, including:

Data discovery: Users can explore their data to find patterns and relationships.
Data modelling: Users can create models to better understand their data.
Data visualisation: Users can create charts and graphs to visualise their data in any way they want.
Dashboards: Users can create custom dashboards to track key performance indicators (KPIs).

Domo

Domo is a cloud-based business intelligence (BI) and analytics platform that enables users to collect, connect, and analyse all their data in one place. It provides users with a streamlined view of all their data, which can be accessed from any device, anywhere, anytime. It also has an app that is compatible with both iOS and Android platforms. The tool also features an intuitive drag-and-drop interface, making it easy to create customised dashboards and reports. Domo also offers a wide range of pre-built connectors to popular data sources, making it easy to get started with data analysis.

R

R is a free and open-source programming language for statistical computing and graphics. It is supported by the R Foundation for Statistical Computing. The R language is widely used among statisticians and data miners for developing statistical software and data analysis.

Python

Python is a versatile language that you can use on the backend, front end, or full stack of a web application. It is particularly used for data analytics because of its simple applications and powerful libraries. The most popular library for data analytics is Pandas, which provides high-performance data structures and analysis tools. Other popular libraries include NumPy (for numerical computing) and SciPy (for scientific computing).

Apache Spark

Apache Spark is a powerful open-source data analytics tool that can be used for a variety of tasks, including data wrangling, machine learning, and streaming data processing. Its machine learning component, Spark's MLib, is particularly competent in processing Big Data.
Master Data Analytics Tools in PG Certification Programme in Business Analytics and Applications, Offered by IIM Tiruchirappalli
Learn data analytics with this insightful PG Certification Programme in Business Analytics and Applications, offered by IIM Tiruchirappalli. This comprehensive 13-month course has a segment dedicated to Business Intelligence and Analytics with PowerBI, making you well-versed with one of the most popular data analytics tools. Considered one of the best IIM Trichy courses, it also includes topics like Predictive Modeling With R, Data Mining with SPSS, and Python Programming for AI and ML. Students will also learn Tableau during this Business Analytics Programme, which will help them gain expertise in overall business analytics. So if you are looking to build a promising career in business analytics, do consider joining this course.
Conclusion
With the growing importance of data analytics, it is essential to equip yourself with the right tools. The 10 best data analytics tools outlined in this article can help you make sense of your data and gain useful insights from it. Whether you are a beginner or an expert, these powerful tools can help you reach new heights in understanding data and making informed decisions for your business.