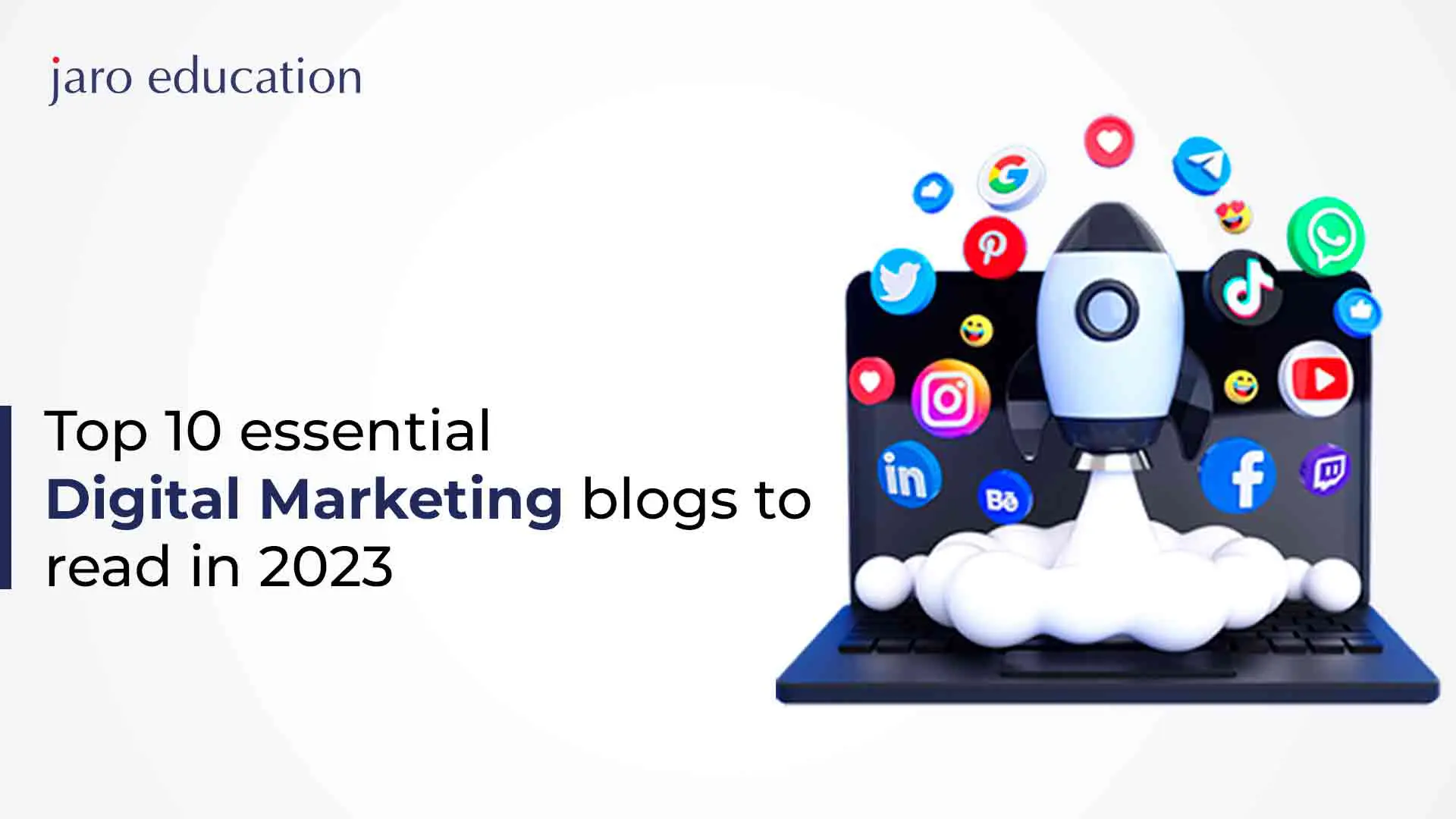 Digital marketing is a pathbreaking introduction to the world of marketing. It involves various techniques used to promote products and services through online channels. It uses platforms like social media, search engines, email, and content marketing to reach and engage with the target audience. With its wide reach, digital marketing has become essential in today's digital-centric world.
Trends in digital marketing evolve at lightning speed. To be aware of the latest trends, individuals should focus on searching for valuable resources. Blogs published by reliable individuals and agencies can enlighten you with actionable advice that can propel your digital marketing efforts to new heights. To help you with the best blogs on digital marketing, this blog will help you navigate through the 10 best digital marketing blogs. 
Besides reviewing blogs and educational material, enrolling in a certificate programme will be of tremendous help. One such course is offered by IIM Visakhapatnam – PG Certificate in Digital Marketing and Growth. This programme is held in the direct-to-device mode, helping professionals to upskill at their own pace and anywhere they want to. From real-time case studies to practical sessions empowered by industry experts, you can cherish numerous USPs of this course. Join soon and accelerate your position as a digital marketing professional.
Reading the best selection of digital marketing blogs can provide expert insights and practical tips to uplift your online marketing strategies. To help you with the same, follow the best blogs below.
Best Digital Marketing Blogs to Follow in 2023
Social Samosa

Social Samosa is a leading digital marketing blog that has earned its reputation as a prominent resource for aspiring marketers and industry enthusiasts alike. With its comprehensive coverage of the digital marketing landscape, Social Samosa offers a wealth of knowledge and insights that empower marketers to navigate the ever-changing online market. The blog offers a unique and extensive list of social media accounts in various divisions and categories. This valuable resource enables readers to stay updated with industry influencers, thought leaders, and brands that are making their way in the digital marketing space. By following these accounts, individuals can gain inspiration, learn from successful strategies, and stay informed about the latest developments in their specific niche. Through practical advice, tips, and success stories, the blog helps individuals identify their strengths, develop their brands, and navigate the competitive critical aspects of digital marketing.

Moz Blog

When it comes diving into the world of search engine optimisation (SEO), there is no better resource than the Moz blog. As a leading provider of SEO services and website analytics, Moz offers expertise to help businesses and marketers enhance their online visibility and improve search rankings. The Moz blog covers numerous topics catering to beginners and seasoned SEO professionals. Whether you want to learn about on-page optimisation techniques, the latest algorithm updates, or effective keyword research strategies, the blog provides in-depth articles that unravel the complexities of SEO. Some of the most popular topics covered on the Moz blog include insights on rewriting titles to improve search ranking and the significance of re-optimising existing content. Moreover, it also highlights suggestions on how to craft a winning SEO strategy for a new website. By following the Moz blog, readers access proven tactics and best practices that can boost their SEO efforts to new heights.

Marketo

Owned by Adobe, Marketo is a prominent American SaaS (Software as a Service) company specialising in marketing automation software. Their cutting-edge solutions are designed to streamline marketing processes and measure customer engagement. Marketo's digital marketing blog is a tremendously popular platform, attracting over one million monthly visitors. The platform is a valuable resource for professionals seeking answers to their "how-to" questions in various digital marketing aspects. Marketo's blog brings a wealth of insightful information for both seasoned marketers and beginners. On the one hand, beginners can explore topics like digital marketing strategies, and on the other hand, professionals can engage with their target audience to drive measurable outcomes. Explore Popular Digital Marketing Courses Professional Certificate Programme in Digital Marketing for Performance & Growth Post Graduate Certificate Programme in Digital Strategy and Marketing Analytics Post Graduate Certificate in Digital Marketing & Growth

Neil Patel Blog

In the marketing industry, Neil Patel is an inevitable name. The man has successfully paved the path to being listed among the top 10 online marketers by Forbes. Neil Patel, through his highly regarded digital marketing agency, NP Digital, has established himself as a leading authority in the industry. He offers businesses and large companies innovative marketing ideas aimed at driving growth and generating increased revenue. The Neil Patel blog is a treasure trove of valuable content catering to a diverse audience, including businesses, entrepreneurs, freelancers, and digital marketing enthusiasts. The blog has more than 10 million visitors every month as it serves as an updated resource for practical knowledge on different domains associated with digital marketing.

Social Beat

As a leading digital marketing company, Social Beat specialises in providing creative marketing solutions that help businesses thrive in the online marketing scenario. In addition to their client services, they consistently publish insightful blogs that cover a wide range of topics within the digital marketing domain. The blog section of Social Beat's website serves as a treasure of knowledge for marketers and business professionals. With a diverse array of categories, including marketing automation, consumer insights, market research, marketing technology, branding and design, content marketing, and SEO, the blog offers profound and practical tips to elevate digital marketing strategies. By regularly exploring Social Beat's blog, readers gain access to the latest trends. They can also understand industry best practices and innovative strategies that can be implemented to drive business growth. Social Beat's commitment to sharing valuable content through its blog establishes them as a trusted source of expertise.

Hubspot Blog

HubSpot, a prominent American SaaS company, is widely recognised for its comprehensive technology solutions in digital marketing. Alongside its innovative products, HubSpot maintains a highly influential blog that attracts more than 7 million views every month. This blog serves as a go-to resource for every individual interested in marketing. HubSpot's blog covers an extensive range of topics, providing in-depth information across various facets of digital marketing. From marketing strategies, branding, website design and content planning, and email marketing to social media tools, virtual reality, and consumer behaviour, the blog offers a wealth of valuable content. By delving into HubSpot's blog, readers can access actionable tips, industry trends, case studies, and expert advice. The blog's diverse coverage ensures marketers and business professionals can stay informed, expand their knowledge, and leverage effective strategies to drive business growth and success. Note: Suggesting adding internal images Add internal images related to digital marketing courses with proper internal linking. Check out the link for reference: https://www.upgrad.com/blog/ecommerce-marketing-essentials-how-to-drive-more-sales/# Image Tag: Unlock your potential by enrolling with Digital Marketing & Growth Program

G2 Learn Hub

G2's Learn Hub is a highly acclaimed online marketing blog that has garnered a loyal following of over 1 million subscribers. Renowned for its comprehensive coverage of digital marketing, the blog offers tons of valuable articles across a broad array of topics, including social media, management, inbound marketing, and technology. What sets G2's Learn Hub apart is its commitment to providing useful and actionable content for marketers and business professionals. Whether you're seeking insights on the latest social media trends, effective inbound marketing strategies, or guidance on leveraging technology for marketing success, the blog offers a wealth of informative articles. G2's Learn Hub is a comprehensive online platform that goes beyond digital marketing to accommodate various industry insights. In addition to design, marketing, and sales, the platform features an extensive collection of blogs dedicated to productivity and technology.

Bloggers Passion

BloggersPassion, a leading digital marketing blog from India, is the brainchild of Anil Agarwal. He is an esteemed SEO expert and full-time blogger. Started in 2010, BloggersPassion aims to empower beginners by providing extensive insights to enhance their search traffic and boost sales. Catering to both newcomers and seasoned bloggers, BloggersPassion covers a diverse range of topics essential for growth in the era of digital marketing. Readers can expect to find articles and resources that offer actionable strategies, tips, and techniques to maximise their income from blogging and digital marketing endeavours. Whether you're seeking guidance on optimising your website for search engines, leveraging social media platforms, or monetising your blog effectively, BloggersPassion has you covered. The blog serves as a valuable resource, equipping readers with the skills necessary to succeed in the competitive digital marketing world.

Buffer Blog

Buffer, a highly popular digital marketing blog, caters specifically to social media enthusiasts. The blog serves as a hub of knowledge by offering the latest trends, case studies, and strategies in social media marketing. Buffer's blog is a go-to resource for marketers and individuals looking to amplify their social media presence. Readers can dig into case studies that highlight successful social media campaigns by various brands. It helps them gather appropriate information and inspiration for curating their own strategies. Additionally, the blog covers topics like content creation, increasing engagement, and video marketing, equipping readers with practical tips and techniques to optimise their social media efforts. By regularly engaging with Buffer Blog, social media enthusiasts can stay updated on emerging trends. They can leverage proven strategies and gain a deeper understanding of how to effectively engage their audience on multiple platforms. The blog's comprehensive coverage and real-world examples make it an invaluable resource for people seeking to maximise their social media marketing efforts.

Digital Deepak

If you want to dig into the best blogs published through individual efforts, Digital Deepak should be at the top of your list. It is a well-established blog, which was ideated by Deepak Kanakaraju, a highly regarded name in the industry. With a focus on providing insights on practical strategies, Digital Deepak covers a broad range of topics essential for success in digital marketing. The blog offers in-depth articles on Facebook and Google Ads strategies, equipping readers with the knowledge to optimise their advertising campaigns on these platforms. Moreover, Digital Deepak sheds light on the effective use of marketing tools to streamline processes and enhance efficiency. Thus, allowing marketers to achieve better results in their campaigns.
Takeaway
Staying updated with the latest trends and strategies in digital marketing is crucial for success in today's rapidly changing marketing scenario. The top 10 essential digital marketing blogs highlighted in this list provide expert advice and practical tips to help marketers stay ahead of the curve. Whether you're interested in SEO, social media marketing, content creation, or any other aspect of digital marketing, these blogs offer a wide array of knowledge. 
By regularly reading and engaging with these blogs, you can gain a competitive edge, refine your skills, and achieve remarkable results in your digital marketing efforts. So, make it a priority to explore these top blogs and immerse yourself in the world of digital marketing to thrive in 2023 and beyond.
While reading the blogs can help you gain beneficial insights, being a part of a well-establish programme will be an add-on for boosting your career. You can join IIM Visakhaptam's Post Graduate Certificate in Digital Marketing & Growth through Jaro Education and have a comprehensive understanding within 12 months of the course. With this programme, you can indulge in real-time case studies amidst 150 hours of extensive learning. So, join this course and nurture your digital marketing expertise.