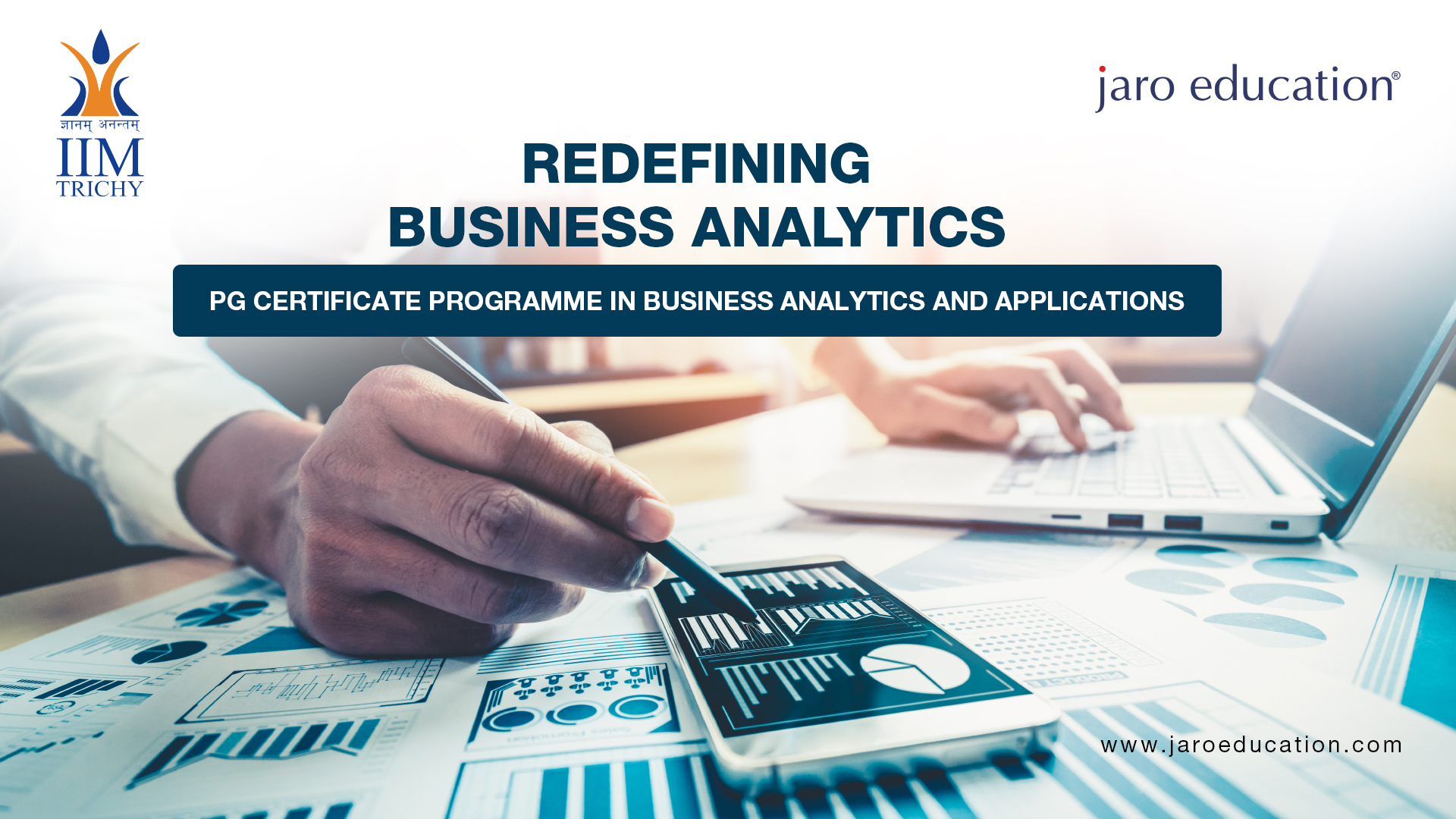 Benefits Of Pursuing Business Analytics Course From IIM Trichy
Ever considered Business Analytics Course for achieving a thriving career. In the current economic landscape, Business Analytics has become a key tool in guiding major business decisions today. Using business intelligence, everyone can facilitate data interpretation to predict future patterns – analytics is going to drive scalable success in businesses for the upcoming years.
The world of Business Intelligence and Analytics is evolving at a rapid pace. Here, the main emphasis is on real-time Business Intelligence to enable quick decision making and on Data Visualization, which enables data patterns.
Believe us, harnessing the power of analytics in business is easier than ever. That's right, companies that use business analytics tools reap enormous benefits such as improvement in strategy, increase in process, monitoring and financial performance.
Projected Growth Rate – Business Analytics Industry in India
Analytics professionals earn 23% more than most job profiles in India – forecast years are from 2021 to 2025.
India in-memory analytics market is projected to record a CAGR of 24.35%
The median Business Analyst salary in India is recorded to go up to Rs. 700k in the coming years.
Source: The Hindu. Inkwood Research. Glassdoor.
Looking to build a strong and lasting career in the business analytics field?
You can kick-start your career in the Business Analytics field with IIM Trichy.
Introduction to IIM Trichy Institute
Started in 2011, IIM Trichy has set its name as one of the premier management institutions with capabilities in creating and disseminating management knowledge. IIM Trichy has 33 faculty members with strong academic and industrial experience.
Faculty members are from leading management educational institutions both from India, like IIMs and IITs, and also from foreign universities. The institute, apart from running flagship Post Graduate Programme in Management, also has doctoral programmes and postgraduate programmes in business management for working managers.
IIM Tiruchirappalli was conferred with the Leadership & Innovation Award: 2020 in the Business School Category by the Higher Education Forum (HEF) at the 11th HEF Annual Convention. The Institute is placed 7th among top B-Schools in Outlook-ICARE India MBA Rankings 2020.
IIM Tiruchirappalli has been placed at 15th rank by the National Institutional Ranking Framework, Ministry of Human Resource Development, Government of India (2020) in the category of Management Institutions. The e-Learning Center of Executive Education and Consultancy (EEC) furthers the mission of IIMT to reach out to aspiring executives keeping in mind their time and location constraints.
The e-learning programmes enable IIMT to foray into the online Executive Education space with a single-minded focus to make quality management education contemporary, conveniently accessible and affordable.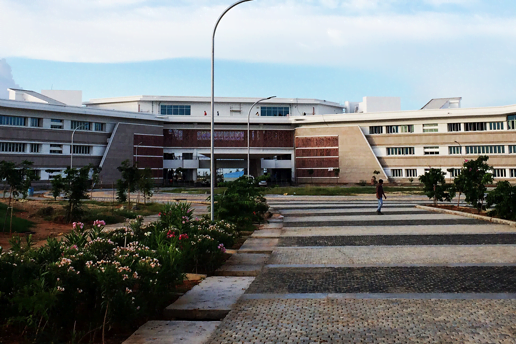 Moulding Excellence – In the heart of a new beginning
IIM Trichy aims to find its own footing in developing competent professionals for the industry and doing quality research in India.
Hard work, Perseverance, Passion and Integrity are some of the virtues necessary to attain success. IIMT boasts about a collection of eminent faculty and motivated students which form its backbone. Students are selected after a thorough screening process and IIMT takes excellent care in ensuring an optimal student-teacher ratio to encourage better learning and to impart appropriate guidance.
IIM Trichy Key Takeaways
Learn from IIM Experts
Earn PG Certification
Proven Pedagogy
Real-world case studies
Insights on Capstone Project
Marketing Analytics helps in measuring, analysing performance to uptick the campaign at an optimal level. This generates a better return on investment. Here, Analytics plays a significant role in predictive analysis; whether the coupon codes, website visits, or mailer marketing campaigns, you have opportunities to leverage analytical insights.
Let's look at the use case for better clarity
"Panasonic Japan's audience-centric digital campaigns have been a success. They obtained a 30% increase in ROAS for their campaigns, 300% clickthrough rates boosted year over year. Their bounce rate on its website declined by 50%."
Return on advertising spend Source: Marketing Platform
These techniques created a seamless customer-centric approach for Panasonic Japan. The company could swiftly optimize their campaigns and achieve better results. This type of dynamic allocation helped them to quickly rearrange their budgets between the low and high performing ads. Here, Panasonic gained momentum by utilising analytics.
Maintaining Momentum
Understanding analytics in digital marketing allows you to view a truckload of data. Whether it is about the customers or the brand's competitive analysis; you can track the metrics on larger parameters like bounce rate, reach, pages per visit, or avg session timescale. Analysing the quality of users' reviews or comments will help you measure the exact loopholes to optimize further.
Discover the Institute
IIM Nagpur is a premium management institution enabling high-end executive education programmes. The institute is paving new changes, value-driven breakthroughs in the educational space. IIMN is transforming education by bridging strong conceptual foundations and analytical approaches for working executives.
The main aim is to build quality-driven programmes that promote learning in all spheres of lives. IIM Nagpur offers quality in multiple niches from management, to education policies and business. With the help of a well-organized faculty body, IIM Nagpur strengthens the executive education space.
Merits of Joining IIM Nagpur's Digital Strategy And Marketing Analysis Programme
The digital marketing and analytics ecosystem is dynamic and the margin of fallacy is limited. In the economic recovery from the pandemic, Digital Strategy bridges the gap between entities and end-users. As the programme uncovers the levels of digital strategy and marketing analytics, making learners explore new-age techniques and tools.
In the Digital Strategy And Marketing Analysis programme, each lecture is built to raise participants' agility, resilience, and growth. The programme aims to equip Marketing aspirants, hands-on simulation to upskill their learning levels.
This 9-months PG Certificate Programme is for aspiring professionals who aim to enhance their core competency.
In this era of digitalization, it is essential for managers to develop sound capabilities and manage uncertainties. IIM Nagpur digital strategy and marketing analytics programme equips learners with strong contemporary strategic marketing competencies.
This programme aims to develop competencies among managers by upskilling their existing industry know-how, making them future-ready.
The main objective of the IIM Nagpur- digital strategy and marketing analytics programme is to gain an analytical and functional understanding. This programme helps to develop marketing skill simulation and learn strategic marketing tactics. The participants will explore cutting-edge digital marketing trends and techniques.
They can be equipped with contemporary strategic marketing competencies. Learners can seize exposure to multiple pedagogical models. Herein, the pedagogical models' includes learning through workshops, case-based discussions, assignment, etc.
They will learn various marketing analytical techniques and gain insight on digital marketing strategy simulation: Digital Markstrat. Learners will also obtain in-depth industry insights through virtual learning sessions.
Blended Learning
Discover 9 Months of Blended learning from IIM Nagpur. Learners will get an open enrolment to the executive education programmes by IIM Nagpur. These programmes are tailor-made concerning the current competitive demand. The P G Certificate programme in DSMA will provide a career edge at all the stages of their careers. Blended learning mode is an online virtual learning plus pre-defined campus modules.
In these virtual sessions, the learners get to schedule at their own pace. The faculty promotes intra batch interactions and intense discussions through these virtual sessions. While the in-campus sessions have a chance of understanding lectures via face-to-face interactions. These sessions' enables an in-depth exposure to individual functional domains.
PG Certificate & Alumni Status
As you complete the Digital Strategy and Marketing Analytics programme, you will gain this prestigious IIM Nagpur's PG Certificate. This PG Certificate will aid as specialised licensure and build up your credentials in your new job role.
IIM Nagpur's PG Certificate programme will add an alumnus tag for the learners. Once you have completed the IIM Nagpur's PG Certificate in Digital Strategy and Marketing Analytics course, the institute will entitle you with these advantages:
Get networking opportunity
Be a part of open discussions
Receive newsletters and magazines
Obtain the brand new merchandise
Subscription of job openings
Insights on alma mater
Mentorship from peers
Discover IIM Trichy- BAA Programme
A Programme Snapshot – PG Certificate Programme In Business Analytics & Applications – IIM Trichy
Want to upscale your career in Business Analytics? Join IIM Trichy- PG Certification Programme in Business Analytics and Application. IIM Trichy has designed a special Business Analytics and Application Programme to fill in the participant's knowledge gap with the latest industry know-how. Aspirants will learn how to turn data into insights for leveraging business growth. IIM Trichy- Business Analytics & Applications Programme focuses on providing a framework for transforming data into business acumen to provide quality deliverables. Pedagogy will be a mix of lectures, case-based discussions and hands-on training.
Learning Outcome
Fundamentals of Business Statistics Data collection, Visualization, and Storytelling
Data Operations Research for Business, PowerBI
Predictive Modelling with R, Data Mining with SPSS, Python
Programming for AI and ML, Operations and Supply Chain Analytics Risk Analytics
Uncover the Tools
Learn popular Business Analytics tools from IIM Trichy's expert faculty. An aspiring business analyst needs to learn a variety of tools and techniques, which would enable seamless execution of any project in hand.
IIM Trichy provides hands-on experience on some of the most popular business analytics tools such as:
Microsoft Excel- It can be used when managing and analyzing data.
R & Python- The two most popular programming languages in analytics are R, for statistical analysis, and Python, for general programming. Gaining in-depth insights into both these languages will be beneficial for the students to analyze data sets.
Tableau- You will learn to analyze, visualize, or forecast data with Tableau.
AI and ML- Learn to build AI & ML-based projects and product road maps across all business verticals.
PowerBI- Discover the right BI solution for your business data using Power BI
SPSS- Statistical software like SPSS helps to uncover an interactive, or batched, statistical analysis.
Programme Details
Batch: 02
Duration: 12 Months
Mode: Weekend Class
Campus Immersion: 2 campus visits for a total of 5 days
Pedagogy of IIM Trichy BAA Programme
The programme will be offered in a hybrid mode with two in-campus modules and the rest delivered in asynchronous learning mode. The synchronous learning classes will be spread over 45 weeks with 3 hours of contact time per week
Pedagogy for this programme will be a mix of lectures, case-based discussions and hands-on training. Participants are required to read the various course materials, assimilate and participate in the class discussions. Participants will get exposure to use software tools such as Microsoft Excel, Tableau, PowerBI, SPSS, R and Python
Course evaluation will involve assessments for each module. Participants will also undertake an application project (preferably from the organization where they are working) to demonstrate the understanding of the concepts learnt in this programme.
IIM Trichy BAA Programme Fee Structure
Application Fee : INR 1,500 + GST
Total Programme Fee (exclusive of Application Fee) : INR 2,67,000 + GST
Business Analytics: The Need of the Hour
Business analytics can help businesses make giant leaps in their growth and revenue.
Business analytics in a simpler term is the process of identifying where your organizations could do better, and how to get there, using data.
According to the Harvard Business School, business analytics professionals "analyze what a business needs to function optimally and what it needs to improve, and then work to implement solutions. This may include improving processes, changing policies or introducing new technology." Business analytics has a procedure of using quantitative methods to deriving data making logical business decisions post receiving vital data.
Methods to conduct business analysis:
Descriptive: It makes use of historic data to identify trends and patterns
Predictive: It uses statistics to forecast future results
Prescriptive: It conducts testing and similar techniques to determine the best results in a particular scenario
Business analytics helps to determine whether your business is going in the right direction or not by improving performance. Participants can gain an understanding of these primary methods to conduct business analysis for companies.
Benefits of IIM Trichy- BAA Programme
Time to prepare for a challenging career in Business Analytics. The growing use of data across industries has led to greater demand for business analysts and data analysts. Becoming a pro in analytics requires a combination of practical and strategic abilities.
Learn how a PG Certification programme can set you up for success in this fast-growing business analytics field.
Here's a run-through of IIM Trichy- BAA Programme benefits:
IIM Trichy – Alumni Status
Becoming an Alumni member requires successful completion of the BAA programme by IIM Trichy. The institute offers Alumni Status membership to the participants, which entitles them with a prestigious alumnus tag.
Get cutting-edge training from industry leaders
IIM Trichy Business Analytics & Applications programme enables participants with a combination of technical skills and strategic training required to thrive as a mid-level business analyst.
Learn from IIM Trichy Experts
Through classes taught by IIM Trichy's expert faculty students will learn how to integrate, explore and develop business acumen using the Capstone project. Students' gets a unique opportunity to network with industry leaders within top organizations. They have the potential to make a profound impact on their future job opportunities.
The Capstone Project
Get hands-on experience with a real-life Capstone Project, multifaceted assignment and in-depth research paper which will help participants to uncover in-depth insights. IIM Trichy – Business Analytics & Applications programme brings quality hands-on experience in capstone projects and simulation. Participants will explore business acumen with Capstone Projects.
Gain real-world exposure
Learning from simulations and experiential projects exercises' emulates business situations and gives students first-hand experience on some of the real-world scenarios related to the course. IIM Trichy- BAA Programme integrates real-life experience into students' coursework through opportunities like real-world case study based learning – deploy simulation projects in data analytics or business disciplines.
Smart Business Decisions – Begins with Analytics
Business analytics course teaches to quantify business values. The next big thing that IIM Trichy- BAA course will teach students is to grasp the power of effective decision-making. Remember, an informed decision is always through in-depth analytics. You will understand how to use vital data to create new ideas and projections. Once you learn how to make an optimum and smart decision, you will seamlessly help your organization to scale up swiftly.
IIM Trichy- Business Analytics and Applications course will help you maintain the competitive edge as you learn and practice data.
Evolve your learning levels to stay ahead of the curve with IIM Trichy- Business Analytics & Applications programme. Now its time to drive the change you want to escalate to reach new heights in your career.
Want more insights on Business Analytics?
Subscribe to our blog and stay updated with the latest information on Business Analytics and Applications.