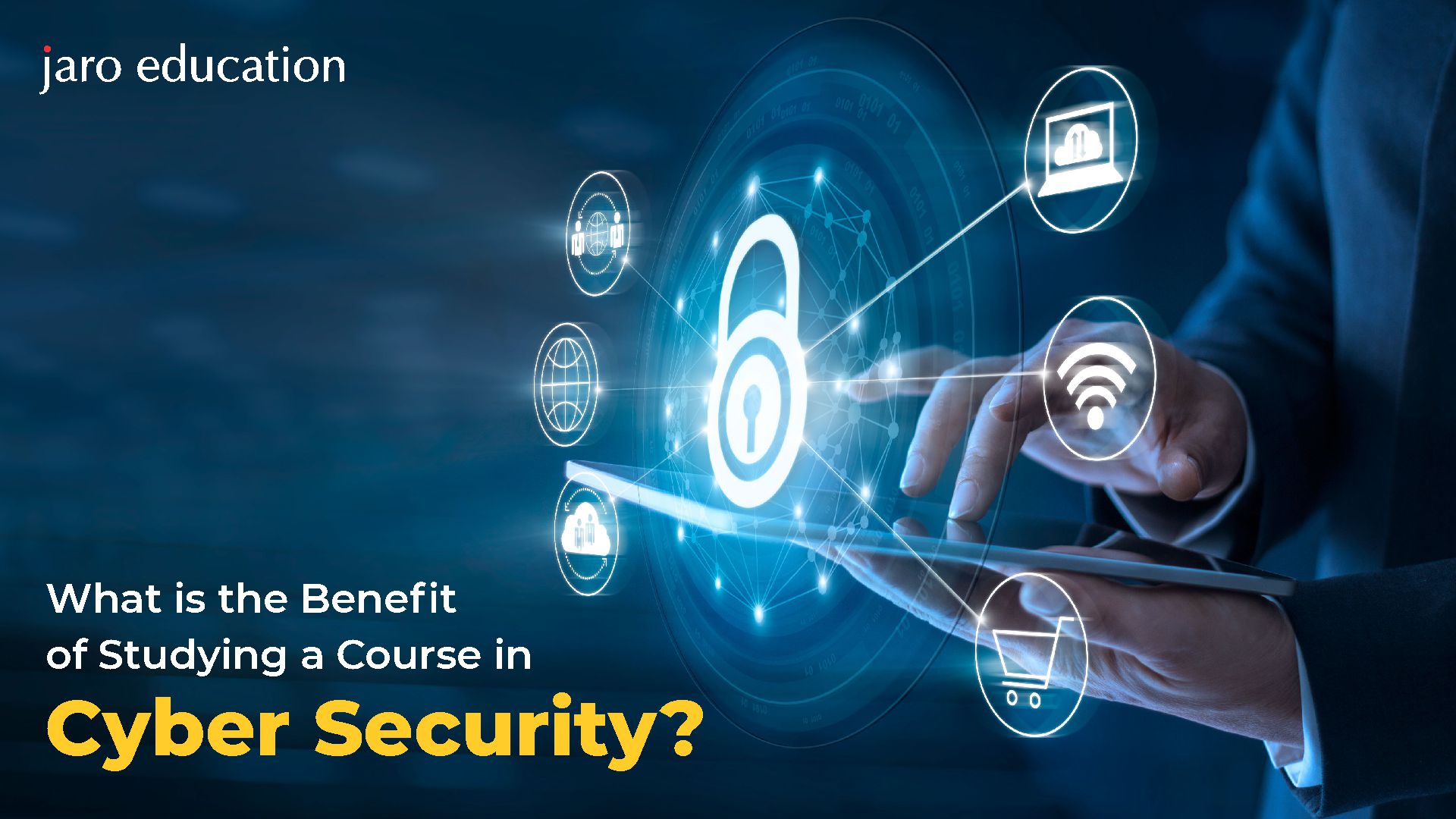 Cyber Security is the systematic protection of computer systems, devices, and data from theatrical cyber-attacks. It ensures that systems, networks, programs, information, etc., are safe from both inside and outside threats and are in the right hands. Cyber Security is also known as information technology security. 
It comes with the layers of cyber protection against cyber-attacks that access data, change data, destroy data and disrupt business operations. 
A certification for cyber security or a cyber security degree can help individuals get to the next level in their careers. Cybersecurity Management aims to reduce the risk of cyber-attacks and protect networks and technologies from unauthorized exploitation. It is a critical and sophisticated process. 
What are the benefits of studying a course in cyber security?
Online Cyber Security courses equip people with the skills required to fight against various cyber threats. Here are some benefits that a course in cyber security can offer: 
Educate employees:

The employees of every organization are the first-line defenders. They are the people who can help an organization win the war against cybercrime. Educating employees regarding cybercrime can give them awareness and knowledge to deal with cyber threats. Only 45% of businesses provide mandatory cyber security training to their employees. 

Cut the risk of destructive human error:

Educating employees regarding cyber crimes also cuts the risk of disastrous human errors. Most cybercrimes are due to human error. Education can train employees to take precautions that can save data from damage. It also helps manage their devices, protect their passwords, and secure their information. 

Meet your compliance requirements:

  The businesses with compliance requirements mainly focus on employee training. Security training communicates regulatory responsibilities to all employees and ensures they follow the compliance codes. This process protects a business from cyberattacks and reduces the fines associated with non-compliance. 

Keep your customer's trust:

Trust is easy to lose and very hard to be built. Cybercrimes may prove expensive and spoil the business's credibility, which takes years to build. Security training helps protect your business assets and also secure your business goodwill. It helps retain and grow your customer's confidence.

Stay one step ahead of increasing threats:

The threats are rising day by day and evolving with the ever-changing face of technology. The latest threat knowledge is compulsory for all the employees. The security training helps employees in getting the knowledge about the latest threats. It trains employees till the last step away from the threats. 

Increased security:

The studying of cyber security makes your business secure from outside and inside threats. It trains employees regarding the latest threats and stops them from making mistakes that harm the organization's safety.

Saves time and money:

It is a wise investment. A well worth cyber training saves lots of money wasted due to cyber-attacks. The cyber-attacks also waste time to repair the damage that occurred due to them. The proper training regarding cyber securities protects from scrambling of information and saves money and time. 

Empowering your workforce:

Cyber security training builds confidence and an awareness of risk among employees. A keen understanding of cybercrimes helps them stay informed about different threats. This will help them guess the threat at the first attempt. Proper cyber training empowers the workforce of the organization. 
The benefits of cyber security training help save an organization from various threats. The well-equipped knowledge of cyber laws among employees keeps an organization safe, and companies no longer need to worry about unauthorized access to their network and data. It helps an organization protect its employees and end-users. Robust cyber security solutions build confidence among developers and customers regarding their products. 
Conclusion
Data science and cyber security have a massive relevance in the fast-growing digital world and are a sure-shot way to avoid cyber-attacks and protect electronic devices. The threats of cyber security are difficult to deny. It is essential to know how to defend them. Cybersecurity programmes can help individuals get to the next level in their careers. The scope of cyber security certifications for beginners is vast.

FAQs
What can I do with a cyber security management degree?
The study of cyber security expands a person's knowledge of cyber-crimes which helps fight against different cyber threats. After getting a cyber security management degree, you may apply for a role in reputed companies as a compliance director, ethical hacker, network engineer, or information auditing specialist, etc. 
Is a Cybersecurity Management course good for my career?
There are countless reasons which describe it as a worthwhile investment. It builds the careers of people. According to a study conducted in 2021, 3.5 million jobs are still unfilled with cyber security jobs worldwide. 
What is the highest-paying cyber security job?
There are eight top highest paying cybersecurity jobs: bug bounty specialist, chief information security officer, lead software security engineer, cybersecurity sales engineer, cybersecurity architect, cybersecurity manager, penetration tester, information security analyst, etc. 
Which country is best for cyber security jobs?
According to research, several countries ranked for the best cyber security jobs, such as the United Kingdom, Malaysia, China, France, Sweden, Estonia, etc.