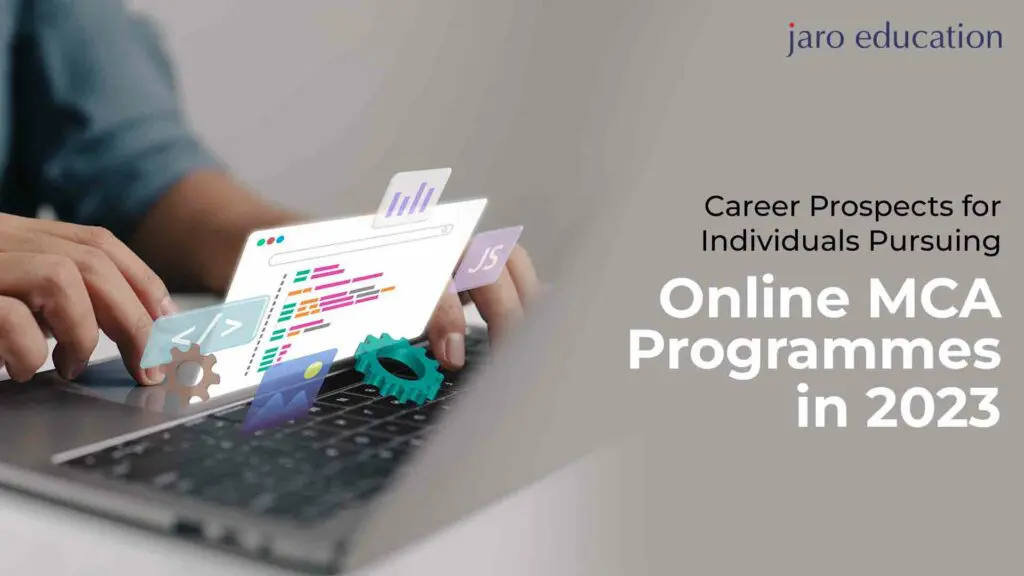 In today's digital age, technology plays a vital role in every aspect of our lives. With the rise of the digital economy, the demand for skilled professionals in the field of computer applications is huge. This is where the Master of Computer Applications (MCA) programme comes into the picture. MCA is a postgraduate degree programme providing learners with advanced computer science and applications knowledge and skills.
Online education has gained popularity and credibility among learners and employers in recent years. This is due to the flexibility, convenience, and cost-effectiveness of online learning. Online MCA courses are no exception. Manipal University Jaipur and other top universities now offer online MCA programmes allowing learners to study as per their own convenience, while managing their job responsibilities. 
The importance of an MCA programme in 2023 cannot be overstated. As the world becomes increasingly digital, the demand for skilled professionals in computer applications is expected to continue to grow. It provide learners with the skills and knowledge they need to succeed in this competitive field. In this blog, we will explore the career prospects for the individuals pursuing an online MCA programme in 2023 and understand why pursuing an online MCA programme is a smart choice.
With the rapid advancement of technology, companies across industries require skilled professionals who can design, develop and manage their IT infrastructure. Professionals pursuing or have an MCA degree are being hired by the top companies in a wide range of fields, such as  IT consulting, software development, finance, healthcare, e-commerce, and government agencies. Hence, they are in high demand due to their specialised knowledge and skills in computer science and applications and are qualified for a variety of roles, such as software developers, system analysts, network administrators, database administrators, and more.
Benefits of an Online MCA Programme
Online MCA programmes offer several benefits to learners who want to pursue their degree without disrupting their professional or personal lives. These include:
Flexibility and Convenience:
Online MCA courses allows learners to complete coursework on their own schedule from any location with an internet connection. This flexibility is particularly beneficial for working professionals who want to continue their education without sacrificing their careers.
Cost-effectiveness:
Online MCA programmes are often more cost-effective than traditional on-campus programmes. learners can save on expenses such as housing, transportation, and textbooks.
Access to Quality Education:
Top universities now offer online MCA programmes that provide the same quality education as their on-campus counterparts. For instance, Manipal University's Online MCA Programme provide learners the access to the same curriculum, faculty, and resources as offered to the on-campus learners.
Career Prospects for Online MCA Graduates
Students pursuing MCA programmes are well-positioned for a range of careers in the field of computer applications. Some of the most popular job roles for them include:
Software Developer:

Individuals pursuing MCA programme have the expertise needed to plan, create, and support software solutions for a range of businesses.

System Analyst:

MCA programmes equip individuals with the analytical skills to identify complex business issues and create efficient IT solutions to address them.

Network Administrator:

Individuals pursuing or have an MCA degree are qualified to administer and maintain sophisticated computer networks, including security, functionality, and upkeep.
They are generally hired in:
Startups – To help to build their technology infrastructure from scratch. 

IT consulting firms – To help them design and implement IT solutions for their clients. 

Government agencies – To manage their IT infrastructure and develop new solutions to meet their needs.
So, they can also expect the potential for career growth and advancement and with experience can easily move into leadership roles like project managers or IT managers. Additionally, few of them may choose to pursue doctoral degrees and become researchers or academicians.
Essential Skills Required to Excel with an Online MCA Programme
Students pursuing an MCA degree must possess strong analytical and problem-solving skills. They must be able to analyse complex problems and design effective solutions. Additionally, proficiency in programming languages, knowledge of emerging technologies, and excellent communication and teamwork skills are essential.
Apart from that, it is also important for them to stay updated with the latest technologies and trends in the field of computer applications. They should be able to communicate with clients, colleagues, and stakeholders; collaborate with team members effectively. 
Factors to Consider Before Choosing an Online MCA Programme
When choosing an online MCA programme,  some factors are crucial to consider, they are as follows:
Accreditation and Reputation:

Choosing an online MCA programme of a university with a good reputation and accreditation is important. This ensures that the programme meets high academic standards and that the degree will be recognised by employers.

Curriculum and Course Structure:

The curriculum and course structure should be up-to-date and relevant to the current job market. Students should look for such MCA programmes that offer a balance of theoretical knowledge and practical skills.

Faculty Expertise and Experience:

The faculty teaching the online MCA programme should have expertise and experience in the field of computer applications. They should be able to provide students with practical, real-world knowledge and insights.

Career Services and Support:

The online MCA programme should offer career services and support for students, such as job placement assistance and networking opportunities.