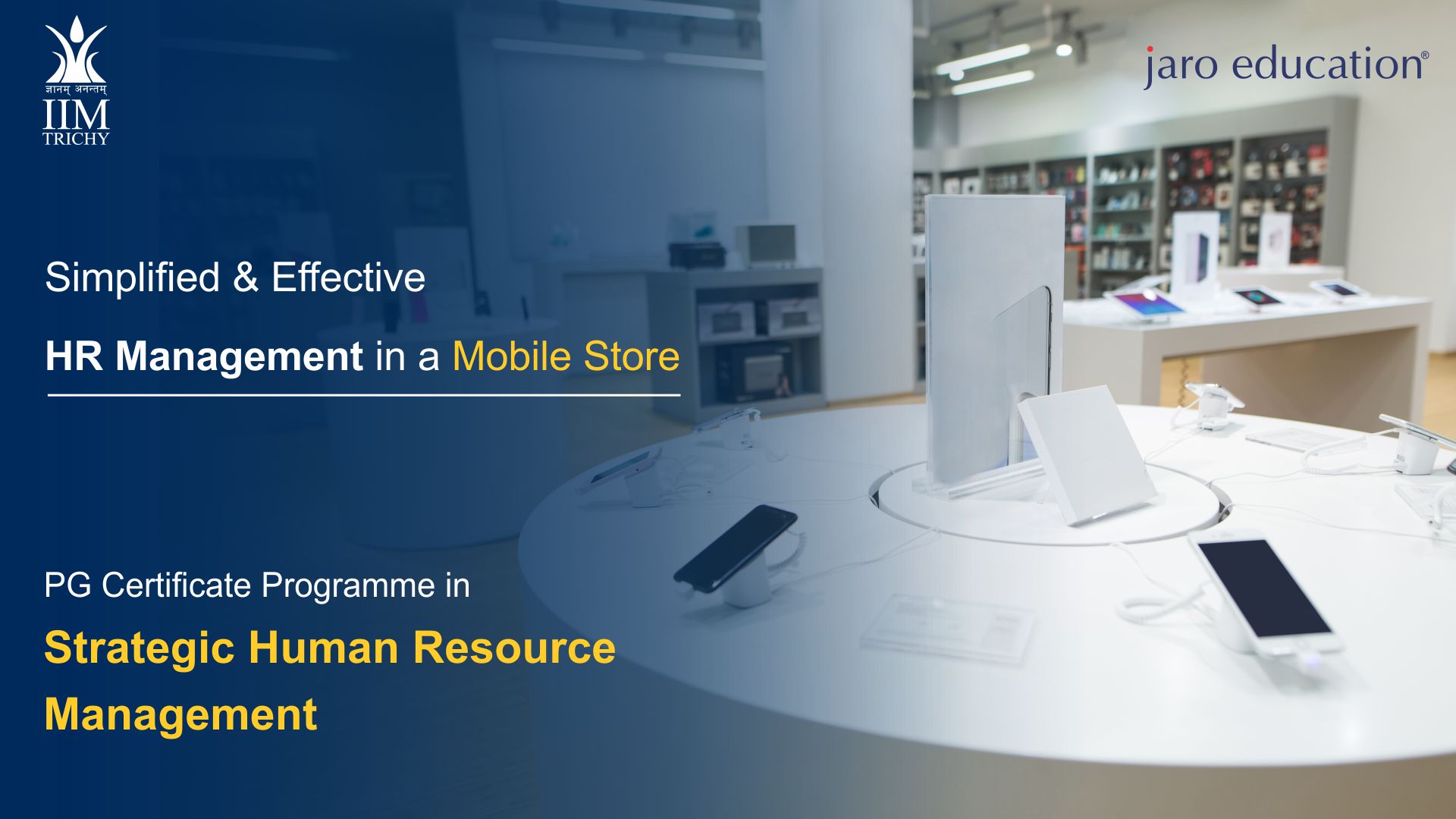 A case study on effective HR management in a mobile store
Heightened customer expectations, draw major advancement in Human Resource Management for reshaping the world of modern businesses. With the rise of omnichannel networks and trends, Strategic Human Resource Management continues to thrive as it surpasses the uncertainty and cost pressures. HR operations provide a new take in-store operations. Professionals must learn new-age HR Courses to stay upgraded with the latest techniques on HR management.
A diverse set of key challenges in HR management like compliance with laws or regulations, management change, workforce training and development is shifting the ways in the new world of work. In order to recruit talented employees, HR Managers must motivate new talents and give them a chance to develop their skills.
Let's witness how Human Resource can reinforce the top talent in retail outlets.
Attracting to retain top talent
The most pressing challenge an HR manager faces in a mobile store is to retain a top-performing employee. The HR managers' needs to be challenging in terms of flexibility and empathy in the new normal. In this shifting world of work, a new set of expectations about evolving technology is growing at a rapid pace. Millennials entering the new job market needs to learn how to focus and manage seamlessly across various verticals and industries.
In the retail industry, the challenges HR executives facing are more comprehensive and complex. They need high turnover rates, manage seasonal working executives, align the stores in multiple locations, focus on global hiring, onboarding training teams, and retaining them. To overcome these complexities in the retail industry, HR professionals must leverage strong strategies. 
Pro Tip | If you want to become a catalyst in managing the mobile store, then join IIM Trichy – Strategic Human Resource Management programme. 
Fueling the retail operations: in the era of digitalization
If you want to improve the management in the mobile store, then opt for smarter schedules, better budgets through activity-based labour scheduling and budgeting, retailers can become more efficient while improving customer service and employee satisfaction. 
Amid pandemic, the compendium explores the breadth of change and risk throughout the modern retail industry. To bridge the gap and boost organisational growth, HR managers must understand how to handle talent for building scalable solutions.
Transformation in a mobile store
The tight labour market evaporated in the pandemic era, a set of unprecedented challenges emerged. A quaint problem in the retail industry also impacted the company's turnover. In the changing times, employee and customer safety is paramount and key issues related to companies amid uncertain revenue flow might be bright in instability. 
Herein, HR managers' needs to strike a balance between work culture, engagement and maintaining a productive workforce. Remember, a happier and motivated workforce brings stronger results and leverage to the organisation. 
In the digitalization of HR Management, managing tomorrow's workforce requires employees is easier than before. HR managers can seamlessly evaluate data records, recruitment databases in terms of multiple records for attendance, timesheets, vacation or leaves requests. 
Unlike manual HR Management which is slower in pace and downshifts to time-consuming methods instead of affordable & modern HRM digital management. Whether the employees are traditionalists, boomers, Generation X, or millennials, new age HR platforms have brought stability between the process of recruitment, employee engagement, communication, and technology complex and hard to sustain.
Talent acquisition & work flexibility 
Talent acquisition plays a pivotal role in hiring the right candidates for the retail industry; even small businesses like mobile stores will gain multiple benefits.  Training your staff gives a direction to them. Whether they are working remotely or in front-line dealing with customers or clients in person, flexibility from HR as retailers adapt to the new ways people are working.
Impact of new-age SHRM Programme
Upskill with IIM Trichy- Strategic Human Resource Management programme before retaining to the workplace. Modern HR operations fuel impeccable results for future strategies driving realistic and people-centric approaches. Professionals must become agile in nature and develop swift organizational change. 
The IIM Trichy- Strategic Human Resource Management Programme cultivates'  professionals to align objectives and activities to the organisational goals. In the complex business environment, HR Professionals will be able to seamlessly analyze the challenges of SHRM. This interdisciplinary programme aids in developing skills to strategically align different functional dimensions of HRM, empowering a theoretical understanding of various models and frameworks,  Professionals seeking to pursue human resource manager courses must gear up and enroll with India's Top University, IIM Trichy- Strategic Human Resource Management programme.  
In the modern business world, HR Managers are likely to face multiple challenges but to effortlessly acquire new-age strategies gaining prowess in HRM is necessary.
Believe us, solving the talent puzzle has never been easy, but after pursuing and upskilling with IIM Trichy- Strategic Human Resource Management programme nothing seems impossible.
Like this blog?
Stay tuned and updated with the nuances of the HR Management course. For more details and insights on the admission process, Enroll Now.