Master of Commerce (M.Com)
SRM IST
Directorate of Online Education
SRM IST M.Com Programme will give you a full understanding of all facets of modern business. The Master of Commerce degree course is a UGC Entitled programme that awards students with key skills required to both conceptualize and refine foundation. This interactive programme teaches students financial and operational aspects that are so important in running a successful business.
The Master of Commerce is a two-year degree programme that prepares students to enter the world of business as conceptual thinkers and analytical leaders by developing their abilities. Students are also trained in entrepreneurial development so that they may venture out into the business world prepared for whatever challenges may befall them. 
The curriculum benchmarks rigorous subjects like International Marketing, Investment Analysis, Portfolio Management, International Trade, Business Research Methods, Logistic & Supply Chain Management. Students at SRM have opportunities for developing academics and scale business foundations which will help to supplement their skill set for tomorrow's world.

UGC Entitled Online Degree NAAC, A++ Accredited Institution

Pedagogy Based on Experimental Learning

Global Online Classroom

Personalized Approach

Students Centric Learning

Networking Opportunities
Learners with any Bachelor's degree with accounts from UGC recognized institutions with 10+2+3 (or) 10+2+4 pattern are eligible to apply.
The minimum percentage of marks/Cumulative Grade Point Average (CGPA) required to be eligible for admission will be prescribed by the Admission Committee of DOE.
At the time of the admission process, a candidate should have appeared/passed in the final semester/year examination of the qualifying examinations.
Applicant must possess enough knowledge and understanding of the English Language.
Industry-Relevant Topics Covered
Python Programming
Android Application Development
Software Testing
Data Analysis using R
Artificial Intelligence & Machine Learning
Cloud Computing
Internet of Things (IoT)
Social Network Analysis
Data warehouse and Data Mining
Discover career opportunities in various corporate sectors and Economic Firms.
Business/Market Analyst
Investment Analyst
Accountant
Risk Analyst
Operations Manager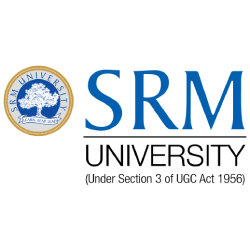 SRM IST is a leading institute of higher learning located in Chennai, India. Established in 1985 by its Chancellor Dr T R Paarivendhar, SRM IST has become one of the most widely recognized institutions within only 37 years as determined by the number of academic awards and recognitions it has been given to date. This private university currently houses 55000 students in four separate campuses with over 3200 faculty members at their disposal.
The Institution has been successful in developing strong international partnerships and collaborative initiatives with other organizations within the field. This has given the SRMIST's International Advisory Board (IAB) a lot of opportunities to increase global reach and uncover new, insightful ways to approach teaching-learning processes. Furthermore, this is also beneficial for us because we may also get some experts from these organizations that would be able to help us create new research directions for successful careers!
The SRMIST is also engaged in technology-driven initiatives which have made learning a very enriching experience. Over 550 students have been sponsored to 35 foreign Universities like MIT, Carnegie Mellon, UC Davis, Warwick and Western Australia under the Semester Abroad Programme. The Institute now enjoys an unsurpassed reputation in academia and corporate circles as a preferred talent source and as a world-class learning institution.
SRM IST Directorate of Online Education offers an online Master of Commerce (M.Com) degree to students who successfully complete the prescribed course of study and meet all other academic requirements.
Master of Commerce (M.Com)
76,000/-
Tution fee per semester (INR)
Note: Additionally, Exam fees for the semester and fees for certificates will be charged separately.
Jaro Expedite - Career Booster
Get personalised career pathing from experts to chart out the best opportunities.
Obtain specific, personalised inputs on your resume structure and content.
Receive one-on-one mock interviews conducted by industry mentors and detailed feedback after an interview.
Get an opportunity to interview for 300+ hiring companies partnered with jaro Education.
Build 21st-Century Skill set to Gain Career Edge in the VUCA World
Learn from the best minds and eminent faculty to become the next industry expert.
By clicking Start Application, you agree to our terms and conditions and our privacy policy.
Frequently Asked Questions