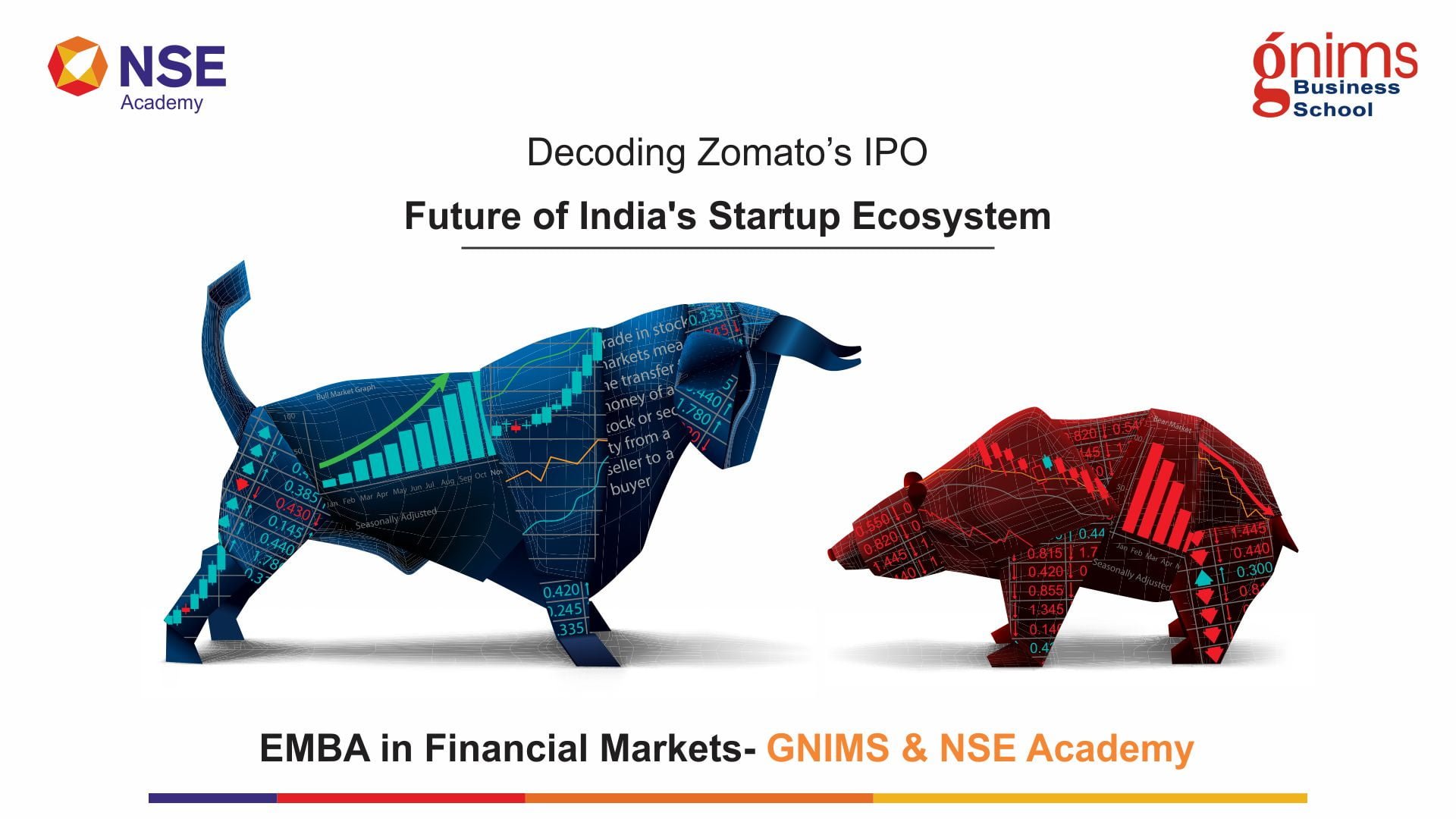 Zomato IPO: Here's Why India's Startup Future Ecosystem Looks Bright
Recovering from the pandemic, we seem to have stumbled upon a new era for financial markets in India. From Millennials piling into the investment space, to multiple startups turning into billion-dollar Unicorns, its no secret this is a very promising sector with surging growth opportunities. SEBI regulations have seen a favorable edge for startups that increased the listings in foreign stock exchanges as well.
The newly listed Zomato IPO has become the talk of the town as its plausible foray into new businesses to drive revenue. In recent times, Zomato is one of the leading foodservice platforms in India and is richly valued at a $9 billion valuation. Following the buzz of early listings, the demand for this leading food delivery platform moved higher.
Working professionals before you jump into the IPO rush, let's unearth the nuances of financial markets. Leverage‌ your trading‌ skills with India's leading Stock ‌ ‌ Exchange ‌ and institute NSE Academy and GNIMS University – Executive MBA Program in Financial Markets.  ‌
Here's a crystal gaze into Zomato IPO:
Shaping Future of India's Ecosystem
India's leading food delivery company, Zomanto made a stellar debut at the NSE and BSE on 23rd July 2021 — marking an opening at Rs. 116 on NSE i.e. 56.63% premium to the final offered price of Rs. 76. The listing at BSE was spotted at Rs. 115. Surprisingly, a company hit by pandemic rebounds with a turning point in the ecosystem of Indian startups.
The Zomato IPO subscribed 40 times on the third day of bidding. Yes, interestingly the IPO obtained bids for 29.04 billion equity shares against an issue size of 719.23 million shares. Earlier, the issue had attracted bids for 27,51,27,77,370 shares, 38.25 times the issue size of 71,92,33,522 shares.
Professionals need to learn how this food delivery company surges the market demand in a blink of an eye. 
| | | | | | | | |
| --- | --- | --- | --- | --- | --- | --- | --- |
| NAME OF IPO | CLOSE DATE | LISTING DATE | OFFER PRICE | CURRENT PRICE(10th August 21) | CHANGE ABS % | HOLDING PERIOD | LISTING PRICE CHANGE % |
| Zomato Ltd. | 16-07-2021 | 23-07-2021 | 76.00 | 125.20 | 4.13 | 19 | 7.93 |
Source: Economic Times
The first day of bidding witnessed a greater retail portion with almost 100% subscriptions in an hour of launch. Amazing, isn't it? The bids were 14.48 crore equity shares against an IPO size of 71.92 crore equity shares. 
In the first quarter, Zomato made a three-fold increase year-on-year at Rs.916 crore- compared with the previous year's Rs. 266 crore. However, its net loss widened by Rs.356 crore during the quarter ended June 30, 2021. Giving a huge leap of Rs. 283.5 crore in comparison to the previous year period.
Source: Money control
Rebounding with resilience
Zomato's IPO marked the globe as a witness to a watershed moment for India's startups. Major global entities and investors were attracted by Zomato's IPO. 
Yes, professionals should analyze how a multi-billion dollar company with no real properties or assets, commands valuation and even attracts global investors like Fidelity, Morgan Stanley, Canadian Pension Fund, and the Singapore Government, and more. 
According to the latest report published by Bain and Company, the number of startups in India increased by 17 % each year to a cumulative number of around 112K CAGR (from 2012 to 2020). Hitherto, venture capital investments have been a major source of funding with a growing number of funded startups by 16 percent.
In a country of 1.36 Billion citizens, Zomato aim's big and targets 90% of the population who do not eat at restaurants. Thus, transforming their eating habits and achieving new avenues. 
Future Ecosystem Looks Bright
India is getting closer to its 5 trillion-dollar economy goal; this IPO has increased the confidence of investors and entrepreneurs. Fueling the billions of enterprises and investors' dreams to leverage growth.
The successful IPO of Zomato is paving the way for new-age companies to enter the equity market. Yes, gearing up for the new-age companies such as Paytm, Policybazaar, Nykaa, etc.  
Big impetus and revolution
The success of Zomato's IPO can teach us what a modern tech company must do to tackle hurdles. Given the fact that India has 37 unicorns, this is only the beginning of the IPO boom in the country.
Professionals aspiring to become robust financial investors or gain strong market penetration, require to refine their industry know-how. They need to learn and build strong foundations in financial markets with the most promising Executive MBA in Financial Market joint Certificate from GNIMS & NSE Academy. 
This 18 months weekend course for financial professionals aims to give experience in real-time simulation of modern financial markets, market behavior, and counter-intuitive. Those professionals who want to ride the financial wave can explore NSE Academy and GNIMS- EMBA-FM Program. 
Stay on top of the latest insights in financial markets with our innovative blog.