Unboxing: The Digital Strategy and Marketing Analytics Programme by IIM Nagpur
The hyper-connected world's current moment of extraordinary environmental dynamic is driving transformative change. Hyper connectivity's implications are driving power changes in the global economic scene. Managers must acquire competencies and handle uncertainty as a matter of course. In this case, there needs to be a program to train them. Over the years, many Digital Marketing Analytics Courses have been developed and designed to make upskilling easier.
The Rise of Digital Strategy
A digital strategy, often referred to as a digital media plan, is a method for maximizing the financial benefits of data assets and technology-based operations. In today's interconnected world, having a strong digital strategy is more crucial than ever. A cross-functional collaboration of senior leadership, advertising, and information systems (IT) personnel is required for an effective digital strategy.
To win in the digital platform, you must not only understand your business model but also how it relates to your big data, machine intelligence, and data strategy. Map out new-age tactics for the digital era and campaign for professional milestones with Digital Strategy Courses from one of the best-ranked universities like IIM Nagpur.
Why Marketing Analytics Foreshadow an Effective Digital Strategy
Large and small businesses alike are flooded with information on customer preferences. However, having more knowledge does not automatically imply making better judgments. The difficulty is learning how to understand data, and marketers especially are constantly encouraged to utilize analytics to explain and defend their actions.
The purpose of a Digital Marketing Strategy is to optimize the return on investment from a company's marketing efforts. Marketing analytics refers to the technologies used to design, manage, and evaluate marketing campaigns across all channels. The major goal of IIM Nagpur's PG Certification Programme in Digital Marketing and Analytics is to improve managerial capabilities by skilling up their current industry know-how and getting them to be ready for the future of Digital Marketing Strategy.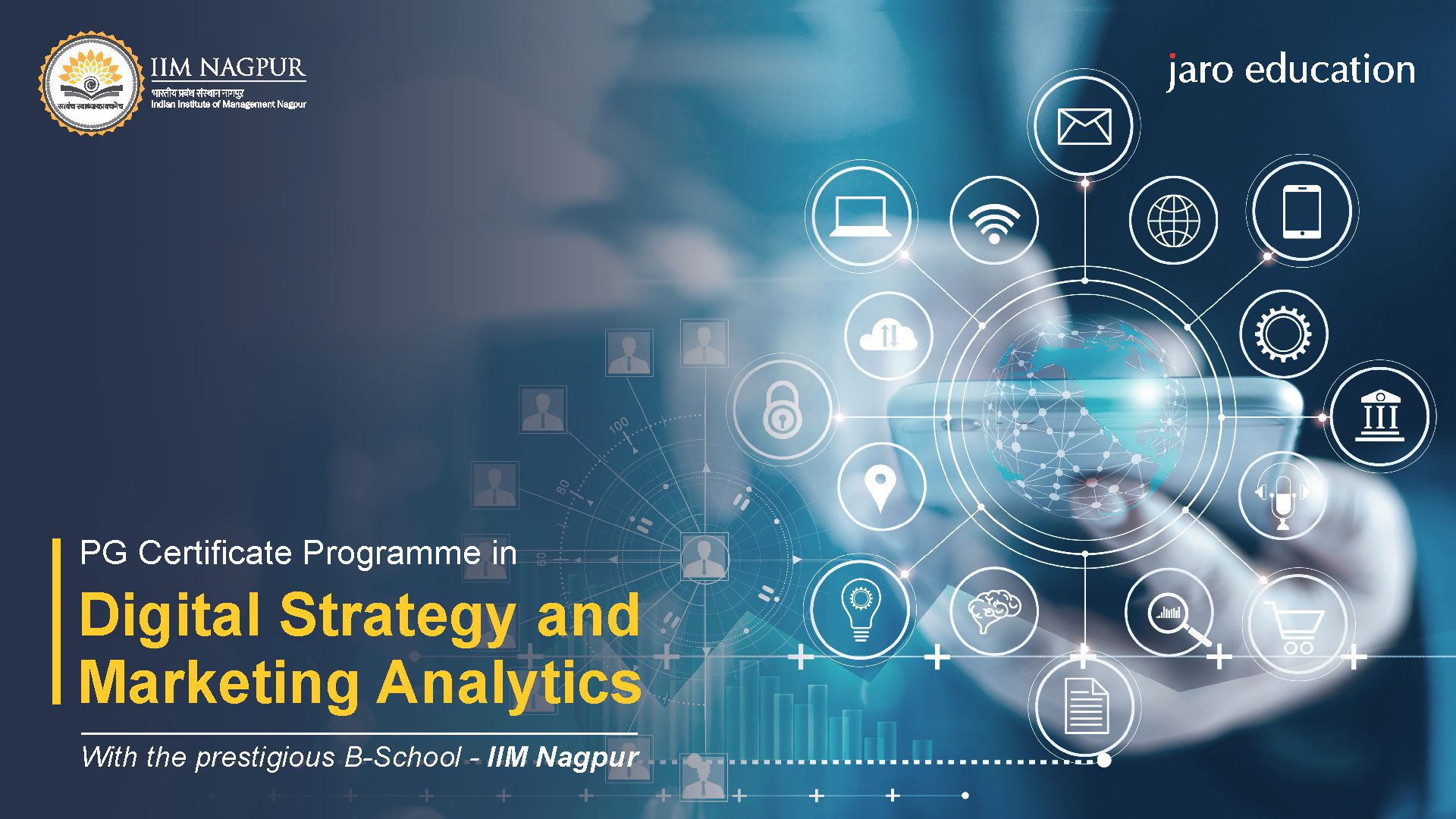 Why is the Digital Strategy and Marketing Analytics Programme important?
The digital marketing analytics employment market is one of the fastest-growing industries, with a shortage of qualified people to meet demand. Working executives require a development opportunity to improve and expand their competencies. IIM Nagpur's 9-month Post-Graduate Certificate Programme in Digital Strategy and Marketing Analytics (DSMA) is aimed at working with executives who want to improve their marketing abilities. Working managers who want to improve their strategizing skills and marketing efficiency abilities can enrol in the multidisciplinary Digital Strategy Courses.
The DSMA curriculum at IIM Nagpur is establishing permeable marketing channels with units that allow participants to connect and experiment. Each topic in the Digital Marketing Strategy Course is designed to help participants improve their adaptability, resilience, and development. This program is designed to provide marketing aspirants with hands-on experience to improve their learning levels. It assists them in becoming effective marketers and leaders who promote innovation in cutting-edge organizations. It provides working professionals with up-to-date, appropriate marketing knowledge and skills.
Digital Marketing and Analytics Course programme is knowledge-based and fulfilling using various verified study models. Real-life case studies, simulations, lectures, exercises, and seminars are all available to help you study. This is a once-in-a-lifetime chance that no growth-oriented professional can refuse to forego.
Who is this Digital Marketing and Analytics Course for?
Working executives will get modern strategic marketing abilities and concepts through this Digital Marketing Analytics Course training. Its goal is to improve managers' capabilities by skills training their current industry knowledge and making them future-ready. The program enables the motivated student to:
Understand marketing techniques from an analytical and functional standpoint.

Learn how to use smart marketing techniques.

Get the knowledge and data on all industry workings.

Develop and practice marketing skills.

Investigate cutting-edge marketing tactics and trends.
Conclusion
The Internet is a cluttered medium. This Digital Marketing Strategy Course teaches individuals to use it to their best capacity. Ultimately, executives will learn how to analyze and improve marketing efforts by using tools to measure the performance of brand awareness and customer assets, understand econometric data, calculate customer loyalty, and perform experiments. Connect with the world of global leaders who are experts in this sector by getting your certification from the prestigious IIM Nagpur.
FAQs
What does a Digital Strategy and Marketing Analytics Course entail? 
Today's marketing of businesses needs a well-balanced mix of art and technology. The Digital Marketing and Analytics Course exposes' students to the science of analytics tools while also highlighting the creative use of data in the digital realm. The objective is to lay the groundwork for using data analytics to solve real-world problems that marketers face regularly.
What topics are primarily covered in a Digital Strategy and Marketing Analytics Programme? 
The IIM Nagpur DSMA course covers the following topics:
Advances in digital marketing and analytics

Gleaning critical consumer insights

Optimizing integrated communication strategies in the digital world

Gain an understanding of industries, markets, and how to create digital marketing strategies

Digital marketing strategy simulation: Digital Markstrat
Is a Digital Strategy and Marketing Analytics course useful for boosting a career in marketing? 
Digital strategy and marketing analytics provide businesses access to data about their consumers and the brand's internet footprint. An individual with Digital Marketing and Analytics Course certification can make better judgments and enhance their company's advertising strategy by understanding and taking data-driven decisions. As a result, they'll be able to maximize your digital marketing ROI.
What is the average salary of a digital marketing strategist?
In India, a Digital Strategist earns an average of INR 10,00,000 per annum.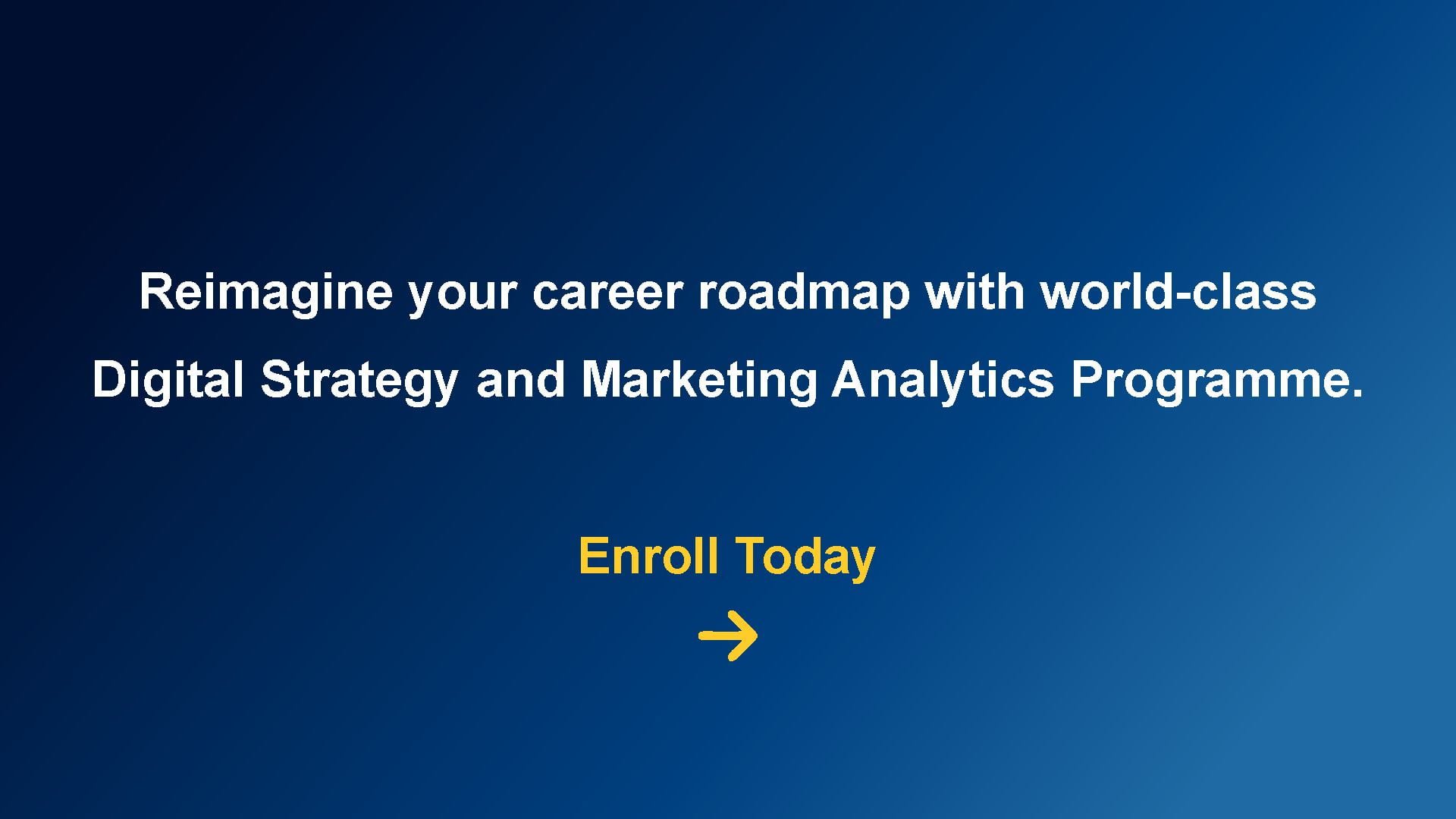 Nidhi Parikh
Senior Content Writer, Jaro Education
An advocate of Content marketing and PR specialist in domains such as EdTech, Data Science, Business Management, Digital Marketing, FinTech and much more. She thrives to dig into the nuances of programs, pedagogical and research models for presenting an ideal career prospect. The author wishes to advance racial equity, helping future leaders invest in the best educational foundation —drive transformational change to achieve the next critical step in their careers.