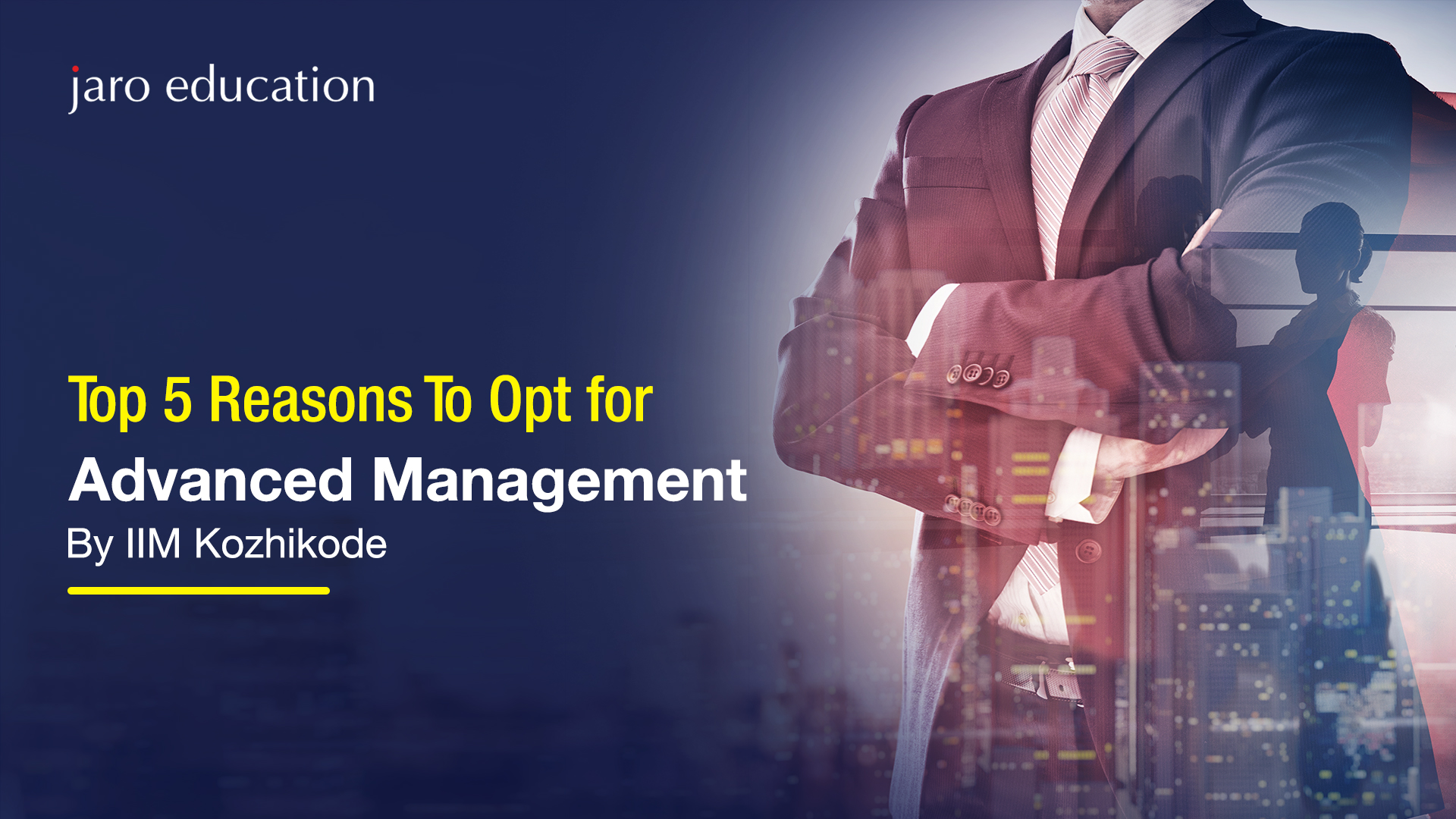 Introduction
Competency-based learning Programmes allow professionals to learn online at a pace that means taking time to use the real-life work experience they've gained over the years during their study. The recent pandemic opened an opportunity to engage in skill development programmes. Most organisations started reskilling their workforces to emerge stronger from the COVID-19 crisis.
Upgrading skills and additional qualifications always help all category employees. As a business professional, once you stagnate, you tend to lack potential positions related to your academic degree. Promotion is everyone's career goal. Transitioning from middle management to senior management can be a challenge.  Prospective candidates opt for complete advanced management and business courses to extend the scope of their career. 
Top 5 Reasons why Opt Advanced Management Programme by Indian Institute of Management Kozhikode 
Many working professionals with diverse and rich experience are choosing programmes that enhance their creativity, enhance their skills, and acquire new ones.
Here are the top five reasons why working professionals should consider an Advanced Management Programme online through IIM, Kozhikode
IIM Kozhikode, a leader in management studies, ranks fourth in the NIRF Ranking 2021. The Professional Certificate Programme in Advanced Management is recognized by the Government of India. This is the best course in Advanced Business Management. Certification is globally recognized and has a high level of business credit. Upon completion of the programme, you will be an alumnus of IIMK. 
 Prepares you for leadership roles
A rigorous curriculum designed to combine theoretical concepts with practical applications ensures permanent marks in management practice. A highly evaluated curriculum guarantees constructive learning outcomes. 
Teaching benchmarks the world's best pedagogy and curriculum content. For experienced individuals, the Professional Certificate Programme in Advanced Management develops the skills needed to achieve senior management roles in large organizations.
Students learn leadership skills from experienced faculty at the Indian Institute of Management Kozhikode, one of the best in the country. Distributed by eminent professors of IIMK who are leading experts serving in various fields around the world. 
The experienced mentors nurture these well-rounded managers with strong leadership potential. You can gain professional insights and learn leadership qualities through experienced mentors. 
Opportunity to change a career path
The Professional Certificate Programme in Advanced Management by IIM Kozhikode provides working professionals with an insight into dynamic management practices through related tools, such as case studies, challenging assignments, and much more. This method of teaching uses pedagogy based on advanced technology and is highly interactive.
These teaching methods help develop efficiency and prepare the experienced professionals to apply the theoretical knowledge in all practical aspects involving decision making. It allows them to readily adapt and work with the new-age management aspects in the new age business world. 
Develop professional network
A programme like Advanced Management attracts professionals working from a variety of backgrounds and with vast experience. So by interacting with such a rich talent pool, you can learn, interact and expand your business network. Building relationships and networking with them is sure to take you much further in your career. 
When enrolled, you will join the elite group of over 3000 senior executives who have excelled after passing the programme.
 Indian Institute of Management Kozhikode
Indian Institute of Management Kozhikode has been a pioneer in the Faculty Development Programme (FDP) in India for many years. IIMK is the leading QIP (Quality Improvement Programme) Center, All India Technical Council. The organization organizes interactive learning (I-L) Programmes for professionals working in India.
The institute focuses on the development of analytical skills and focuses on global and cross-cultural issues, balancing business demands and social concerns.
The Advanced Certificate Course in Business Management accounts for the Professional Certificate Programme in Advanced Management. This programme features some of the best pedagogy and curriculum modules in the world that have been selected for the changing times.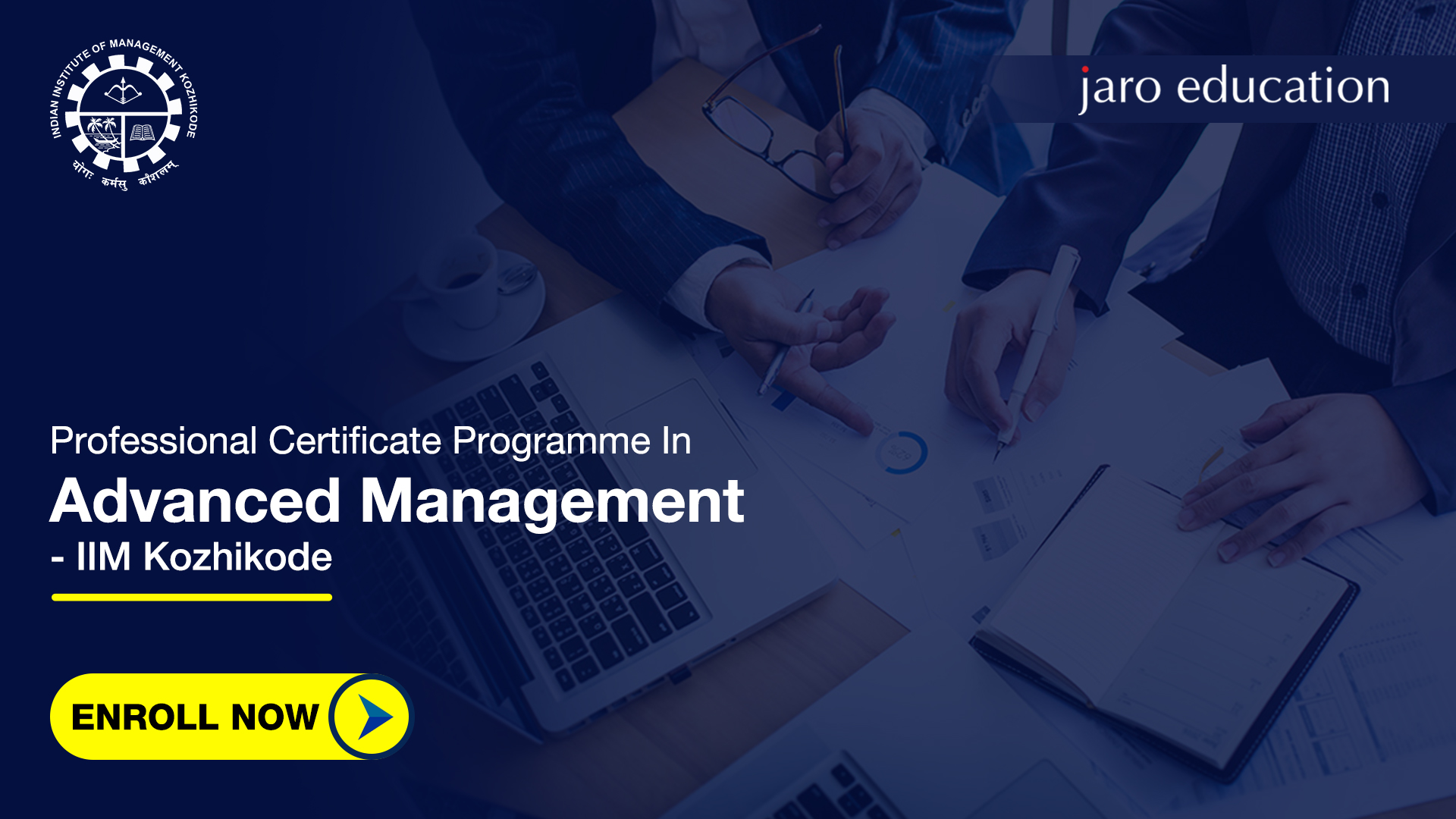 IIM Kozhikode is the 5th IIM, founded by the Government of India at Calicut, Kerala in the year 1996.  
According to The Hindu, IIM-Kozhikode reports 100% placement out of its affiliate courses in business management.
The placement analysis of 2021 highlight the following:
Remained consistent placement rate of 100% for last 3 years

22.4% increase in recruits in 2021 compared to 2020

The top 50% of students received 26.9 LPA an average 12.5% rise in CTC in 2021 than last year

The highest stipend  at Rs 3.74 lakh  

Median salary  increased 12.4% in 2021

Overall 12% increase in mean/average salary offered

 
Conclusion
Experienced professionals can acquire leadership skills by upgrading with the Advanced Management programme. This is on par with the Professional Certificate Programme in Advanced Management. On this line, IIMK helps you succeed in a career in management through Professional Certificate Programme In Advanced Management, an interdisciplinary programme for working professionals who want to improve their role in leadership skills.
Enrol now for the Advanced Management Programme by IIM Kozhikode, and update your skillset like a pro!