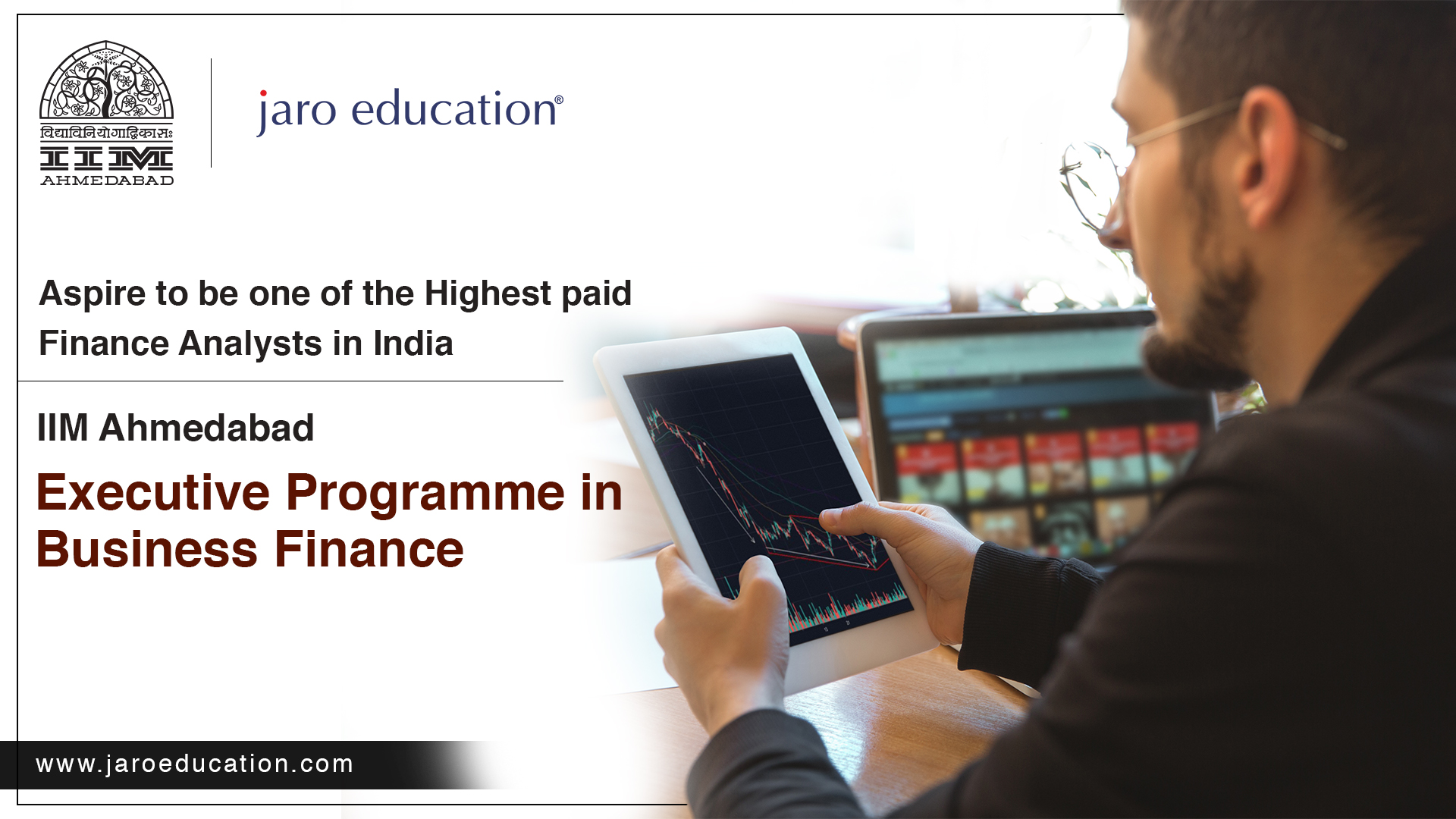 India has a thriving financial sector that is getting bigger by the day. There are a lot of lucrative opportunities in this field. To get the skills and connections to find such jobs, you can pursue business finance course such as the Executive Programme in Business Finance, IIM Ahmedabad (IIMA) with Jaro Education. The IIMA course will allow you to acquire new age management skills for a globalized and connected world. With business finance training courses, you will get a Certification for Executive Programme in Business Finance from a premier B-school and become an alumnus, with the chance to leverage the alumni network. 
With IIMA's Executive Programme in Business Finance, you will easily be able to understand financial statements and financial analysis. You will get a more profound knowledge of accountancy and finance and get comfortable with the world of finance. With business finance certification, equip yourself with general management theories and concepts, understand the functions a manager needs to make excellent decisions, and develop managerial skills such as planning, strategizing, organizational design, mergers, and acquisitions to get high-paying business finance jobs in India.
Top 10 highest paying jobs in business finance
Investment banker
Investment bankers raise financial resources for companies, governments, and organizations. They provide financial advice and help young companies in going public via IPOs. They issue stocks, float bonds, and underwrite shares. The profession is one of the most lucrative financial jobs in India. 
Financial analyst
A financial analyst examines financial data and uses the conclusions to help companies make informed financial decisions. More importantly, they consider microeconomics and macroeconomics data to predict how a certain company or sector will perform in the future. 
Hedge fund manager
Hedge funds use pooled funds to invest money through various strategies to get the best returns for their investors. A hedge fund manager is in charge of vast amounts of money and has to devise a financial strategy by studying the economy, local and international markets, consumer behaviour, and many other things.
Chief financial officer
Public companies have to submit their audited reports to the authorities and release them to the public. The CFOs of companies ensure that companies' financial statements and reports are accurate. They work with a team of accountants and auditors to create financial reports. They also use financial data to make key policy decisions. 
Chief risk officer
A CRO identifies competitive, regulatory, and technical risks and comes up with solutions to mitigate them. In recent years, the job of a CRO has evolved, and they have to guard the intellectual property of a company and protect it against fraud and theft perpetrated by hackers. 
Management analyst
A management analyst is like a mechanic. They constantly make repairs, fine-tune things, and ensure everything is operating well. Management analysts identify and fix inefficiencies. They use their skills and experience to provide objective advice to solve operational problems in the workplace. 
Financial advisor
Financial advisors are financial planning partners for their clients. They provide financial advice and execute trades on behalf of their clients. They regularly update their clients' investments and are constantly on the lookout for new investments. Advisors also help concerning subjects such as tax strategies, insurance, and savings. 
Loan officer
A loan officer helps clients select the best loan products and guides them through the process of applying. Loans are not simple; they require complex and thorough research. As such, clients need help with understanding the intricacies of loan products. Loan officers are representatives of banks, financial institutions, and credit unions. 
Private equity associate
Private equity firms are limited partnerships that look to buy companies that are not doing well. They remove inefficiency and streamline operations to generate profit from these companies. They often have fewer regulatory and compliance hurdles than public ones. Investment bankers sometimes see these firms as their next step. They perform various functions such as analytical modeling, portfolio management, fundraising, and reviewing confidential information. 
Management accountant
Management accountants perform a variety of functions for organizations, such as budgeting, risk management, and strategizing, to name a few. They also help choose investments for companies by looking at financial data and crunching numbers. They need plenty of experience to perform this role successfully. 
Conclusion
Making a successful career in finance is not a cakewalk. You need to have top-notch skills and experience. To get started on your journey, use Jaro Education to pursue business and finance courses online. Beginners can go for the basics of business finance courses online. Study courses such as Executive Programme in Business Finance, Accelerated General Management Programme from IIM Ahmedabad, and much more with Jaro Education. Dive into the world of finance and get top-notch business finance jobs. To know more, click here.
Subscribe to our Jaro Education's blog and stay updated with the latest information.