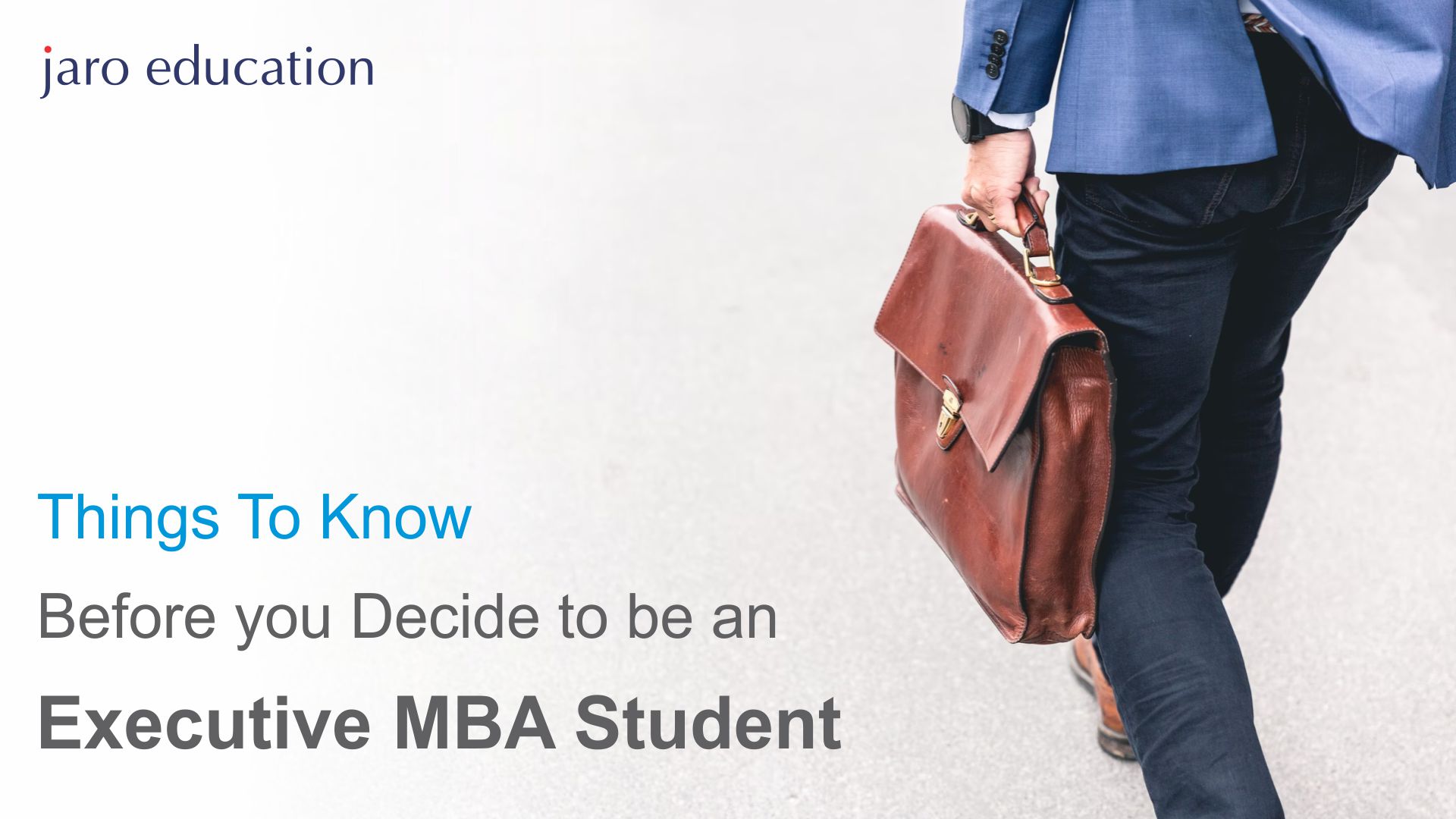 Things To Know Before You Decide To Be An Executive MBA Student
Introduction
J. Willard Marriott once said that "A good timber does not grow with ease; the stronger the wind, the stronger the trees." Marriotts' words of wisdom are inspiring everyone and this keeps on motivating to look at things differently in every aspect, be it personal or professional. This is a known fact that every other challenge is going to guide you in the right direction. Similarly, when thinking about professional education, often everyone gets worried about several challenges such as the costs, difficulty level, commute and time management. However, finding the right course for you is the first step. All the other problems can be easily resolved once you're sure about which course you want to take up and how it's going to help you in your professional journey.
If you're stuck between doing an MBA executive online or upskilling through the job, it's time to simplify your thought process. DSU- Executive MBA programs online don't just equip you with industry knowledge, they help you develop industry ready skills through their interactive curriculum, assignments and projects. Moreover, the EMBA degree you receive by the end of your course can help you gain more opportunities. In short, the money you invest in your education today will enable you to earn more tomorrow. Now if your next doubt is regarding travel, then it's best to choose a program that offers you flexible learning options, for example, an online or a hybrid program.
As an ambitious professional who wants to accelerate their career and evolve in their field, an MBA executive online course must have always been on your mind since the time you started working. However, if you've finally decided to take the final call and end this dilemma, here are a few things you need to consider.
Location matters depending on your program's delivery mode
Once you've finally decided on a course that meets your professional goals, make sure that you check all the important aspects about the delivery mode and the class duration. If you're planning on taking an MBA program that requires you to attend classes at the university campus every day, check the location and map out the time you'd require to travel back and forth from the location. Also make sure that along with the learning and travel hours, your working hours are also managed effectively. However, if you plan to take up an online EMBA program that enables more flexibility with recorded lectures.
Managing your working and learning hours effectively
When planning on taking up a professional learning course, time management is of utmost essence. As you need to give an equal amount of attention to both aspects. If you're only focusing on your work, you're bound to suffer and vice versa. Therefore, it is recommended to create a weekly plan with specific timings allotted to work-related tasks as well as your course-related topics that need to be covered. After you've created this schedule, follow it diligently to manage your time effectively.
A chance to learn from your peers
The DSU- Executive MBA program gives you the chance to learn from your peers. Whether you're planning to take up a traditional classroom learning course, hybrid course or an online course, there's always some scope of interaction through each of them. Even online courses today have various online portals wherein students get a chance to interact and connect with one another. Most courses also have group assignments, quiz activities and debates which further encourages peer to peer learning.
Transcend into new-age leadership role
An Executive MBA program course is designed with the intention to upskill the professionals of tomorrow and transform them into industry leaders. That's why they consist of a cutting-edge curriculum, challenging assignments and presentations to develop your overall skills.
New opportunities and more
Whether you're stuck in your career or constantly feel the need to gain more skills to expand horizons, an MBA executive online course can help get the clarity you need to set achievable career goals. What's more? An MBA executive online course from a well-reputed university can also enhance your CV and help attract more potential employers towards you.
Professional education and especially an executive MBA can be more challenging than any other specialized course you choose. However, the more challenges it presents you with, the better equipped you are for your future. It transforms you into an efficient leader and a smart decision-maker. 
Conclusion
Every penny spent on an executive MBA is an investment for your future, and you'll realize this eventually while moving ahead in your career. Stop thinking about choosing an executive MBA online course and start enrolling in DSU- Executive MBA program. Get a step closer to accelerate your career, register with us.