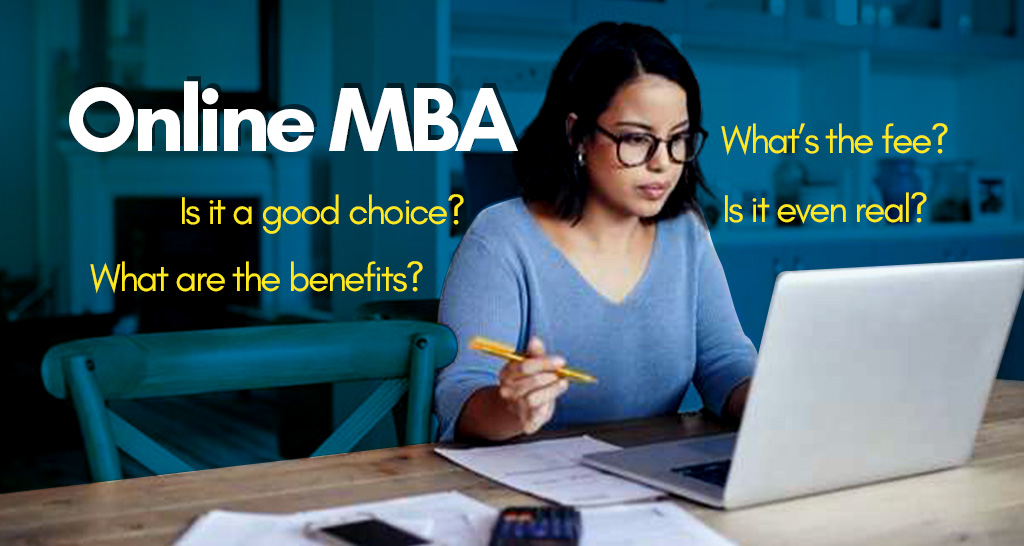 As you brace yourself to apply for business school, you might wonder about online MBA programs, more so if you already have a busy schedule or family life. Some students are quite nervous about undertaking an MBA online and are worried about online courses' reputation. Is an online MBA worth it? Are they respected by employers? How much do they cost? Should you get your MBA online? Education experts at Jaro Education review the scope and utility of online MBA to answer these questions.
Is an online MBA degree for real?
One of the very first questions prospective business school students often ask about online MBA and PGDM programs is, "Is an online MBA degree for real?" Some are concerned whether the reputation of an online business school is impressive enough to land a job or whether potential employers will take it seriously.
The answer is "yes" to both the questions! According to experts at Jaro Education online MBA programs became increasingly popular in the last decade as institutions of higher education sought to accommodate the busy lives of students. The increasing focus on digital technology in the business world is another factor.
What benefits does an online MBA offer?
According to educators at Jaro Education, pursuing an online MBA course offers you with numerous benefits. Some of them are listed below
      1. Study Anywhere, And Work While You Do It
Flexibility is one of the key reasons why students choose online MBA programs. Usually, classes are scheduled in the evenings in order to accommodate daytime work. This enables you to complete coursework whenever you want, making your own schedule to fit your needs.
This kind of flexibility is useful if you already have a career, and are looking to supplement your skills or education without detracting from that career. As per Jaro Education reviews, it is also helpful if you're aiming to switch fields, and undertake specialized training in a particular area, but don't want to quit your current job before doing so.
       2. Lower Cost
While you consider whether you should get your MBA online, cost of the course should always be taken into account. Many online MBA programs cost far less than than in-person business schools. Most state allow you to complete online coursework at or near the in-state tuition rate instead of the non-resident rate, thus giving you a broader and less expensive range of options.
What's more? You can work full or part-time while you undertake online MBA course, so you won't be sacrificing your income while you study.
         3. An International Community Of Faculty And Students
Many online MBA programs have both faculty and students from all over the world. Since there is little or no face-to-face interaction in an online MBA program, most online business schools emphasize frequent digital interaction, check-ins, and classroom participation.
Experts at Jaro Education are of the opinion that interacting with instructors and colleagues from so many regions can enrich you, as you diversify your knowledge base, and find new opportunities to explore after you graduate.
Is online MBA a good choice?
It certainly is. Online MBA programs are ideal for students who want to keep up with their busy careers and/or family lives or are not willing to move to a different location for business school. Flexibility is another big perk of an online MBA program; so if you want to complete an MBA program while fulfilling your other obligations, an online business school might be the best option.
Experts at Jaro Education are of the opinion that an part-time MBA degree is just as useful and empowering as a conventional full-time MBA. However, the final choice still remains up to you.