​​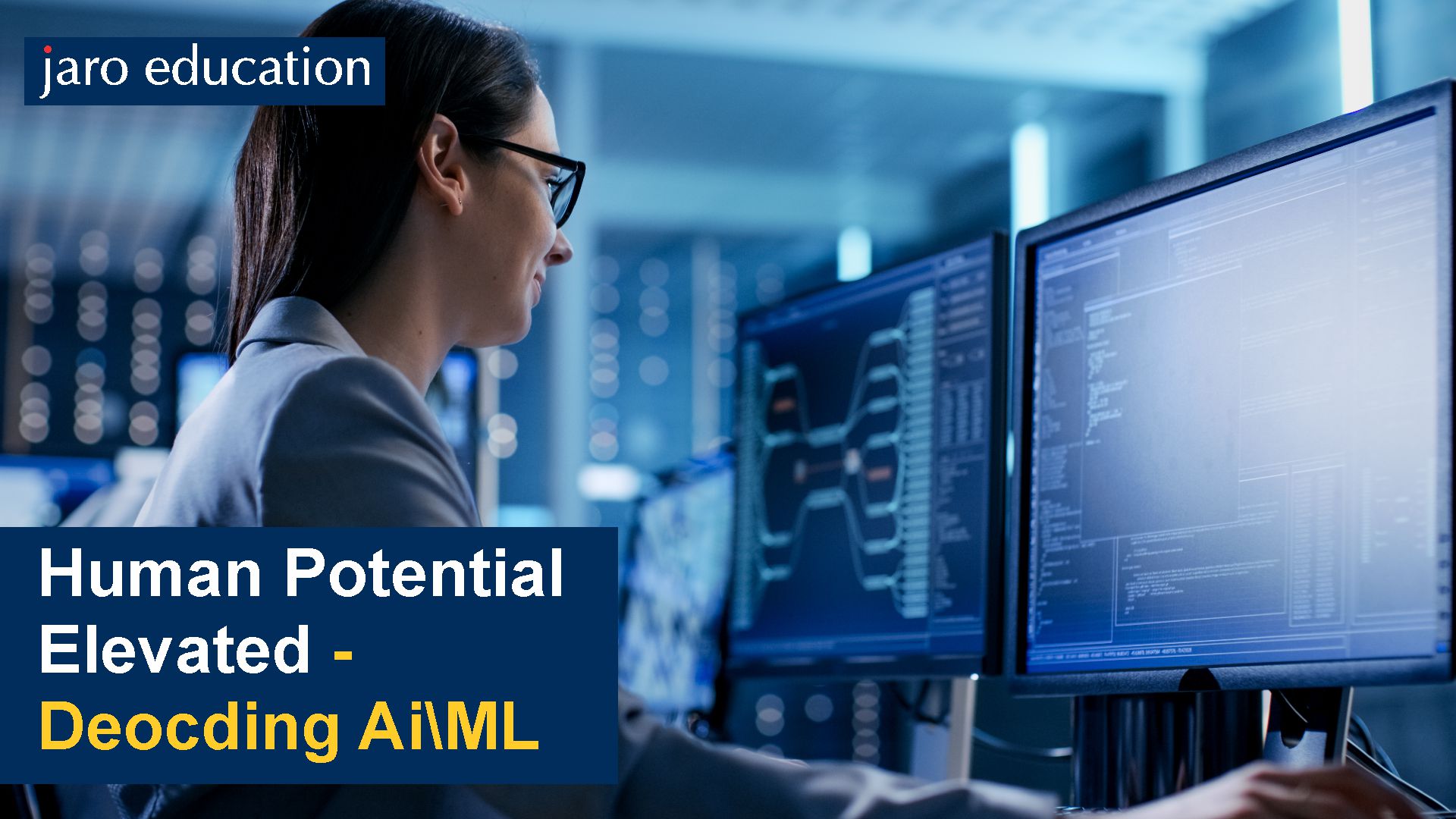 Today, businesses use artificial intelligence and machine learning to reduce operational expenses and enhance efficiency, increasing revenue with a better customer experience. These are smart technologies that can result in major positive outcomes. On July-August 2021, the artificial intelligence market of India was valued at $7.8 Billion, which was a 22% spike in market size compared to 2020. This is why the demand for data science certification courses is rising today.
Read on to know how human potential can be increased by data science certification courses such as Data Science and Analytics for Business course Shiv Nadar University offers.
8 ways in which AI and ML enhance human potential:
When humans and AI operate together, lower-level or repetitive tasks can be eliminated to achieve better performance. So, AI is a way of augmenting human potential.
Using the right AI and ML technology helps a business in the following ways:
Automation and optimisation of routine tasks, resulting in saving time and money.

Efficient functioning results in better production.

Attain quality leads and enhance customer base through data mining.

Use outputs from cognitive technologies for making business decisions quickly. 

 Maximise sales by identifying opportunities for increasing revenue. 

Prediction of customer preferences through insights to offer them a personalized experience.

Eliminate or significant chances of error by humans.

Offering intelligent advice and support to staff.
How do data science certification courses help candidates prove to be an asset to a business?
Data science certification courses  help candidates attain the following skills, which proves them as an asset to an organisation:
 They learn working on industry projects and real-world problems.

 Understanding the formulation of appropriate models for analysing the data.

 Achieve expertise in machine learning, Big data, data analytics, and data science. They also learn to use TensorFlow & Keras, Python, SQL, Anaconda, and others for data analysis.

 Their programming ability increases, and they learn to use the data-driven approaches.
Data Science and Analytics for Business course and its role in gaining a competitive edge:
A data analysis certificate plays a crucial role in building a career in data science. Data science and analytics for business from Shiv Nadar University is one of the best courses for data analytics. It is designed to impart knowledge and skills to candidates to face the challenges in the business world tactfully. 
Here are the benefits of the course:
Candidates get certification as well as transcripts from the university.

It provides an opportunity to learn from expert faculties through live training and lectures. 

Even placement assistance is provided at the end of the course.

 There are practitioner experts who provide personalised tutorials and mentorship. Focus is on sharpening the skills through coaching and providing regular feedback on performance.

 Case study-based projects help in understanding the real-world scenario clearly. 

You get a chance to meet top leaders in the industry and increase your network with peers coming from diverse industry backgrounds.
Conclusion:
Different businesses may have different reasons for embracing AI and ML. No matter the reason, adopting this emerging technology in an open-minded attitude opens up numerous opportunities for them. In this scenario, various universities' data science certification courses make it easier for candidates to learn relevant skills. Thus, they efficiently handle the consumer needs and win loyal customers for their organisation, which help them thrive in the cut-throat competitive market.
Want to start your career in data science and looking to get training in data science and get certified? Join the Data Science and Analytics for Business course Shiv Nadar University offers today to learn from expert faculties and avail advantages of interactive learning. 
Frequency Asked Questions:
Why should I take the Data Science and Analytics for Business course?
Data science and analytics play a major role in identifying which products sell best. The analysis of available data ensures the delivery of the right products to customers at the right time. Similarly, new products can also be developed for meeting customer needs.
How to apply for the Data Science and Analytics for Business course?
Check if you match all the eligibility criteria for the program to apply for the course on the official website of Shiv Nadar University. For entry-level candidates, experience is not required for applying for the course, but professional candidates can also apply for it. The website provides a link for the application:   https://sme-snu.nopaperforms.com/dsab-application-form.
Who is eligible for the Data Science and Analytics for Business program?
Those having a bachelor's degree or an equivalent with at least a 50% score from a recognised institution can apply for this course. Mathematics must be a subject in the 10+2 exam. Having work experience is not mandatory, and the selection is based on credentials, academic qualifications, and performance in a personal interview.
What is the fee structure for the Data Science and Analytics for Business course?
The course registration fee is INR 25000 + GST, and the tuition fee is INR 95000 +GST.