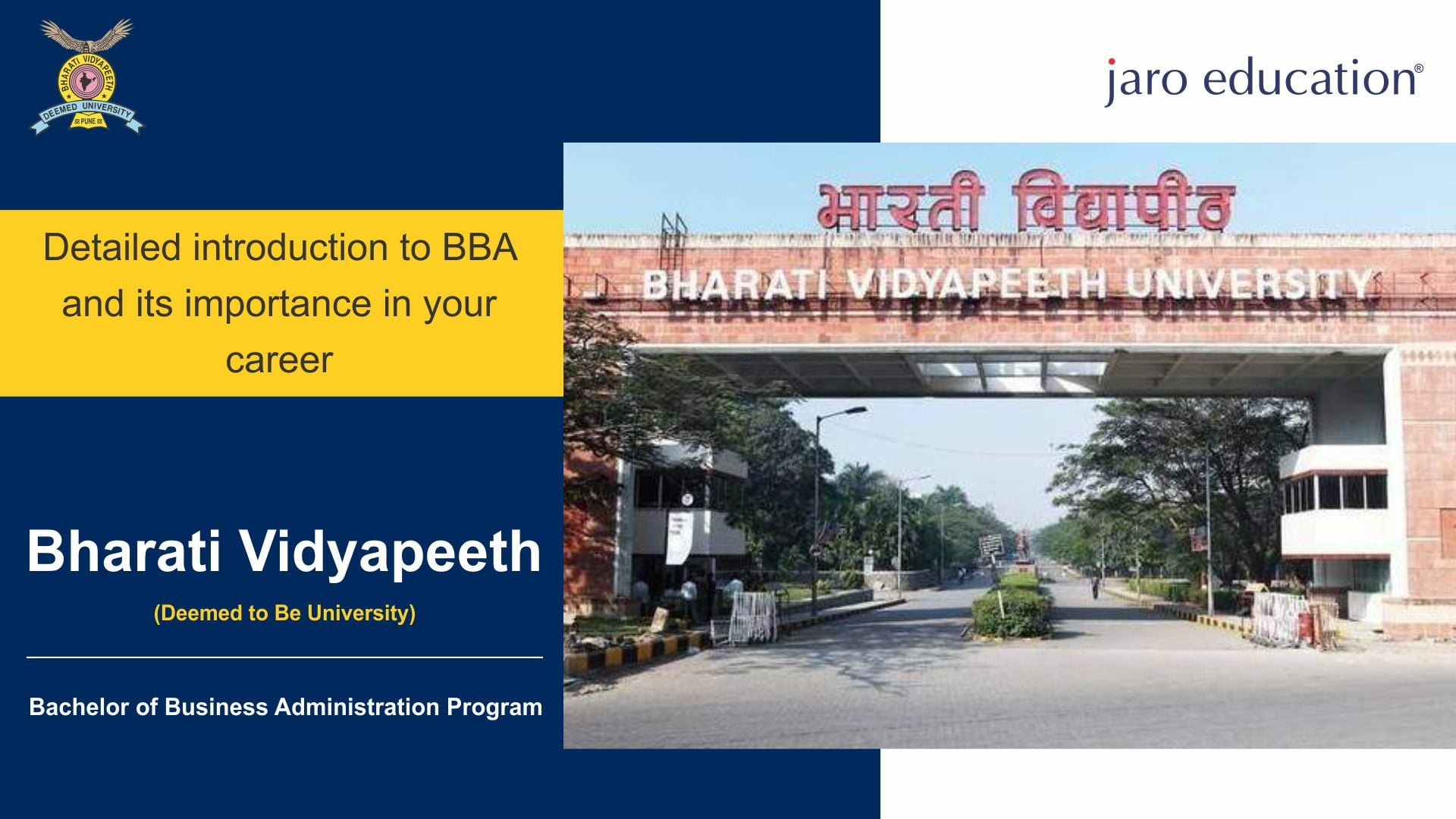 Detailed Introduction to BBA and Its Importance in Your Career
Introduction
Are you interested in pursuing a career in business studies and management? If so, you should give a boost to your career with a BBA Bachelor of Business Administration degree offered by Bharati Vidyapeeth Deemed to Be University (BVDU) after you have completed your post-secondary education. Today, students favor management undergraduate courses over other options due to the diverse career opportunities available.
Moreover, due to the ongoing pandemic, you can earn your degree from home through an online BBA course in India. After successfully attaining a degree in BBA, you can explore your interests in different fields, such as marketing, financing, real estate, and accounting.
Bachelor of Business Administration in Bharati Vidyapeeth Deemed to Be University (BVDU) is a three-year professional course in business management at the undergraduate level. The BVDU BBA program is divided into six semesters. It comprises subjects such as business management, communication, and accounting fundamentals.
The BBA offers and provides knowledge and training in leadership and management to prepare students for managerial entrepreneurship and roles. Students who wish to pursue their career in business management can opt for BBA after their post-secondary education.
Students will learn various aspects of business management and administration through classroom lectures and internships. Students can now opt for a Bachelor of Business Administration online at BVDU, which is as valuable as a full-time degree at the campus or a Bachelor of Business Administration.
Importance of BBA in Your Career
There are ample opportunities available for MBA aspirants. Hence, choosing the BBA course online study format will increase your chances of admission to a master's degree. In addition, completing a degree in a B-school will make the path toward an online MBA by BVDU easier. In the BBA course, you will acquire knowledge in computer fundamentals, business law, and accounting principles, which will help create a strong background for students who want to pursue MBA. The BVDU BBA course's syllabus comprises all these crucial subjects that form the base of efficient business management. 
Ample Career Opportunities
There is a high demand for BBA graduates in companies. Graduates can make their way to managerial positions while working in such companies. BBA graduates can choose from various functions available in a company, like project planning, sales representation, human resource management, advertising, and banking. The BVDU Bachelor of Business Administration online course helps develop managerial skills that will enable you to stand out from the rest of the world. 
You will study ample subjects while pursuing a BBA degree, such as accounting, marketing, organizational behavior, human resource management, and strategic management. The course will help you build practical knowledge and a theoretical foundation through internships, projects, and training. By gaining knowledge in so many fields, you can easily choose your subjects for specialization in an MBA.
Develop better Managerial Skills
The BBA course focuses on the managerial and business skills of the candidates. It is an essential requirement of a BBA graduate. Therefore, pursuing a BVDU BBA degree will not only help you develop a managerial perspective but also entrepreneurial skills. 
With the unprecedented development of the market, companies are developing in size. In addition, startups are popping up quickly. These existing companies and startups search for candidates who know business management and have excellent managerial skills. Bachelor of Business Administration- BBA graduates who already have such skills can easily find various career opportunities and a chance to work in marketing, core business, and strategy, sales, or operations teams. 
Since you get ample opportunities for employment after completing a BBA degree, you can start handling your finances earlier. As a result, you become financially independent early. In addition, BBA courses do not cost a lot of money, so candidates need not worry about paying off loans. 
Conclusion
Today, it is becoming necessary for students to gain knowledge of the business management fields. Traditionally, employers seek candidates based on one or two skills, but now the times have changed. Employers seek candidates who have many skills in diverse areas. By pursuing a BBA course, students can dive into a pool of career opportunities, gain managerial and entrepreneurial skills, get a better salary, and work in a respectful organization. 
Jaro Education offers a Bachelor of Business Administration online course in partnership with Bharati Vidyapeeth Deemed to Be University to bridge the gap between academics and industry. We will provide you with faculty holding professional degrees, good access to study material, and flexible lectures. You can earn your BBA degree online by studying at home. The BBA degree carries great value and importance. Various educational institutions accept it as a UGC-certified BBA program. You will have full-time access to lectures and study materials so you can study from anywhere you want.
Create a benchmark in your career by learning from BVDU. For more details, stay tuned.