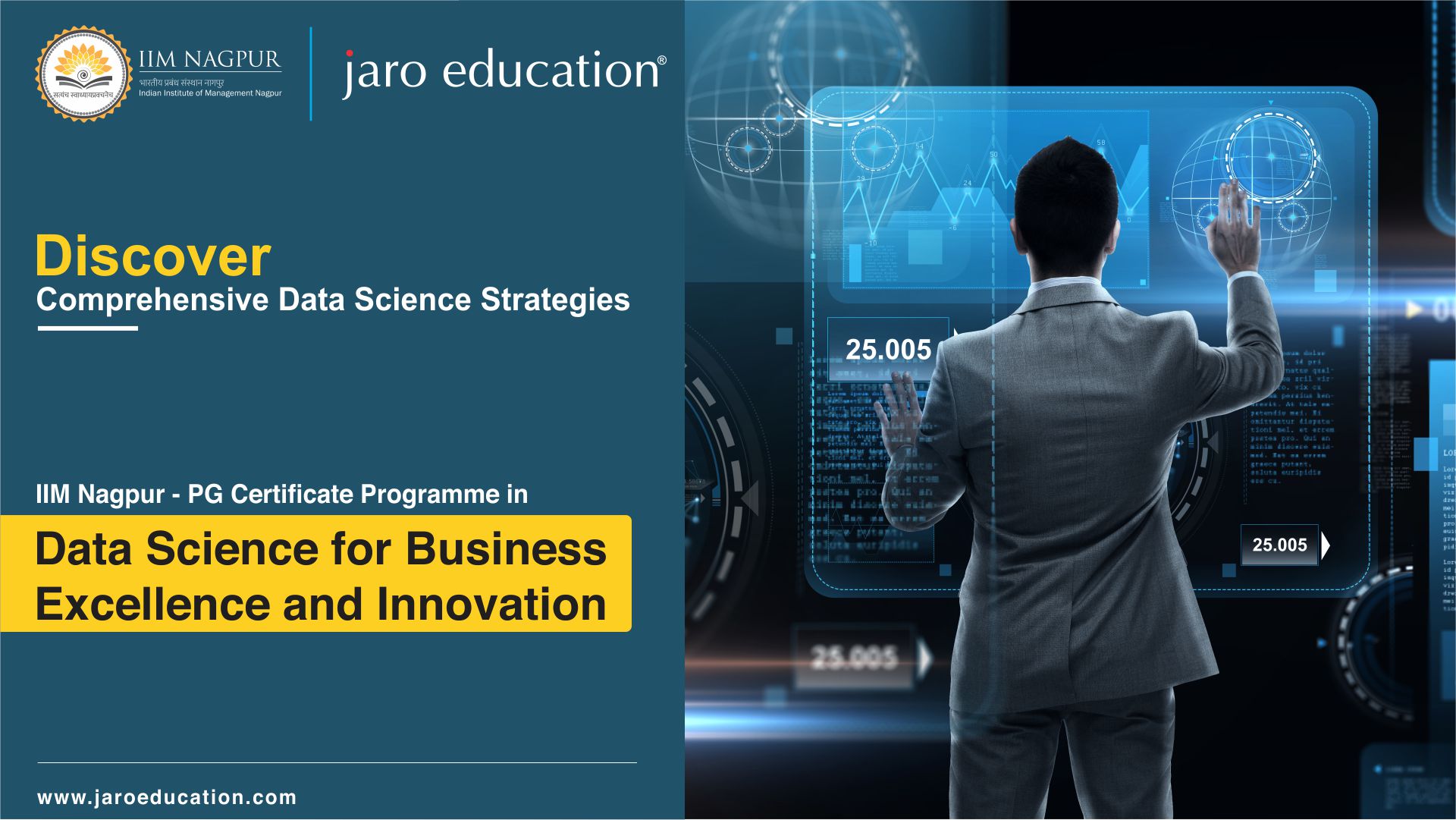 Commit to your professional development with a comprehensive data science certification course from IIM Nagpur
The COVID-19 pandemic has impacted the global economy unlike anything before. Proper professional development is vital to both career professionals and entrepreneurs now more than ever. Businesses of the future require professionals who can think strategically and take a globally minded approach to work. As more organisations prioritise data-driven innovation in 2021, now's the perfect opportunity to develop your skill set to meet their needs.
Stay abreast of industry shifts and enhance your potential with PG Certificate Programme In Data Science For Business Excellence And Innovation delivered by IIM Nagpur in association with Jaro Education
Equip yourself with post pandemic skills
Post pandemic era will see data science proficiency as a core skill for employees at all levels and in all sizes of organizations. According to Forbes, the pandemic is widening the gap between education and new-age job requirements. An estimated 1.3 billion people worldwide are affected by a skills mismatch. Unfortunately, the class of 2020 is now entering one of the worst job markets in history. Business professionals and new talent therefore require to invest in digital data skills, problem-solving and continuous learning. In order to prepare for the post-pandemic ecosystem transforming unidimensional competencies into multidimensional skills is going to be crucial. Reskilling and upskilling with this data science online course will help you succeed in the new normal.
Seize Market Opportunities
As per a report by World Economic Forum, Jobs such as Artificial Intelligence and Machine
Learning Specialists or Data Scientists, in which data science skills are perhaps most profoundly applicable, are forecasted to be among the most in-demand roles across most industries by 2022. In the Fourth Industrial Revolution, all sectors will need to undergo a fundamental transformation to fully absorb the potential dividends of the data economy.
Such transformations will need to be accompanied by appropriate talent investments in data science skills. As suggested by analytics experts such as Tom Davenport, organizations that are leveraging analytics in their strategy have not only world-class data scientists – but they also support "analytical amateurs" and embed analytics throughout all levels of their organization and culture. For this reason, the need for analytics skills is exploding within a variety of employers, and analytics and data-related themes top many corporate strategy agendas. A post-graduate certificate in data science course at a time like this will help you seize these opportunities and ensure higher wages.
Drive organizational innovation with data skills 
Businesses hunger for growth and growth is fuelled by innovation. Innovation of business models continues to be strongly correlated with data-driven insights. Data proves to be the core seed essential to fuel new ideas and inspiration. Data has the power to effectively improve products, processes, customer relationships and business performance. With live insights and analysing trends you can help organizations meet their goals and improve their bottom line. IIM Nagpur's PG certificate in data science will equip with in-depth knowledge all key skills needed to help you aid your organization to act decisively and gain competitive advantage.
Jaro Education is committed to help you continuously refresh skills with their interactive globally accessible online programs in association with leading universities. 
Explore the most popular Online Data Science Course in India here: https://bit.ly/3hFzqdy
Subscribe to our Jaro Education's blog and stay updated with the latest information on PG Certificate Programme In Data Science For Business Excellence And Innovation – IIM Nagpur.