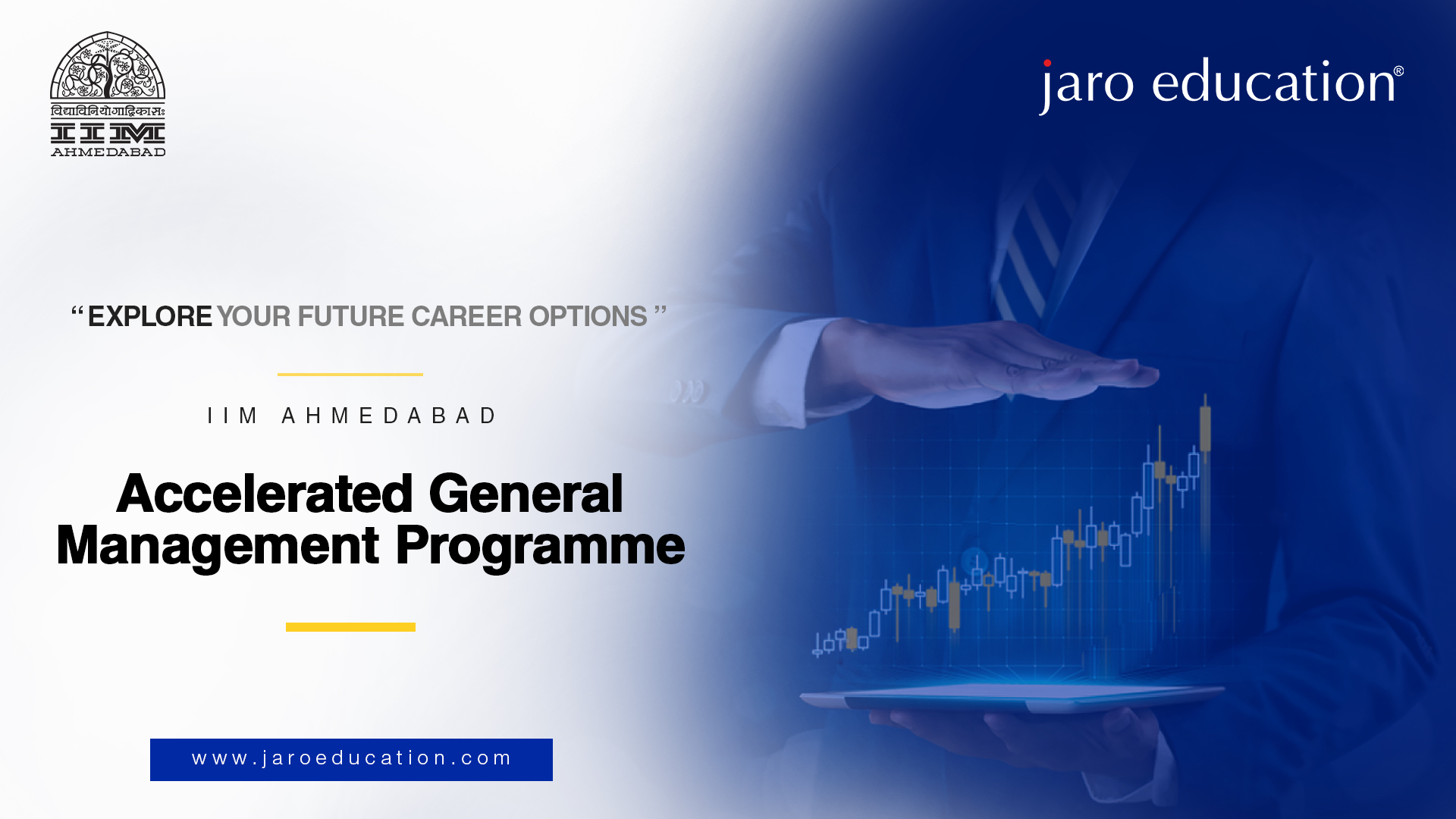 Best Career Options after the IIM Ahmedabad Accelerated General Management Programme
Are you bored at your regular job and are looking to achieve a more significant position in a company or change your career path altogether? If you answered yes, then the Accelerated General Management Programme (AGMP) – IIM Ahmedabad is made for you. Those days are gone when one had to be stuck in the same job and position because of their qualifications. As the world is changing, you can change the course of your career by developing C-Suite skills and enhancing your industry know-how so that you can thrive in this cut-throat competitive professional space. Various executive programmes are available nowadays to help you enhance your skill set and widen the horizon of possibilities. One such popular and comprehensive executive programme is the Accelerated General Management Programme.
The Accelerated General Management Programme offered by IIM Ahmedabad is one of the most influential and engaging one-year executive learning programmes offered in the country. The IIM Ahmedabad Accelerated General Management Programme is specially designed for working professionals looking for a way to upgrade their skill set and acquire practical knowledge about general business management.
The Accelerated General Management Programme offered by IIM A will surely be a prestigious and worthy addition to your CV. The programme provides a comprehensive course on business management. It helps professionals to broaden their business skills and build a strong foundation on contemporary management using specialized tools.
The Accelerated General Management Programme (AGMP) by IIM A, in association with Jaro education, is an excellent way to hone your skills and achieve a higher position in the workplace. The IIM A Accelerated General Management programme aims at teaching contemporary topics of general management with a global perspective. The main objective of this course is to help students master skills that equip them for strategic, operational, marginal planning, and change management.
Here are the key features of the IIM Ahmedabad Accelerated General Management Programme:
Certificate from a premier B-school of the country

Alumni status of IIM A

An immersive campus learning experience with engaging 2-way interactions conducted  via HD virtual classrooms (VC)

Knowledge of  new-age management skills relevant for the global business 

Peer networking
Best career options after completing AGMP from IIM A
Here are some of the most rewarding career options you can explore after completing the IIM Ahmedabad Accelerated programme:
1. Management consultant
During the AGMP course, students learn various aspects of organizational management. An AGMP graduate can quickly secure a job in a management consultancy firm, where the primary job responsibility is to identify and solve various organizational problems using optimized strategies. 
2. C-Suite profile
For any company, the executive position is one of the highest positions. After completing AGMP from IIM A, you can also become a part of a company's executive team. CEO, CFO, CMO, vice president are some of the roles in an executive circle. The average salary of an executive person is around 10 lakh per annum.
3. Administrative manager
An administrative manager is responsible for the smooth running of business operations. The person manages the administrative staff and supervises the duties performed by them. The average salary of an administrative manager is around 7 lakh per annum.
However, if working for yourself intrigues you the most, then you can also become an entrepreneur and start your own business. You can then apply the management skills you learn during the course in your own business. 
The Accelerated General Management programme offered by IIM A is an outstanding executive programme that can help you build your skill sets. From providing general management knowledge to applying it from a global perspective, this course is worth your while.
Having an AGMP certification from IIM Ahmedabad can play a crucial role in shaping your career and can help you broaden your career horizons. So, don't sit back; if you want to change your job prospects, enroll in this programme today!
Subscribe to our Jaro Education's blog and stay updated with the latest information.