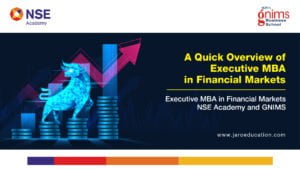 An overview of Executive MBA in Financial Markets, by NSE Academy and GNIMS
Rightly said by Peter Lynch, one should know what you own, and why you own it. When it comes to finance and investment, it's not just the price that matters, it's the value that counts. As a financial executive, stock investor or entrepreneur, an in-depth understanding of financial markets and its changing nature will help you ace through many challenges. It will also enable you to take informed decisions in order to take your company to great heights or grow your profit share.
Financial markets are booming these days with the entry of new and interesting corporate giants. While some people are mindlessly investing based on short term predictions, some are spending time researching and counting the pros and cons before making the correct decisions all the time may seem like an impossible task, but what if we said you could learn all about the changing pace of financial markets and get real-time trading exposure? Yes, you heard it right with the Executive MBA in Financial Markets by NSE Academy and GNIMS you now can. Here's everything you need to know about this course and what it offers.
Flexible online course for working professionals
Executive MBA in Finance by GNIMS and NSE Academy is an 18 months online course that takes place on weekends and offers you the flexibility to take your classes anytime and anywhere. This program is specially developed for working professionals who want to upgrade their CV with prestigious certifications and gain hands-on knowledge in the field of finance. This course is also suitable for entrepreneurs, SME owners and finance industry enthusiasts who want to get to know this field in a better way in order to make the right decisions for themselves and their companies.
Equips you with practical knowledge in all aspects of the finance industry
Finance is a complicated industry with many different aspects to it. It includes banking, management, investments, stock market and many other different sectors. To understand the workings of financial markets, you must have a basic understanding of all its sectors. NSE Academy and GNIMS – MBA in Financial Market provides you with cutting edge practical knowledge with the help of advanced tools and softwares. All the students enrolled in this course will receive online trading classes of 60 hours using NAL software.
Offers a mix of financial and management education
Learning all about financial trading can be quick but you also need to know how to manage those finances. Executive MBA in Financial Markets helps you build excellent management skills with the blend of management information offered by GNIMS institute and NSE Academy. This course ensures that you're fully equipped to trade and handle your own as well as your company's finances.
Real-time market trading exposure
The most unique aspect of the NSE Academy and GNIMS-MBA in Financial Market is that it gives you simulated live market trading exposure. Once you've learned all about financial markets and trading techniques, you will receive a chance to test your trading skills at the end of the EMBA-FM program. This not only helps you understand how real-time trading takes place in the financial markets but also makes sure you get a fair amount of practice on the new age trading tools.
Receive guidance from the experts of the finance industry
This course brings to you an expert faculty who are highly experienced and successful in the field of financial markets. They will introduce you to financial markets by teaching you everything right from scratch. So if you are someone who doesn't know much about finance, fret not, the Executive MBA in Financial Markets will accelerate your skills from basics to advanced in a simple, interesting and interactive way.
Boost your career with 13 prestigious certificates
On successful completion of this course, you will receive 13 prestigious certificates (10 NCFM Modules + 1 LTS Certificate +1 Joint Certificate from GNIMS & NSE Academy & 1 PGCM certificate from GNIMS) to upscale your business or career. The NSE Academy and GNIMS- MBA in Financial Market equips you with the latest financial trends, in-depth knowledge and understanding of financial markets and hands-on experience in trading and management.
Knowledge about finance, financial markets and trading techniques isn't just for career advancement anymore, it has become a basic necessity. Today, every decision you make requires a financial perspective in order to weigh the pros and cons correctly. With the Executive MBA in Financial Markets by NSE Academy and GNIMS, you can not only be updated with what's happening in the market, but you can also learn to make profitable decisions. 
For more insight on the  Executive MBA in Financial Markets from NSE Academy and GNIMS, stay tuned and subscribe to our blog.  In case of queries, reach out to us via our course enquiry section or simply give us a call. Apply now!