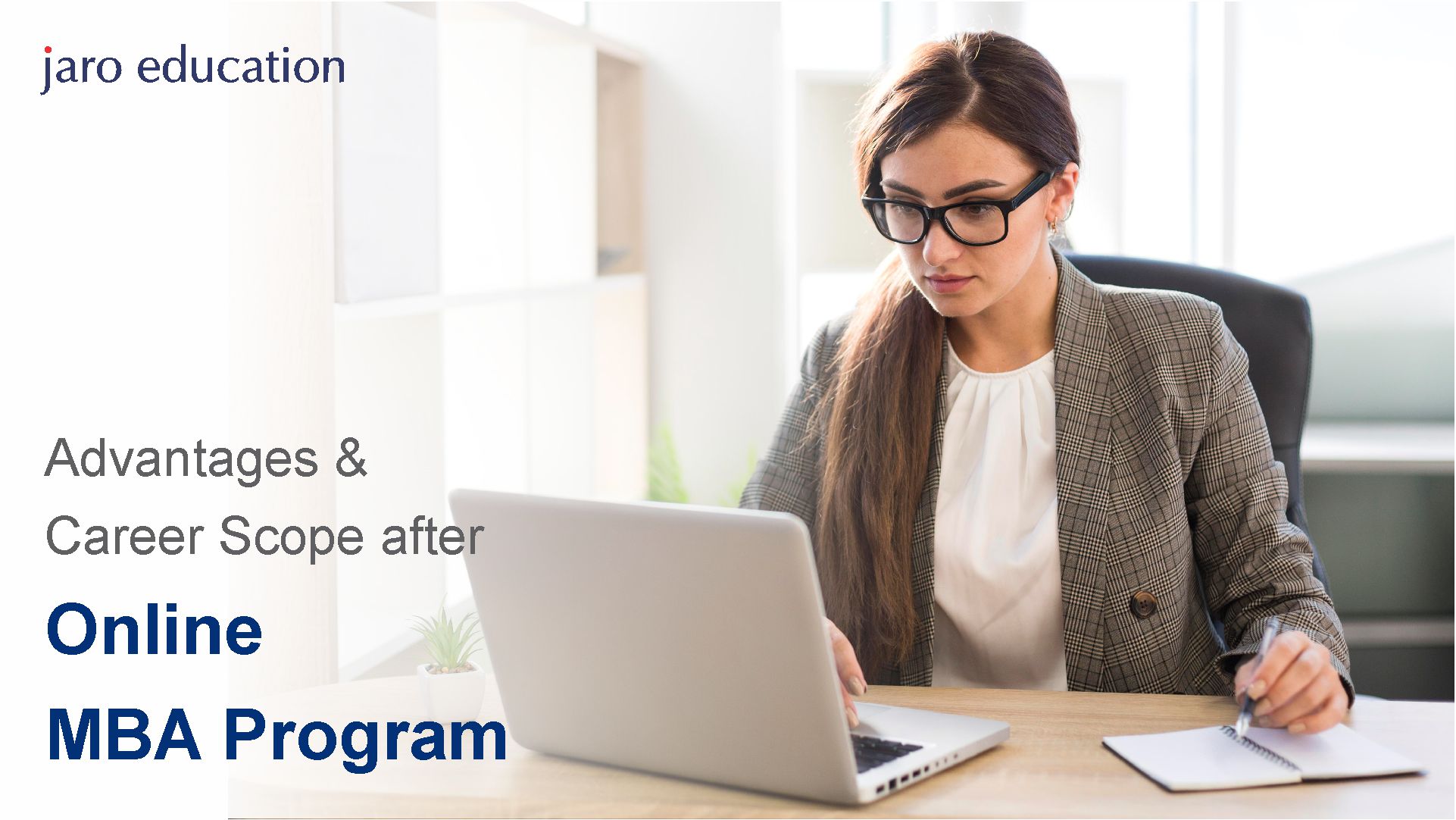 The popularity of distance and online MBA programs as viable education options has skyrocketed in recent years. As a result, several B-schools have begun offering online MBA courses as a part of their graduate and postgraduate degrees. 
Nowadays, many students are also choosing an MBA certificate online over a full-time MBA program at a B-school due to its convenience, program structure, and curriculum. Youths and working professionals prefer the online MBA as it does not require them to relocate, and more importantly, leave their jobs. 
Besides the convenience in education, pursuing an online MBA program over a traditional MBA poses several other advantages. 
Advantages of an Online MBA
Here is a list of some of the benefits of pursuing online MBA programs in India.
An online MBA course aims to enable learning in a virtual environment, which provides students with an opportunity to study from the convenience of their homes. All they require are a computer and a stable high-speed internet connection.
Traditional MBA schools have a notably high course fee, whereas online MBA programs have affordable fees. The cost-effective pricing structure is a significant advantage for all MBA aspirants. It ensures that even candidates with financial problems can enroll for an MBA certificate online.
Same Curriculum as Traditional MBA
The online MBA syllabus and curriculum are identical to those taught in full-time MBA programs. Therefore, even if students don't enroll in a traditional MBA program, they will study the same things as those enrolled in full-time MBA classes without compromising on education.
Ideal for Working Professionals 
Working professionals who want to get qualified don't have to quit their jobs. They can work for their current company while pursuing courses like online Executive MBA programs. 
Career Scope after Online MBA
Similarly, an online MBA can help you take your career in a whole new direction. MBA students can choose from various specializations to develop essential management skills and work in marketing, finance, operations, and other fields in private and public enterprises. 
These are several job prospects available once you complete your online MBA:
Marketing:

PR Specialist, Media Planning Manager, Market Research Analyst, etc. 

Finance:

Financial Advisor, Chief Financial Officer, Cash Manager, etc.

Operations:

Supply Chain Manager, Chief Operating Officer, Operations Manager, etc. 
Therefore, it is apparent how online MBA courses pose advantages and a promising career scope similar to a traditional MBA. One of the best online MBA programs in India is the one offered by Bharati Vidyapeeth (Deemed to be University). 
The BVDU MBA 2.0 Program is a 24-month online MBA course that prepares students to compete in today's business environment. This curriculum aims to create leaders with exceptional business knowledge and problem-solving abilities. Students can expect to get a deep understanding of business ideas, theories, and functional areas through an engaging online learning experience.
This online MBA program is conducted by India's industry experts through discussion forums, assignments, interactive lectures, and case studies. These teaching methods encourage students to share new business ideas and concepts.
Highlights of BVDU MBA 2.0 Program
Here are some salient highlights of the BVDU MBA 2.0 Program:
The course offers a great mix of theory and practice, allowing you to get the most out of your

MBA degree online

.

Lectures are delivered live using varied teaching methodologies like case studies, discussion forums, and practice exercises. These teaching techniques encourage interaction with teachers and inspire innovation.

BVDU's

online MBA

has an industry-oriented curriculum recognized by top businesses and firms.

Students can address all their doubts in the open discussion area, moderated by industry experts and experienced professors.

Conclusion
Online MBA courses can quite evidently benefit working students who don't have enough time to take an offline course or those who want to grasp critical management skills speedily yet efficiently. They can learn vital management skills without disrupting their daily life by choosing to get their MBA degrees online.
If you have a bachelor's degree from a recognized institution, nothing is stopping you from choosing Bharati Vidyapeeth's online MBA program, as that is the only eligibility requirement.
If you have any more doubts, get them answered here by industry specialists.
Frequently Asked Questions
What does an online MBA program entail?
Online MBAs have an industry-oriented curriculum recognized by top businesses and firms. Online MBA programs offer a great mix of theory and practice that helps students learn essential management skills. 
Is completing an online MBA program worth my time?
An online MBA program provides students with the flexibility to manage their busy lives while still providing the broad-based skills they need to develop their professions. An MBA can lead to advanced career growth and higher compensation and status.
What are the eligibility criteria for pursuing an online MBA?
Eligibility criteria for pursuing an online MBA:
Graduation degree from a recognized university 
Work experience (depending on the online MBA course and university)