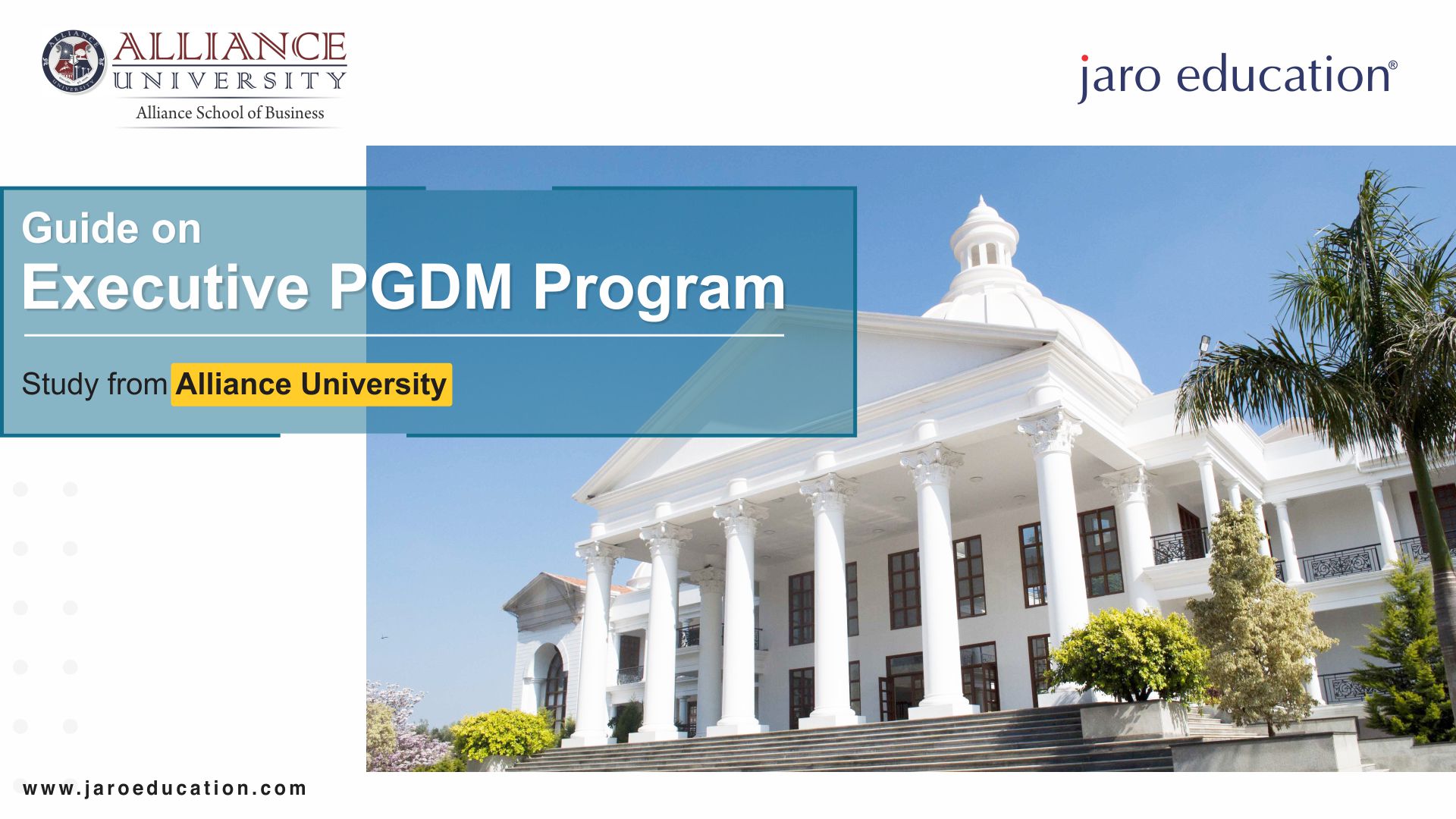 A Guide on Executive PGDM Program from Alliance University
Experienced professionals, although with the right understanding of business, often feel limited due to a lack of knowledge about modern techniques and technology. While having that level of experience reflected on their resume is important, supplementing it by completing an Executive PGDM program is quite beneficial.
The Executive PGDM program in Marketing Strategy by Alliance University is specifically designed for working professionals. On the academic front, it helps them gain key insights on business management and strategy. It further helps them develop a better perspective to tackling real-world problems in business. On a personal front, an individual has the flexibility to complete the course at their convenience (during a limited time period), without compromising on their primary responsibilities at work or otherwise.
Compared to a regular MBA program, an Executive PGDM program is a shorter, dedicated course solely for a professional. It offers a degree of ease and flexibility hardly seen in regular MBA courses, while providing an updated curriculum delivered by senior industry professionals and experienced faculty.
Executive PGDM program by Alliance University
Alliance University is one of the oldest professional institutes in Bengaluru. Ranked among the top-ten private B-Schools in the country, it is well known for its innovative management courses. The faculty of the University have proven themselves in their respective fields, providing an excellent blend of rigor and relevance in their teaching.  
The Executive PGDM Program in Management Strategy by Alliance University, as mentioned earlier, focuses solely on experienced professionals looking to supplement their careers. Whether the individual chooses to continue in their current place of employment, or move on to another company, one can complete this program and leverage a better position for themselves. Delivered by senior industry professionals and accomplished faculty, one can trust the course will help them enhance their ability to strategize and tackle with businesses and real-world cases.
The salient features of an Executive PGDM program includes:
Accelerated and immersive learning:

Students can participate in an immersive learning experience conducted by Alliance senior faculty members and industry professionals who are domain experts.  

Self-paced learning

: Students can learn at a pace that suits them, prioritizing their work and academics accordingly.

Curriculum:

a cutting-edge curriculum with a blend of contemporary and progressive concepts.

Live interactive sessions

: More than 180+ hours of live interactive sessions from top industry experts along with industry exposure.

Leadership development:

special emphasis on leadership development.
Course Objectives
Empower professionals to better manage and strategize in different real-world situations.

Encourage interaction with the experienced faculty and industry professionals.

Enable one to think analytically for better decision-making and, in turn, become a better stand-out leader with pertinent skills.

Facilitate better career prospects for professionals participating in the Executive Management course.
Course Modules
First semester:

Enterprise Leadership.

Second semester:

Technology and Data Enablement.

Third semester:

Functional Expertise.

Fourth semester:

Strategic Acumen.
Additional Program Details
Eligibility:

Graduates from national and international universities with two years of work experience

Course duration

: 16 months

Program Fee

: INR 2,45,000 for Campus Mode, INR 1,60,000 for Mixed Mode

Mode of application

: Online.
Assessment Method
The courseware consists of textbooks, videos, and quiz sessions. Alliance University will conduct online assignments and annual examinations.
Conclusion
As of today, it is easier for an individual to pursue courses and training programs online from anywhere in India. Working professionals must leverage this opportunity to enroll in programs that advance career prospects. Whether it's to gain a better position or promotion at their current place of employment, or to find a better position in another company, one can definitely consider pursuing a flexible course of this nature from a reputed and renowned university.
To know more about the Executive PGDM in Marketing Strategy From Alliance University or other programs offered, subscribe to our blog.
Subscribe to our Jaro Education's blog and stay updated with the latest information.