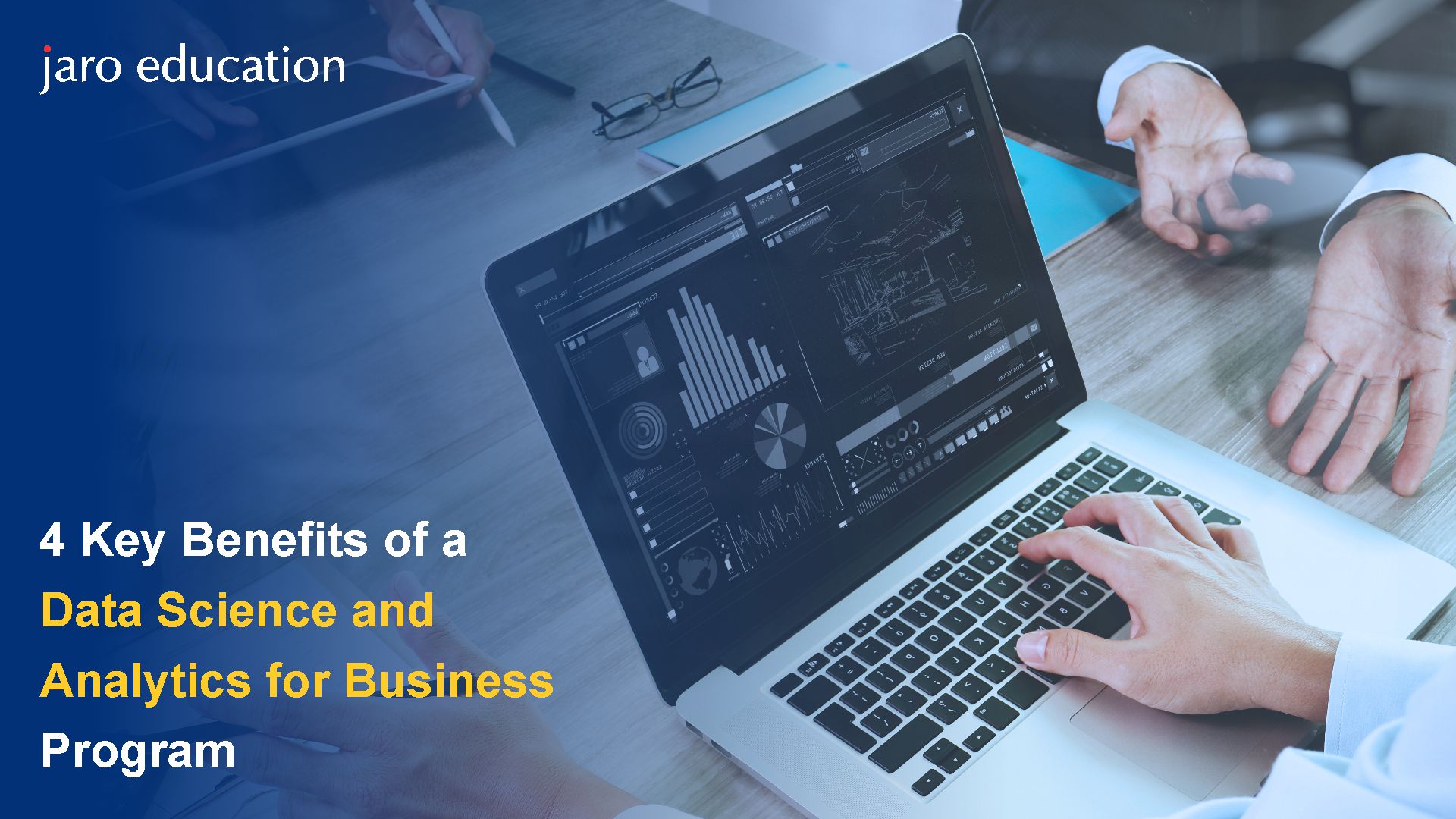 Data Science and Analytics is currently one of the hottest technology fields in the IT industry. Today, more and more companies seek fresh graduates who have done their training in Data Science. 
As per the reports from TOI, 92% of hiring managers felt the considerable talent gap among freshers in Data Science. With the increasing demand for skillful data scientists, it is beneficial to do a Data Science certification course, the Data Science and Analytics for Business Program, from Shiv Nadar University.
Top four benefits of the Data Science and Analytics for Business (DSAB) Program from Shiv Nadar University
Well-Planned Data Science Certification Course Structure
Shiv Nadar University offers a well-planned Data Science Certification Course to empower the modern youth. This unique certification program covers research-focused multidisciplinary topics on Data Sciences and Analytics. The aspirants can master advanced skills to solve the most complex business problems. 
Key Modules of the Program
Detailed Analytics with SQL and Excel

Data Manipulation with Python

Advanced Statistics for Data Science

Statistical Data Modeling with Python

Learning Machine Learning Models with Python
This detailed program structure covers topics from basic to advanced levels. It aims to teach the aspirants how to use predictive data modeling and machine learning techniques. Also, the aspirants acquire data-driven intelligence that helps them learn the latest data science trends.
Use Data Analysis Certificate to Face Future Organization-level Challenges
The Data Science and Analytics for Business course from Shiv Nadar University focuses on the peer-to-peer learning method. Learning collaboratively with equal talents allows an individual to understand the reach of Data Science.
As per the survey by The Economics Times, 25% of corporate workers and students have shown interest in learning data science. Naturally, you need to have an industry-level connection to stand out among the growing competition. 
Once you finish this Data Science Certificate Online, you understand the connection between data analytics and decision-making. You start confronting the urgent issues with data mining and programming. You redefine strategic planning with effective communication. This course helps you learn how to face future organization-level challenges.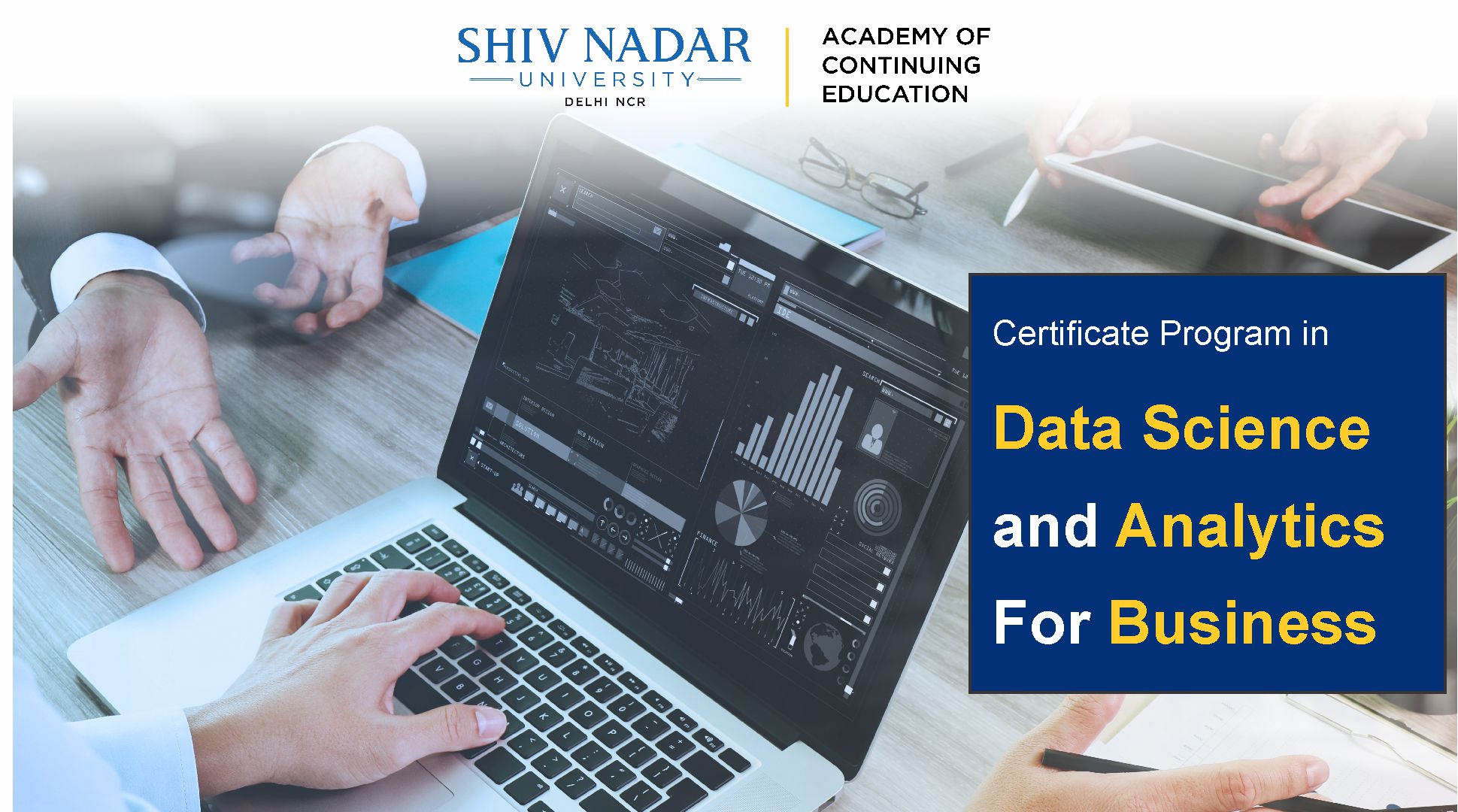 Do Training in Data Science Under the Best Professionals
This Data Science Certification Course from Shiv Nadar University is conducted by the best experts. As you get personalized mentorship from experienced professionals, you can attend online doubt-clearing sessions. You take both theoretical and practical tutorial lessons from these practitioner experts.
Moreover, you receive real-time feedback while training In Data Science. The coaches help you sharpen your technical skills with industry-level case studies and projects. You can participate in competitive hackathons to know how much you have learned.
Placement Assistance After Data Science Certification Course Completion
Various companies are looking for trained Data Analysis Certificate holders. However, the requirements of each of these companies vary. Aspirants with solid business-oriented data science skills can adapt and work under various circumstances.
The Data Science and Analytics for Business Program allows you to explore new platforms and technologies in demand. As you stay ahead of the curve, your business and analytics knowledge allows you to explore a vast range of job opportunities, including:
Data Analyst

Data Scientist

Data Architect

Business Analytics Specialist

Business Intelligence Analyst
Summing Up
Data Science is the future of business growth. Take training in Data Science from the most promising faculties of Shiv Nadar University. Learn the latest tools and insights of Data Science to shape a successful career path. Online learning is best, and practical training and projects are best. Apply for various job roles in reputed companies and achieve unprecedented success. Want to learn more about the DSAB Program?
FAQs
What is Data Science and Analytics for Business program?
The Data Science and Analytics for Business (DSAB) program is a well-structured mastery program. It covers various topics of Data Sciences and Machine Learning. It teaches the aspirants to solve complex business problems with advanced machine learning and predictive modeling techniques. Moreover, it equips the learner with the cutting-edge skills to promote high-value decision-making within organizations.
Who can do Data Science and Analytics for Business course?
You must be a post-graduate from a reputed university/college with a minimum of 50% marks. You also need to have one or more years of professional experience. 
How to apply for Data Science and Analytics for Business course?
Fill up the application form for the Data Science Certificate Online Shiv Nadar University offers. The selection will happen based on the applicant's educational qualification, application eligibility, and personal interview.
Is the Executive Data Science and Analytics for Business course worth it?
The DSAB Course from Shiv Nadar University is affordable, highly technical, and well-planned. Once you complete the DSAB Program, you get a Data Analysis Certificate, which you can use to explore amazing job opportunities.